Barclays Arrival Premier World Elite MasterCard Review
2018.7 Update: The first year annual fee for this card is now waived.
Application Link
Benefits
75,000 MILES EACH YEAR if you spend $25,000 on purchases.
After that, keep earning UNLIMITED 2X MILES on every purchase.
Miles can be transferred to the following partners: Aeromexico, Air France/KLM Flying Blue, China Eastern, Japan Airlines(JAL), Etihad, EVA Air, Jet Airways, Malaysia Airlines, Qantas, Aeroplan. Transfer ratio is 1.7:1 for JAL and Aeroplan, and 1.4:1 for other partners.
Book the best travel deal, no airline, seat or hotel restrictions, and redeem your miles for travel statement credits. The Miles are worth 1 cent/mile if you redeem for travel statement credit, starting from 10,000 miles redemption per transaction. For example, you charge a single transaction of $300 on travel, but you only have 10,000 miles, then you can redeem for $100. The remaining $200 can not be redeemed later. You can redeem for any integer larger than $100, but you are limited to travel purchases within the past $120 days. So at least the card earns you 2% cash back on everyday purchases.
Global Entry – $100 automatic statement credit for the cost of one Global Entry application fee every five years.
Access to over 800 lounges worldwide with Mastercard® Airport Experience provided by LoungeKey, fees apply.
No foreign transaction fee.
International Chip and PIN for use at self-service chip terminals around the world.
Disadvantages
$150 Annual Fee, waived for the first year.
No sign-up bonus.
Recommended Application Time
Barclays value the number of recent hard pulls a lot, we recommend you apply when you have less than 6 hard pulls in the past 6 months.
We recommend you apply for this card after you have a credit history of at least one year.
Summary
Lack of sign-up bonus seems not attractive to a lot people. On everyday purchase it earns you 2% cash back, but if you spend exact $25k then it raises to 3%. We're glad to see Barclays offer miles transfer options on the card. JAL and Flying Blue may be good choices. However, American Airlines, which many people are expecting, is not on the list. And remember the transfer ratio is not 1:1. Let's compare both cash back and miles earning abilities of Barclays Arrival Premier:
1. Cash Back: Now we take annual fee cost into account. Spending exactly $15k earns you $450 cash back. But after subtracting AF, it's $300 net earning, so still 2% cash back rate. Spending exactly $25k earns you $750 cash back, and  it's $600 net earning. The cash back rate now is 2.4%, a bit better than Citi Double Cash. But if you spend more, the rate will actually decrease slightly. So if you care about cash back but are not willing to charge a lot on this card, we recommend you Citi Double Cash (No AF, earns 2%).
2. Miles: The card earns you 1.43 miles per dollar spent (1.18 for JAL). If you meet loyalty bonus, then it's 2.14 miles per dollar (1.76 for JAL), a higher rate than SPG (1.25 per dollar at most). However, we have to transfer at least 20k SPG points to earn the extra 5k miles bonus, so when spending is lower than $15k, Barclays Arrival Premier is still better than SPG on JAL miles. But if you put SPG sign-up bonus into comparison, then Barclays Arrival Premier needs a lot spend to catch up with SPG.
Related Credit Cards
Recommended Downgrade Options
After Applying
Historical Offers Chart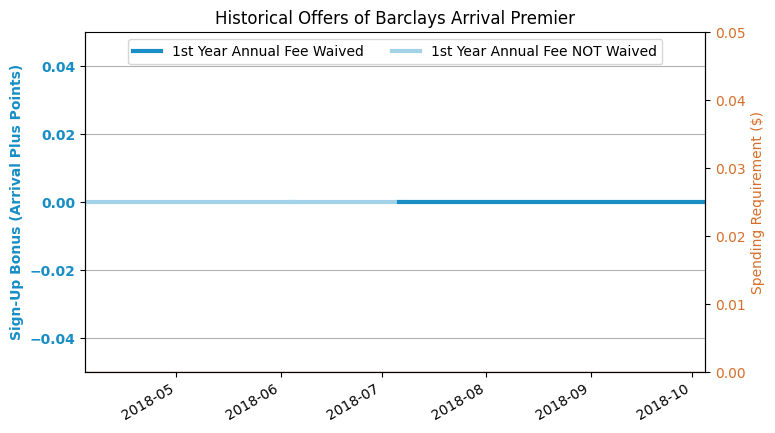 Application Link
---
Share this post with friends
If you like this post, don't forget to give it a 5 star rating!