Chase Sapphire Reserve Credit Card (CSR) Review
2017.05.22 Update: When the previous discussion was published, the official webpage hadn't been changed. It was changed today. In this official webpage: https://creditcards.chase.com/credit-cards/chase-sapphire-reserve, the verbiage for the  travel credit now changed to: "Automatically receive up to $300 in statement credits as reimbursement for travel purchases charged to your card each account anniversary year.*" Previously it was "Each year, automatically receive up to $300 in statement credits as reimbursement for travel purchases such as airfare and hotels charged to your card.*" We are no longer able to earn travel credit twice during the first year 🙁
2017.03.12 Update: The 100k offer is dead as planned, both online and in branch. The new offer is 50k. We don't know whether the 100k offer will reappear in the future.
Application Link:
Features:
Earn 50,000 Ultimate Rewards (UR) points after spending $4000 in the first 3 months! The previous best offer was 100k, but we don't know whether the 100k offer will reappear in the future.
Each year (

account anniversary year

), automatically receive up to $300 in statement credits as reimbursement for travel purchases such as airfare and hotels charged to your card.
With this card, you can transfer Ultimate Rewards (UR) points to airline miles and hotel points, to maximize their value. If UR points are used to transfer to airline miles, they are worth about 1.6 cents/point; if they are used to transfer to Hyatt points, they can be worth about 1.8 cents/point (Bank & Credit Card Points Value). This makes the 50K sign-up bonus worth about $900! For more information about Ultimate Rewards (UR), see Maximize the Credit Card Points Values (overview) and Review of Chase Ultimate Rewards (UR) (very detailed).
With this card, you can now use your UR points at a fixed 1.5 cent/point on the Chase UR travel portal. This makes the UR points worth at least 1.5 cent/point!
The UR points earned by Chase Freedom or CFU can be transferred to this card first, and then transferred to airline miles and hotel points. Note that Chase Freedom and CFU do not offer the point transfer option: they only allow you to redeem UR points to cash at a fixed ratio 1 cent/point. So this card makes the UR points earned on Chase Freedom and CFU much more valuable.
Earn 3x points on travel and dining. Earn 1 point per dollar spent on all other purchases. Chase is known to be quite flexible with their definition of travel and includes merchants such as Uber and some public transportation.
Visa Infinite benefits, including: Visa Infinite Hotel Collection, Visa Infinite Hotel Privileges, Visa Infinite Car Rental Privileges. But note that the $100 air discount benefit is

NOT

included.
Complimentary Priority Pass Select (PPS) card for the primary cardholder and authorized users. You can bring guests for free.
Up to $100 credit for Global Entry or TSA Pre application fee.
It has a metal core so it weighs 0.4 oz and feels very sturdy, and overall feels very nice.
No foreign transaction fee.
Primary car rental insurance.
Disadvantage:
Annual fee $450, NOT waived first year. $75 annual fee for each authorized user. Note that the annual fee does not count towards the minimum spending requirement (and this is true for all credit cards)!
The lowest credit limit is $10k, so it requires good income and credit history.
Summary:
This is a new Chase premium credit card. The $300 travel credit is easy to get so this makes its annual fee effectively only $150. Also don't forget the value of a PPS card! Compared to the Chase Sapphire Preferred (CSP), it earns 3x on travel & dinning instead of 2x, it earns UR points faster. It can also redeem UR at a better value through the travel portal (1.5 cpp vs 1.25 cpp). If you spend a lot on dining and travel, this card is better than the CSP. In conclusion, it is a card worth keeping! The biggest problem is the 5/24 rule. If you are able to get this card, it is strongly recommended!
Related Credit Cards:
Chase Sapphire Reserve (CSR) (this post)
Best Downgrade Option: 
Chase Freedom. Even if you already have a Freedom, you are still able to downgrade your CSP to have a second Freedom.
Chase Sapphire. If you are not able to downgrade your card to the above good cards, you can downgrade it to this card and try to product change in the future.
Recommended Application Time:
[5/24 Rule] If you have 5 or more new accounts opened in the past 24 months, Chase will reject your application for this card.The number of new accounts includes all credit card accounts, not only Chase accounts. Recently some data points have shown that there are exceptions to this rule, but if you really want this card, play it safe and be sure to apply for it as soon as you are eligible. See this post for details.
You are not eligible for this sign-up bonus if you received a sign-up bonus on this card within 24 months. Note that what this 24-month clock starts from when you last got the sign-up bonus, not the time you open the account or close the account.
Don't apply for more than 2 Chase credit cards within 30 days, it's highly likely that you will get rejected.
We recommend that you apply for this card after you have had other Chase credit cards for at least 3 months, or after you have had a credit history for more than a year.
After Applying:
Call 800-436-7927 to check Chase application status. This is an automated telephone line, and the information has the following meanings: Receive decision in 2 weeks means your application is probably approved; Receive decision in 7-10 days means your application is probably rejected; Receive decision in 30 days simply means your application requires further review and there's nothing to tell you for now.
Chase reconsideration backdoor number: 888-270-2127 or 888-609-7805. Call it if you didn't get approve immediately. Your personal information will be acquired and they will then review it. You seldom answer questions, instead, just enjoy the music and then you get approved or rejected, or further information is needed to be hand in to the branch or faxed.
Historical Offers Chart: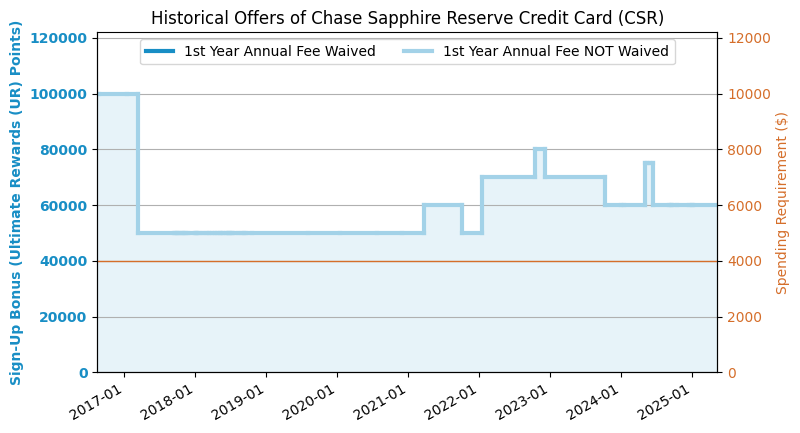 Application Link:
---
Share this post with friends:
If you like this post, don't forget to give it a 5 star rating!