Chase Marriott Rewards Premier Credit Card Review
2017.3.23 Update: The Chase official webpage has updated the offer to 100k+7.5k.
Application Link: 
Chase Marriott 80k+7.5k. This is our referral link, only 80k+7.5k, but you can ask to match to the 100k+7.5k offer after approval.
Features:
Limited Time Offer!

 100k+7.5k+first year annual fee NOT waived Offer: Earn 100,000 Marriott Points after spending $5000 in 3 months, and earn 7,500 Marriott Points after you add an authorized user and make a purchase in 3 months. This is one of the best offer in recent years, if you need it you can go for it now.
Marriott point is the same as Ritz-Carlton point, which we valued at 0.7 cents/point (Hotel Points Value), so the 107.5k highest bonus is valued at $752.5. Marriott free night award chart can be found here.
After SPG and Marriott points can be converted in both direction at a ratio 1:3, the Marriott points are really flexible!
If you have plenty of points, you may choose to redeem them for Marriott Rewards Travel Packages which is really awesome.
After each anniversary date, you will be credited a free night (FN) available for category 1-5 at Marriott.
Earn 5x points at Marriott and Ritz-Carlton. Earn 2x at restaurant, car rental and airlines. All other purchases earn 1 point per dollar spent.
Complimentary Marriott Silver status.
No foreign transaction fee.
It's made of metal, so it's quite heavy and the feel of this card is cool.
Refer a friend (targeted): You can earn 5,000 bonus Marriott points for every approved account you refer, up to a maximum of 10 approved referrals (50,000 Marriott points) per calendar year.
Disadvantages:
Annual fee $85, NOT waived for first year.
Free night is only valid for one year.
Summary:
The ~80k points highest sign-up bonus not only can be used to redeem for nights directly, but also can be used to get the Travel Package. Just make sure you applying for both Chase Marriott and Ritz-Carlton both at their best offer time. Besides numerous points, the annual free night is a good reason to keep the card, it's indeed worth $85 annual fee. So if you are a big Marriott fan, you should definitely keep it.
Related Credit Cards:
Chase Marriott (this post)
Best Downgrade Option:
You can not downgrade this card to any card with no annual fee, so I suggest you close it when you don't want to keep it any longer.
Recommended Application Time:
[5/24 Rule] If you have 5 or more new accounts opened in the past 24 months, Chase will reject your application for this card.The number of new accounts includes all credit card accounts, not only Chase accounts. Recently some data points have shown that there are exceptions to this rule, but if you really want this card, play it safe and be sure to apply for it as soon as you are eligible. See this post for details.
You are not eligible to this sign-up bonus if you received a sign-up bonus on this card within 24 months. Note that what matters here is the time you got the sign-up bonus, not the time you open the account or close the account.
Don't apply for more than 2 Chase credit cards within 30 days, it's highly likely that you will get rejected.
We recommend you to apply for this card after you have a credit history for more than a year.
After Applying:
Call 800-436-7927 to check Chase application status. This is an automated telephone line, and the information has the following meanings: Receive decision in 2 weeks means your application is probably approved; Receive decision in 7-10 days means your application is probably rejected; Receive decision in 30 days simply means your application requires further review and there's nothing to tell you for now.
Chase reconsideration backdoor number: 888-270-2127 or 888-609-7805. Call it if you didn't get approve immediately. Your personal information will be acquired and they will then review it. You seldom answer questions, instead, just enjoy the music and then you get approved or rejected, or further information is needed to be hand in to the branch or faxed.
Historical Offers Chart: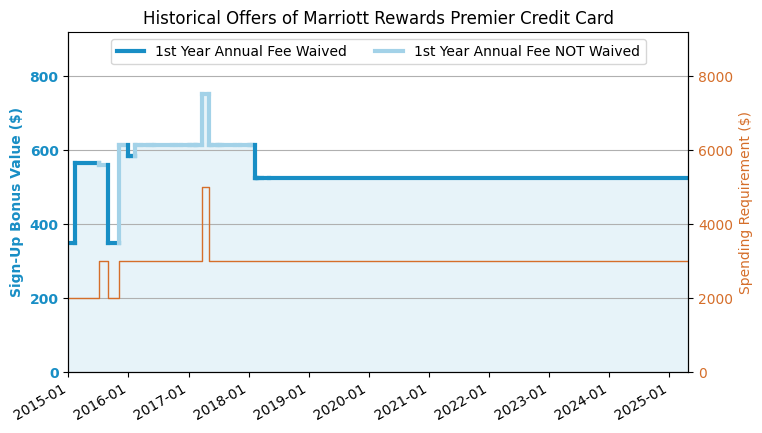 Application Link: 
Chase Marriott 80k+7.5k. This is our referral link, only 80k+7.5k, but you can ask to match to the 100k+7.5k offer after approval.
---
Share this post with friends:
How do you like this post?