Chase Marriott Rewards Premier Business Credit Card Review
2018.8.26 Update: the new Marriott & SPG co-branded credit cards bonus limits is now effective.
2018.8 Update: Note that the new offer does not waive first year annual fee any more.
2018.1 Update: The new offer is 75k Marriott points, and the first year annual fee is waived. Comparing to the previous offer, which is 80k but first year annual fee not waived, this new offer has 5k points less but saves you $99. So it's a better offer. Note that this card is NOT affected by the Chase 5/24 rule.
Application Link
Benefits
75k offer: Earn 75,000 Marriott Points after spending $3000 in 3 months. The best offer is 100k offer, but we don't know whether it will show up again.
Marriott point can be transferred to the most flexible and valuable points — SPG points instantly in both directions at a ratio 3:1. We estimate that Marriott points are worth about 0.8 cents/point, see below for a brief introduction. So the 100k highest sign-up bonus is worth about 800!
After each anniversary date, you will be credited a free night (FN) available for category 1-5 at Marriott.
Earn 5x points at Marriott and Ritz-Carlton. Earn 2x at restaurant, car rental and airlines. All other purchases earn 1 point per dollar spent.
Complimentary Marriott Silver status.
Earn 15 elite nights each account membership year (elite nights are for status, not free nights); 1 more elite night for every $3,000 spending.
No foreign transaction fee.
Disadvantages
Annual fee $99, NOT waived for first year.
Free night is only valid for one year.
Introduction to Marriott Points
Marriott points are the most flexible transferable points (After the merging with SPG, Marriott obtained all its airline partners).
You can earn Marriott points with AmEx SPG, AmEx SPG Luxury, Chase Marriott Premier Plus, AmEx SPG Business, Chase Marriott Business, and a few recently discontinued cards.
Marriott points are stored in your Marriott account, not in your credit cards, so you won't lose your points by canceling the credit cards.
Your Marriott points will expire if you don't earn or spend any Marriott points in 24 months. As long as you earn make a purchase with the corresponding credit cards or stay in a hotel, or you redeem some points during the time frame, the point expiration date will be postponed accordingly.
Marriott points can be transferred to a lot of airlines miles (you don't have to have a Marriott related credit card to make the transfer), and the ratio is 3:1.25 (i.e. 3:1 transfer rate, plus you get 5k bonus miles for every 60k Marriott points you transfer at a time). The good options are: Alaska Airlines (AS) (Non-alliance), Japan Airlines (JL) (Oneworld), United Airlines (UA) (Star Alliance), American Airlines (AA) (Oneworld), All Nippon Airways (ANA, NH) (Star Alliance), Korean Air (KE) (SkyTeam), etc. If you use Marriott points in this way, the value is about 0.7 cents/point.
Marriott points can also be redeemed for hotel stays obviously. Here's the redemption chart: Marriott redemption chart. Generally speaking, you can get a better redemption value from lowest categories. If you use Marriott points in this way, the value is about 0.8 cents/point.
In summary, we estimate that Marriott points are worth about 0.8 cents/point.
Recommended Application Time
This card is not affected by the 5/24 rule for now.
This product is available to you if you do not have this card and have not received a new cardmember bonus for this card in the past 24 months. Note that what matters here is the time you got the sign-up bonus, not the time you open the account or close the account.

[New]

The bonus is not available to you if you:

are a current cardmember, or were a previous cardmember within the last 30 days, of the Starwood Preferred Guest credit card;
applied and were approved for the Starwood Preferred Guest credit card, Starwood Preferred Guest Business, or Starwood Preferred Guest Luxury credit card within the last 90 days.
or are a current or previous cardmember of either the Starwood Preferred Guest Business or the Starwood Preferred Guest Luxury credit card, and received a new cardmember bonus or upgrade bonus in the last 24 months.

Don't apply for more than 2 Chase credit cards within 30 days, it's highly likely that you will get rejected.
We recommend you to apply for this card after you have a credit history for more than a year.
Summary
This card is basically the same as the personal Chase Marriott credit card. The good thing is that this card is not yet affected by the 5/24 rule. Apart from the sign-up bonus, this card has an up to 35k points Free Night by paying the annual fee. If you find the free nigh is worth more than the $99 annual fee, then it is worth keeping this card.
Related Credit Cards
Chase Marriott Business (this post)
Recommended Downgrade Options
You can not downgrade this card to any card with no annual fee, so I suggest you close it when you don't want to keep it any longer.
Historical Offers Chart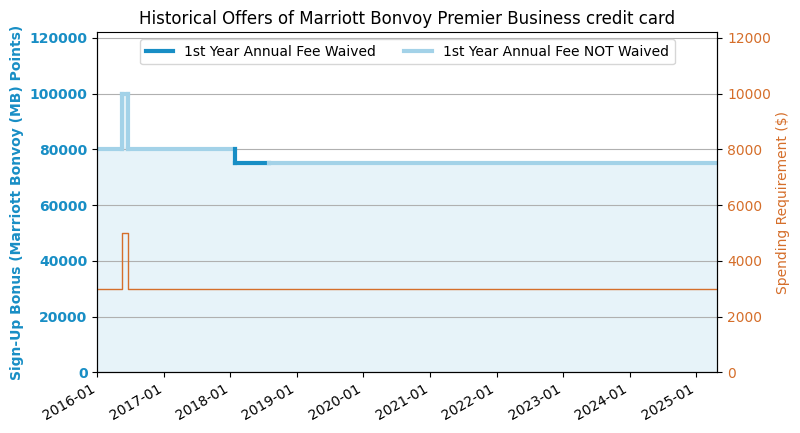 Application Link
---
Share this post with friends
If you like this post, don't forget to give it a 5 star rating!
[Total: 5 Average: 4.2/5]