Marriott Bonvoy Business American Express Card (Formerly Starwood Preferred Guest Business Credit Card from American Express) Review
2019.2 Update: The AmEx SPG Business card is now rebranded as AmEx Marriott Bonvoy Business card, and the benefits remain the same. At the same time, the offer is raised to 100k, and the deadline is 2019.04.24. Note that the annual fee will be raised to $125 on 2019.03.28.
Application Link
Benefits
100k offer: earn 100,000 Marriott points after you make $5,000 in purchases within the first 3 months.
Marriott point is now the most flexible points (after the merger with SPG). We estimate that Marriott points are worth about 0.8 cents/point, see below for a brief introduction. So the 100k highest sign-up bonus is worth about 800!

[New] 

Earn 6x Marriott points for each dollar of eligible purchases at participating SPG and Marriott Rewards hotels; 4x at U.S. restaurants, at U.S. gas stations, on wireless telephone services purchased directly from U.S. service providers and on U.S. purchases for shipping; 2x Marriott points for each dollar on other eligible purchases.

[New] 

Receive a Free Night Award that you can redeem for a one-night stay at participating SPG and Marriott Rewards properties with a redemption level at or under 35,000 points (additional mandatory resort fees may apply) every year of Card Membership.

[New] 

Earn 15 elite nights each calendar year (elite nights are for status, not free nights).
Receive complimentary Marriott Silver Elite Status; earn Marriott Gold Elite Status after you spend $35,000 in eligible purchases in a calendar year. Note that in the new Marriott program, the most important benefits (such as: free breakfast, lounge access, suite upgrade) comes with Marriott Platinum and higher status, therefore the status earned on this card is not quite useful.
With this card, you can get access to Amex Offer, which usually offers very good discounts at some stores, such as: spend $15 or more and get $5 back at Walmart; spend $75 or more and get $25 back on Amazon.com.
No foreign transaction fee.
Complimentary Boingo Wi-Fi on up to four devices worldwide.
Refer a friend: You can earn 20,000 bonus Marriott points for every approved account you refer, up to 55,000 Marriott points per calendar year.
Disadvantages
$125 annual fee, NOT waived for the first year. ($95 before 2019.03.28)
Introduction to Marriott Points
Marriott points are the most flexible transferable points (After the merging with SPG, Marriott obtained all its airline partners).
You can earn Marriott points with AmEx SPG, AmEx SPG Luxury, Chase Marriott Premier Plus, AmEx SPG Business, Chase Marriott Business, and a few recently discontinued cards.
Marriott points are stored in your Marriott account, not in your credit cards, so you won't lose your points by canceling the credit cards.
Your Marriott points will expire if you don't earn or spend any Marriott points in 24 months. As long as you earn make a purchase with the corresponding credit cards or stay in a hotel, or you redeem some points during the time frame, the point expiration date will be postponed accordingly.
Marriott points can be transferred to a lot of airlines miles (you don't have to have a Marriott related credit card to make the transfer), and the ratio is 3:1.25 (i.e. 3:1 transfer rate, plus you get 5k bonus miles for every 60k Marriott points you transfer at a time). The good options are: Alaska Airlines (AS) (Non-alliance), Japan Airlines (JL) (Oneworld), United Airlines (UA) (Star Alliance), American Airlines (AA) (Oneworld), All Nippon Airways (ANA, NH) (Star Alliance), Korean Air (KE) (SkyTeam), etc. If you use Marriott points in this way, the value is about 0.7 cents/point.
Marriott points can also be redeemed for hotel stays obviously. Here's the redemption chart: Marriott redemption chart. Generally speaking, you can get a better redemption value from lowest categories. If you use Marriott points in this way, the value is about 0.8 cents/point.
In summary, we estimate that Marriott points are worth about 0.8 cents/point.
Recommended Application Time
You can only get the sign-up bonus once in a lifetime, so be sure to apply when the historical highest offer appears.

[New]

Welcome offer not available to applicants who:

have or have had: the Marriott Rewards Premier Business Credit Card from Chase or Marriott Rewards Business Credit Card from Chase ($45 annual fee version) in the last 30 days,
have acquired: The Marriott Rewards Premier Plus Credit Card from Chase or The Marriott Rewards Premier Credit Card from Chase in the last 90 days,
or received a welcome offer in the last 24 months on: The Marriott Rewards Premier Plus Credit Card from Chase or The Marriott Rewards Premier Credit Card from Chase.

AmEx doesn't typically care about the number of hard pulls.
You can try to apply for it when you have a credit history of 6 months.
Only one AmEx credit card can be approved per day. This rule does not apply to charge cards, you can be approved for one credit card and multiple charge cards in the day. Multiple cards approved in the same day will only have one Hard Pull.
Only 2 AmEx credit cards can be approved within 90 days, but again, this rule does not apply to charge cards.
You can keep at most 5 AmEx credit cards, not including charge cards.
Summary
This card is really similar to the personal AmEx SPG card. The earning rate 2x Marriott is just so so, not worth it. The annual FN offered by this card is capped at 35k per night. So you can use it at any Category 1-5 hotels in the new chart except Cat 5 high peak. By looking at previews of hotels under new chart, we find that Cat 5 can be found even in New York or Paris. This is definitely an upgrade from old Cat 1-5 FN, because it can hardly be used in any big city. We believe the new annual FN will be worth the annual fee.
Related Credit Cards
AmEx SPG Business (this post)
Recommended Downgrade Options
You can not downgrade this card to any card with no annual fee, so I suggest you close it when you don't want to keep it any longer.
After Applying
Click here to check AmEx application status.
AmEx reconsideration backdoor number: 877-399-3083. The "real" backdoor number of Amex is well protected. Different from Chase, the representatives from this AmEx reconsideration backdoor number only have the right to help you submit requests.
Historical Offers Chart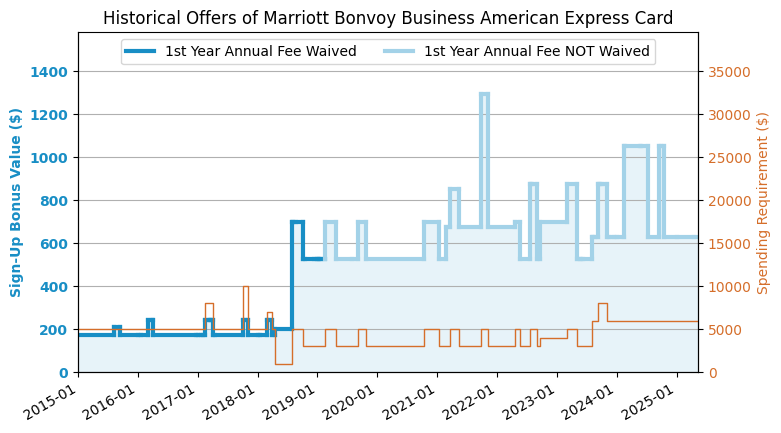 Application Link
---
Share this post with friends
If you like this post, don't forget to give it a 5 star rating!