Starwood Preferred Guest Business Credit Card from American Express Review
Application Link:
Features:
Earn 25,000 SPG Starpoints after spending $3,000 in first 3 months. The highest sign-up bonus is 35k. Because you can only get one sign-up bonus for this card per lifetime, please wait until the highest sign-up bonus shows up!
SPG Starpoints earned by this card are really valuable: if you transfer them to AA Miles, they are worth about 2 cents/point; if you use them to redeem for SPG hotels, they are worth about 2.4 cents/point (Hotel Points Value)! Click here to see how many points are required for a free night. So the 35k  sign-up bonus can be worth about $840! For more information about SPG Points, see Maximize the Credit Card Points Values (overview) and Introduction to SPG Starpoints Series (very detailed).
Earn 2 Starpoints per $1 spent directly with Starwood Preferred Guest program; 1 Starpoint per $1 spent on other purchases. Because the points are really valuable, this credit card is equivalent or better than an everything 2% card.
SPG has a lot of airlines partners, which makes Starpoints the most flexible points among all credit card points. The most popular transfer way is to 1:1 transfer to AS/JL/AA Miles, and when you transfer 20,000 Starpoints per transaction, you get 5,000 more Miles, which actually makes the transfer rate 1:1.25. More information about transferring Starpoints is in Introduction to SPG Starpoints.
After the SPG Marriott merger, you can also 1:3 transfer your SPG points to Marriott points. This makes SPG points even more useful, as you can redeem for the Marriott Travel Packages.
Complimentary access to the Sheraton Club lounge, so you can have free breakfast there.
Upgrade to Gold Preferred level after spending $30,000 in each account year.
With this credit card, you can get access to Amex Offers, which often offers very good discounts at some stores. In the past we have seen offers like: Spend $15 or more and get $5 back at Walmart; Spend $75 or more and get $25 back on Amazon.com.
No Foreign Transaction Fee.
Complimentary Boingo Wi-Fi on up to four devices worldwide.
Refer a friend: You can earn 5,000 bonus SPG points for every approved account you refer, up to a maximum of 11 approved referrals (55,000 SPG Points) per calendar year.
Disadvantages:

$95 annual fee, but waived for the first year. (The annual fee was raised on 2015.8.11, and the change applies to previous customers too.)
Summary:
This card is pretty the same as the personal version. For most people, you only need to keep one of them (but obviously it's worth to get both sign-up bonuses!). The only difference is that the business version gives you complimentary access to Sheraton Club lounge, so it is more worth keeping than the personal version.
Best Downgrade Option:
You can not downgrade this card to any card with no annual fee, so I suggest you close it when you don't want to keep it any longer.
Recommended Application Time:
You can only get the sign-up bonus once in a lifetime, so be sure to apply when the historical highest offer appears.
AmEx doesn't typically care about the number of hard pulls.
You can try to apply for it when you have a credit history of 6 months.
Only one AmEx credit card can be approved per day. This rule does not apply to charge cards, you can be approved for one credit card and multiple charge cards in the day. Multiple cards approved in the same day will only have one Hard Pull.
Only 2 credit cards can be approved within 90 days, but again, this rule does not apply to charge cards.
You can keep at most 5 AmEx credit cards, not including charge cards.
After applying:
Click here to check AmEx application status.
AmEx reconsideration backdoor number: 877-399-3083. The "real" backdoor number of Amex is well protected. Different from Chase, the representatives from this AmEx reconsideration backdoor number only have the right to help you submit requests.
Historical Offers Chart: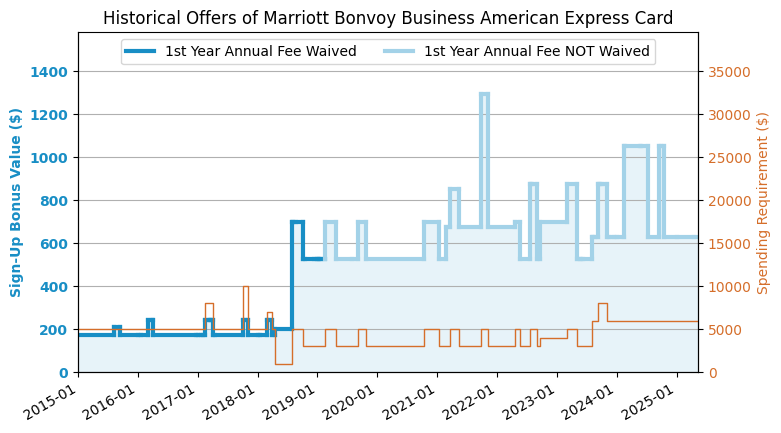 Application Link:
---
Share this post with friends:
If you like this post, don't forget to give it a 5 star rating!