Apple's new models were unveiled last week. If joining the queues for the latest iPhone is one of your plans, I am pretty sure this new iPhone 6s or 6s Plus will still cost you an arm and a leg. And that's exactly why we are here posting this guide to help you get the cheapest deals without much effort. In particular, we will focus on money-saving and extended warranty strategies. Six options are available as follows. See What Is the Best Way to Buy an iPhone 6s (Plus) (Comparison) for the comparison for different upgrade frequency.
Limited Time!

Discover's Apple Pay rewards. Discover is offering its cardholders extra 11%-11.5% cash back bonus through the end of the year on in-store purchases made with Apple Pay, including the latest iPhones. If you are a new cardholder or are enjoying Discover's limited-time sign-on bonus that allows cardholders to earn double cash back in their 1st year of card use, you are earning 22%-23% cash back.

New!

Apple's iPhone Upgrade Program: upgrade to the latest iPhone every year on monthly installments, AppleCare+ fees included.
Citi AT&T Access More:Save $650 immediately.

It is confirmed that you can get the iPhone 6s (Plus) at the same time when it is open for pre-order on Apple official website!

AmEx Card: Purchasing with AmEx credit card is your best choice if extended warranty is your priority.
Discover Deals:12% Off!
Apple Store Gift Cards:5%~6% Off!
If you are to bring your iPhone back to China, pay attention to the version of your iPhone. It is said almost all unlocked versions of iPhone 6s/6s Plus sold in US market work successfully on major Chinese carriers including China Mobile, China Unicom and China Telecom. One exception is that AT&T Wireless unlocked iPhones won't work on China Telecom's 2G/3G network. For iPhone 6/6 Plus, some versions sold by certain U.S. carriers may not work on 3G/4G network provided in China. Refer to Guidelines on iPhone Purchases in the U.S.: versions that support Chinese carriers for more details.
1. Apple Pay + Discover: as high as 23% cash back
Attention: This option is valid until the end of 2015.
Till the end of 2015, you will earn extra 10% cash back by using Discover credit cards on in-store purchases made with Apple Pay, if you have any devices that support Apple Pay (iPhone 6 / 6 plus). Taking regular bonus offered into consideration, that's 11% and 11.5% bonus for Discover it and Discover it Miles cardholders. And you are enjoying even 22%-23% cash back if you enroll in Discover's limited sign-on bonus that allows double cash back (automatically enrolled for new user). For example, you can get about $170 cash back with an iPhone 6s purchase. See more details in: Discover + Apple Pay = 22%, 23% or 30% Cash Back!
However, if you do not have iPhone 6/6s, you can also borrow one from friends.
2. Apple's iPhone Upgrade Program: a new iPhone every year on installment, including AppleCare+!
iPhone Upgrade Program is a new mobile payment / upgrade program released on conference for iPhone 6S, similar to plans of AT&T Next or other contracts. Simply put, this program integrates AppleCare+ service into unlocked version of iPhone (AppleCare+ is one-year extended warranty service provided by Apple. It charges $129 for the latest 6S and plus 6S and $99 for other models). Installments can be divided into 24 months. After having paid for 12 months, you can choose whether to continue pay for installment, or to upgrade to latest iPhone with a new 24-month installments. Users are offered choices every 12 months. However, it is still not clear whether the iPhones sold in iPhone Upgrade Program can work on the 4G network in China.
Pros
Considering the inflation rate, installment is much like a discount.
You may upgrade to a new phone every year.
Compared to the extended warranty provided by the credit card companies (see the credit card term AppleCare+ (see "Warranty Extended"), AppleCare+ is more convenient and easier. It also includes up to two incidents of accidental damage coverage, each subject to a service fee of $99 for iPhone 6s and iPhone 6s Plus, or $79 for other models. This coverage is not included in the original warranty and warranty provided by credit card companies.
Cons
If you update iPhone every year, the main benefit of AppleCare+ is its two accidental damage coverage, since a new phone comes with one-year AppleCare.
You may not be able to enjoy credit card warranty extensions (see"Extended Warranty") on installment purchase plans. If you upgrade your iPhone every two years, the truth is that you are paying for one-year warranty on the second year. It is still easier than credit card warranty extension, though it costs you additional $129.
However, this installment may be treated as a kind of loan that requires Hard Pull. Besides, it is stated that installment purchase plan is "available to qualified customers only with a valid U.S. personal credit card". We will update this post when data point is available.
Summary
If you plan to change your iPhones every year, or pay for AppleCare +on installments, Apple's latest iPhone Upgrade Program that save you both money and effort is a good choice.
Pros
When you sign up for Citi AT&T card, you will get $650 back with your iPhone purchases after meeting certain spending requirements. It's like you are getting a latest 16G iPhone for free!
For iPhone 6s/6s Plus, the AT&T version works well on all Chinese carriers. Refer to How to Choose the Correct Carrier for iPhone for more details.
Cons
Citi AT&T sets high standards for its applicants. We recommend you apply for it only when you have more than one year credit history and few hard pulls on report.
The annual fee is $95. If you are not attracted by other benefits offered by this card, you can convert this card to a no annual fee card at the end of first year.
Summary
For those who have a sound credit history and use AT&T mobile services, it is definitely a great deal! It is still worth consideration even your phones are on other carriers, though the process is a little bit more complicated.
Step by step guidance
Apply for Citi AT&T Access More. Application Link: Citi AT&T Access More.
Complete the requirements of $2,000 purchases within the first three months.
You will receive a link that directs you to buy a non-contract AT&T iPhone at full price. (This iPhone purchase is eligible for $2000/3months spending requirements)
Register your iPhone with any AT&T plans, (pay attention to the tips mentioned above) and make sure you use AT&T services for more than 15 days.
You are qualified for this bonus when you are account holder or authorized user of your AT&T cards. If you are not, persuade your account holder to add you as an "Authorized User" temporarily.(Up to two persons can be added for each plan).
If your service is not provided by AT&T, or you want to bring your iPhone back to China and use it there, make sure you stay on AT&T services for no less than 15 days in order to get the bonus. For carrier switching, click here to unlock your AT&T first, and information such as Name of Account Holder, the last four number of SSN, and the password of AT&T may be required.
Wait for your $650 reward to come.
4. AmEx Card: the best option for extended warranty!
Pros
Among all credit cards that provide extended warranty, AmEx is definitely the best, as mentioned in "Extended Warranty". If you use AmEx credit card to buy an iPhone, you can automatically get another one-year-extension of warranty. It's like getting $99 Apple Care for free! For electronic products are subject to damage, it is a pretty good choice.
Cons
Amex's discount is less appealing. As an AmEx SPG cardholder, you can get the 1x SPG points, about 2.4% return; if you pay the bill 30 times by AmEx EveryDay Preferred (EDP) in the first month, you can get 1.5x MR points, about 2.4% return. The returns on the other cards are even lower. However, it's still not a bad option given that not much discount is available for the latest iPhone.
In order to obtain the benefits of extended warranty, you need to hold the credit card for long-term use, and for those who are not intended to do so, think again before your application.
Summary
Although other banks like Citi and Discover also provide extended warranty services, AmEx's extended warranty is absolutely much more superb. If you want to buy a latest iPhone and use it only in US, AmEx's credit card is your best choice.
Step by step guidance
Buy the iPhone directly with your AmEx credit card.
Keep the store receipts, credit card receipts (statement of the month is also available); the original factory warranty / proof; if you have also purchased the additional warranty, keep it as well.
5. Discover Deals:12% Off!
Pros
If you are a Discover credit card user, you can find Apple Store options in Discover Deals that offers a 5% off; if you hold a Discover it credit card, which allows 1% return, you may be able to earn double all the return of the first year, including the returns of Discover Deals! So the ultimate return rate will reach at (5%+1%) *2 = 12% off!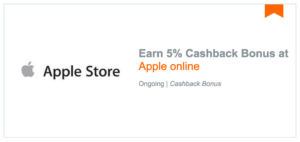 Cons
Be sure to read the detailed terms of the Discover Deals carefully as some commodities are excluded from the returns. Generally speaking, a new iPhone are unavailable to obtain additional returns in all Shopping Portals such as Discover Deals within six months.
Summary
If your choice is not limited to the latest iPhone, then Discover Deals with 12% off is definitely your first choice!
Step by step guidance
You need a Discover credit card. If not, don't hesitate, for it's a piece of cake to get one by just applying for the Discover it! Application Link:  Discover It.
Click Discover Deals and login in.
Find the Apple Store, click and read the varied detailed terms carefully, and make sure that products you what to buy are not excluded.
Click shop now, go to the Apple's official website to buy one. Make sure that you are directed to the Apple's official website through Cash Back network. Avoid clicking other coupon websites that may clean the Cash Back network cookies and prevent you from getting the refund. And check out as soon as possible.
Use Discover's credit card to pay the bill.
6. Apple Store Gift Cards:6%~7% Off!
Step by step guidance
Buy Apple Store Gift Cards in supermarkets or places where credit cards have pretty high cash back rates (for example BCP 6%, EDP 7.2%), and then use these Cards Gift to buy iPhones in Apple stores.
Don't buy iTunes Gift Cards or App Store Gift Cards rather than Apple Store Gift Cards by mistakes.
Pros
Generally speaking, there is no other way to buy a latest iPhone with such a high discount, and you can get a 6%~7% return easily now.
Cons
You lose the opportunity on complimentary extended warranty provided by credit card issuers.
Summary
We do not recommend this option since you give up the opportunity on complimentary extended warranty. However, it remains a good option if you are buy iPhones for your friends back in China, for the warranty extending services are of little use anyway.
Tips
In addition to the six options mentioned above, you may save even more by buying from duty-free states, namely, Oregon, Alaska, Delaware, Montana and New Hampshire. When you order online, contact a friend who lives in these states, fill in his/or her address as the shipping address, and let he/she ship the item to you. In this way, you are making a good budget, even including the $20 shipping fees.
---
Share this post with friends
If you like this post, don't forget to give it a 5 star rating!