AT&T Access Card from Citi Review
Application Link: 
Features:
Earn 10,000 ThankYou Points (TYP) after spending $1000 in the first 3 months. Note that you won't get a free phone with this card, it's Citi AT&T Access More that can give you a free phone.
Earn 2 ThankYou Points per $1 spent at AT&T and "online purchases at retail and travel websites", 1 ThankYou Point per $1 spent on other purchases.
According to FlyerTalk and other forums, "Online purchases at retail and travel websites" includes, but not limited to the following stores: Amazon, Ebay, Mileage Plus X (MPX); Online at retail and travel websites" does NOT include Apple.
1 ThankYou Point worth 1 cent in cash back or travel redemption, or 1.25 cent if you have Citi ThankYou Premier Card and redeem for travel including airline tickets, hotel and car rental, or 1.6 cent if you have Citi Prestige Card and redeem for American Airlines/US Airway tickets (Bank & Credit Card Points Value). For more information about ThankYou Points (TYP), see Maximize the Credit Card Points Values (overview) and Review of Citi ThankYou Points (TYP) (very detailed).
No annual fee.
Citi retention offer (offer for cardholders who wants to close their accounts) is typically very generous, but still, YMMV (Your mileage may vary).
Disadvantages:
Foreign Transaction Fee exists, so better not use it outside United States.
Summary:
Both the sign-up bonus and points earning ability are just so-so, so it's not worth much applying. But it is a good card as a downgrade option! If you convert your cards that earns TYP (such as Citi Prestige, Citi ThankYou Premier, etc.) to this card that also earns TYP, your TYP won't expire; on the other hand, if you convert them to cashback card such as Double Cash (DC), the TYP you earned will expire in 60 days. Compared to Citi ThankYou Preferred that can also earn TYP, the benefit of this card is the 2x bonus category is broader.
Related Credit Cards:
Citi AT&T Access (this post)
Note that, when people talk about Citi AT&T credit card, they usually refer to the Citi AT&T Access More that basically gives you a free phone and has an annual fee. This no annual fee version is a different card, it does not give you a free phone. The different on the card design is on the orange "More" text.
Recommended Application Time:
8/65 Rule: You can apply for at most 1 Citi cards every 8 days, and at most 2 Citi cards every 65 days, no matter approved or not.
[New] Bonus ThankYou Points not available if you have had any AT&T Access card or AT&T Access More card opened or closed in the past 24 months
Citi values the number of recent hard pulls a lot, we recommend you apply when there's less than 6 hard pulls in the past 6 months.
We recommend you apply for this card after you have a credit history of at least one year.
After Applying:
Call 888-201-4523 to check Citi application status.
Citi reconsideration backdoor number: 866-336-7285. This is a so called "Citi EO" (Executive Office) phone number. This phone number is not designed to make reconsiderations, but the representatives are really helpful.
Historical Offers Chart: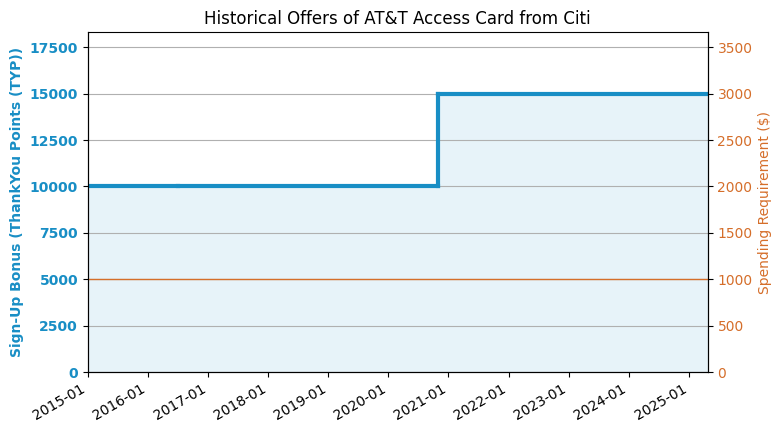 Application Link: 
---
Share this post with friends:
How do you like this post?