Citi Double Cash Card (DC) Review
2018.7 Update: The new offer is $150! This is the highest offer on this card ever. HT: reddit. However, if you are a hardcore gamer, the best way to get this card is still apply for other Citi cards with high sign-up bonus (such as Citi AA Platinum) and then product change to obtain this card after one year.
Application Link
Benefits
$150 Offer: earn $150 after spending $500 in the first 3 months.
Everything 2% cash back: earn 1% cash back on every purchase you make, and an additional 1% cash back when you pay at least the minimum due.
No annual fee.
Disadvantages
No sign-up bonus.
It has foreign transaction fee, so it's not a good choice outside the US.
Recommended Application Time
[8/65 Rule] You can apply for at most 1 Citi cards every 8 days, and at most 2 Citi cards every 65 days, no matter approved or not.
Citi values the number of recent hard pulls a lot, we recommend you apply when there's less than 6 hard pulls in the past 6 months.
We recommend you apply for this card after you have a credit history of at least one year.
Summary
This card is a no-brainer choice: everything 2% cash back with no annual fee, worth keeping for everyone. You probably should use this card for all transactions that don't have 2%+ reward rate. There's no sign-up bonus on this card, so instead of applying for this card directly, we recommend you get Double Cash by downgrading other Citi cards with high sign-up bonus, assuming you are willing to spend time doing research about how to play the credit card game. According to Citi's policy, all the accounts older than 12 months can be downgraded to this card. If you just want to get a good cash back card and don't want to spend time doing research, you should just apply for it directly.
There are another two no annual fee 2% cash back cards: Fidelity Rewards (Visa) and Alliant Visa Platinum Rewards. I prefer DC among the three because you can get it from downgrading a card that has a huge sign-up bonus. In "other" spending category, except for the 2% cash back cards, you also have these two options:
Chase Freedom Unlimited (CFU), 1.5x UR points on all purchases. According to our points value estimation, it's about ~2.4% return. No annual fee.
AmEx SPG, 1x SPG points on all purchases. According our points value estimation, it's about ~2.4% return. $95 annual fee.
For those who like to play the points/miles game, these two are better options; for those who believes cash is king, the 2% cash back cards are the right choice.
After Applying
Call 888-201-4523 to check Citi application status.
Citi reconsideration backdoor number: 605-331-1698. This is a so called "Citi EO" (Executive Office) phone number. This phone number is not designed to make reconsiderations, but the representatives are really helpful.
Historical Offers Chart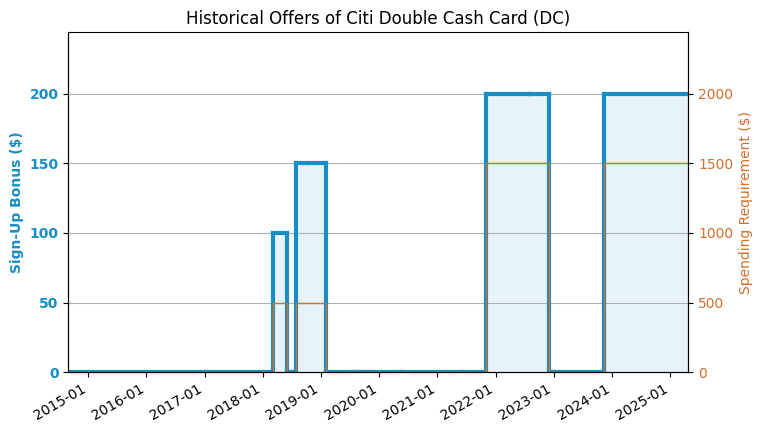 Application Link
---
Share this post with friends
If you like this post, don't forget to give it a 5 star rating!
[Total: 4 Average: 4.5/5]