Citi Prestige Card Review
2016.10 Update: It is possible to see a 50k offer via incognito mode. The spending requirement is $5000 in 3 months.
Application Link:
Features:

Earn 50,000 ThankYou Points (TYP) after spending $3000 in first 3 months!
1 ThankYou Point is worth 1 cent in cash back or travel redemption, or 1.6 cents if you redeem for American Airlines tickets (Bank & Credit Card Points Value). So the 50k highest sign-up bonus could be worth $800! For more information about ThankYou Points (TYP), see Maximize the Credit Card Points Values (overview) and Review of Citi ThankYou Points (TYP) (very detailed).
Earn 3 ThankYou Points per $1 spent on airlines, hotels, and travel agencies, 2 ThankYou Points per $1 spent on dining and entertainment, and 1 ThankYou Point per $1 spent on other purchases.
Points+cash is available when redeeming for air tickets, so no need to worry if you do not have enough TYP.
$250 annual (

12 billing periods in a row beginning with the one that includes January 1st

) air credit for air fare, baggage fees, lounge access and more. Just use your card to pay the expense, and the reimbursement will show as a statement credit in the next billing cycle.
Complimentary 4th night for any hotel stay worldwide (need to stay for continuous 4 or more nights). To use this benefit, you need to call the number on the back of your card to make the reservation.
Complimentary Priority Pass Select card, which gives you free access to many airport lounges worldwide. With this Priority Pass Select card, you can bring 2 guests with you for free!
Complimentary access to American Airlines Admirals Clubs lounges when flying on American Airlines.
This is a World Elite MasterCard card (WEMC), the cardholder will receive complimentary premium membership of major car rental companies provided by WEMC, including Avis, National, Hertz, Sixt.
Up to $100 credit for Global Entry application fee. Note that this card does NOT reimburse TSA Pre application fee.
The trip delay insurance is the best among all credit cards. They will reimburse you for expenses you incur because of the delay if the plane is delayed by 3 hours! Other cards typically have this benefit kick in after a 12 hour delay…
No Foreign Transaction Fee.
Authorized users also receive Priority Pass Select card, and they can also bring 2 guests with them for free, but authorized users do not have free access to Admirals Clubs. The $250 annual air credit is shared between the cardholder and authorized users.
Citi retention offer (offer for cardholders who wants to close their accounts) is typically very generous, but still, YMMV (Your mileage may vary).
Disadvantages:
Annual fee is NOT waived for the first year, and is divided into two types:

$350 annual fee: if you are a Citigold or Citi Priority customer, then you can automatically get this annual fee no matter where you apply. Even if you apply online using a $450 AF version link, your AF will become $350 automatically. If you are not a Citigold or Citi Priority customer, then in order to get this lower annual fee, you have to apply in branch and ask the banker to select Citigold for you (Citi will not verify) and then apply.
$450 annual fee: if you are not a Citigold or Citi Priority customer and you apply online, you can only get this $450 annual fee version. We don't recommend applying online because of a higher annual fee.

Note that annual fee does not count towards the minimum spending requirement (and this is true for all credit cards)!

Each authorized user costs $50 per year.
Summary:
If you only keep this card for one year, you will get 50k TYP (worth up $800) and two airline fee credits ($250*2), the cost is the first year annual fee $350. So in total, the net gain is about $950! If you want to keep this card longer term, then your first-year benefit is $700 and the equivalent annual fee is only $350-$250=$100 thereafter. Keeper or not, this is a fantastic card to apply for! When you have this card, you have the possibility of pooling your TYP from other Citi cards and redeeming them at up to 1.6 cpp, so it is indeed a must-have if you are interested in stockpiling TYP. The other highlight of this card is the complimentary 4th night free benefit. Using this benefit can easily pay for the card multiple times over! The equivalent annual fee is only $100, which is worthwhile if you can make use of any of those perks above. If you want to keep only one card with $100+ annual fee, the Citi Prestige is probably your best choice.
Related Credit Cards:
Citi Prestige (this post)
Best Downgrade Options: 
Citi ThankYou Preferred. We recommend you downgrade this card to these no annual fee cards that can earn TYP, because you can keep your TYP if so. If you downgrade this card to DC/Dividend, the TYP you earned from this card will expire in 60 days.
Recommended Application Time:
8/65 Rule: You can apply for at most 1 Citi cards every 8 days, and at most 2 Citi cards every 65 days, no matter approved or not.
[New] Bonus ThankYou points are not available if you have had ThankYou Preferred, ThankYou Premier or Citi Prestige card opened or closed in the past 24 months. Product change is treated as account closure.
Citi values the number of recent hard pulls a lot, we recommend you apply when you have less than 6 hard pulls in the past 6 months.
We recommend you apply for this card after you have a credit history of at least one year.
After Applying:
Call 888-201-4523 to check Citi application status.
Citi reconsideration backdoor number: 866-336-7285. This is a so called "Citi EO" (Executive Office) phone number. This phone number is not designed to make reconsiderations, but the representatives are really helpful.
Historical Offers Chart: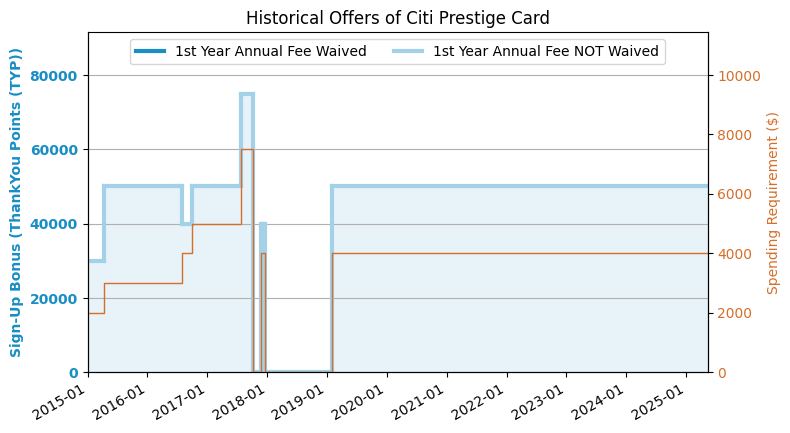 Application Link:
---
Share this post with friends:
If you like this post, don't forget to give it a 5 star rating!