US Bank FlexPerks Travel Rewards Visa Signature Card Review
2018.2 Update: There's a offer with extra points if USA wins some medals, see the application link here.
2018.1 Update2: The new offer is for 25k.
2018.1 Update: The FlexPerks used to have different value for different airline prices, and now they are worth a fixed 1.5 c/p towards travel.
Application Link
Benefits
Earn 25,000 FlexPoints after spending $2000 in first 4 months.
FlexPoints are worth a fixed 1.5 cents/point towards travel (such as airline, hotel, car rental, etc.), and a fixed 1.0 cent/point towards statement credit. So the 25k highest sign-up bonus is worth $375.
Earn 3 FlexPoints per $1 spent on charity, 2 FlexPoints per $1 spent on cell phone expenses, 2 FlexPoints per $1 spent on gas or grocery or airline, wherever you spent the most each month, 1 FlexPoint per $1 spent on other purchases.
$25 air travel credit per award ticket for baggage fees or in-flight food and drinks.
No foreign transaction fee.
Disadvantages
$49 annual fees, but waived for the first year.
If you are approved but the credit limit does not hit some threshold (typically $5,000), you will be automatically downgraded to the no annual fee version, which has a lower sign-up bonus, worse rewards rate, and it's pretty much useless. Information about the downgraded version: "U.S. Bank FlexPerks Select Rewards card which earns 10,000 Enrollment Bonus FlexPoints after spending $1,000 within the first four months, earns 1 FlexPoint for every $2 in net purchases and has no annual fee. The Select Rewards card is not eligible for the double FlexPoints on highest spend in each monthly billing cycle and at cell phone service providers but does earn 1.5 FlexPoints for charitable donations, and charges foreign transaction fees."
Recommended Application Time
We recommend you apply for this card after you have a credit history of at least two years and you are very comfortable with the credit card game.
Summary
The value of FlexPerks is now fixed, and you can't get extra high value any more. It's difficult to get this card without being downgraded, so we don't recommend this card to beginners.
Related Credit Cards
US Bank FlexPerks Travel Rewards (this post)
Historical Offers Chart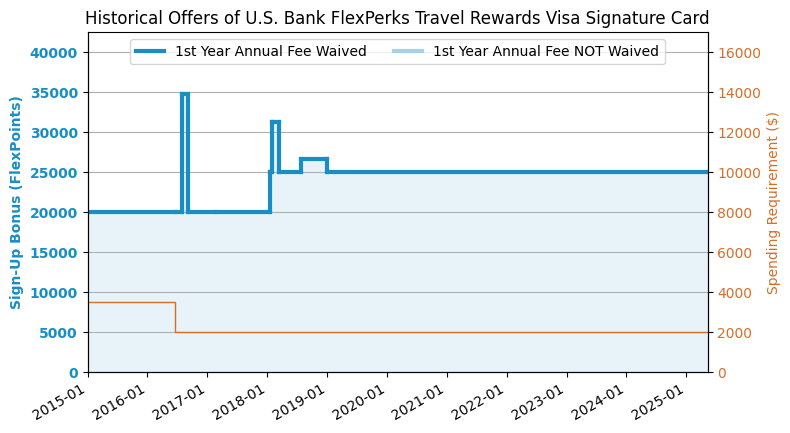 Application Link
---
Share this post with friends
If you like this post, don't forget to give it a 5 star rating!