Chase United MileagePlus Club Card (Chase UA Club) Review
2017.10 Update: Now there's a 50k public offer! HT: reddit. Note that the first year annual fee is NOT waived. Considering this card falls under 5/24, and comparing with other 5/24 cards this card is not so good, so I don't recommend it even if it has 50k offer. If you are interested in UA, you can consider Chase UA Explorer.
Application Link
Benefits
50k offer: earn 50,000 UA Miles after spending $3000 in the first 3 months.
We value UA mile at 1.4 cents (Airline Miles Value). So the 50k highest sign-up bonus is worth about $700. See A Beginner's Guide to UA Miles to check for details about UA Miles.
Earn 2x miles on United. Earn 1.5 miles per dollar spent on all other purchases.
You receive full United Club Membership from this card which allows you to enter United Clubs with up to 2 guests.
You and one companion on the same ticket of United flights can each have 2 free checked baggage.
Enjoy Premier Access on United flights.
You get waived for close-in booking fee on award ticket.
If you spend $25k or more in a calendar, you will receive PQD waiver up to Platinum status.
Complimentary Hyatt Discoverist membership.
Complimentary Hertz President's Circle membership.
No foreign transaction fee.
Enjoy 25% bonus miles on MileagePlus X purchases.
It's free to add an authorized user, though there's not much benefit.
Disadvantage
Annual fee $450. Chase branches may have offer that waives it for the first year. Note that annual fee does not count towards the minimum spending requirement (and this is true for all credit cards)!
Recommended Application Time
[5/24 Rule] If you have 5 or more new accounts opened in the past 24 months, Chase will not approve your application on this card, no matter how high your credit score is. The number of new accounts includes all credit card accounts, not only Chase accounts. See this post for details about how to possibly bypass this rule.
This product is available to you if you do not have this card and have not received a new cardmember bonus for this card in the past 24 months. Note that what matters here is the time you got the sign-up bonus, not the time you open the account or close the account.
Don't apply for more than 2 Chase credit cards within 30 days, or it's highly likely that you will get rejected.
We recommend you to apply for this card after you have a credit history for more than a year.
Summary
This card is a great choice for non-bonus category spend, because it earns 1.5x miles. But now CFU is out there, this advantage is not unique any more. With full club membership and 2 bags free, you really can save a lot on United fights. However, the expensive annual fee is a major concern for keeping it. If you fly United a lot and reach Gold status, you already get Premier Access and checked bags free. Then, it depends on how you value the club membership. For most of us, this card is not worth applying.
Related Credit Cards
Recommended Downgrade Options
Historical Offers Chart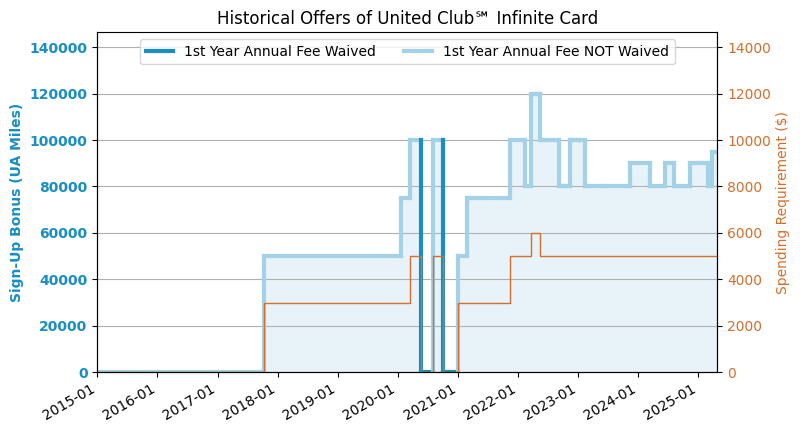 Application Link
---
Share this post with friends
If you like this post, don't forget to give it a 5 star rating!