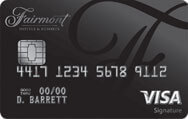 Chase Fairmont Visa Signature Card Review
2017.10 Update: The free night certificate for 6k spending has posted! Check it on Fairmont official site.
2017.08.15 Update: If you log in to Chase Ultimate Rewards portal, you will find this card has already been listed as a Chase Sapphire Preferred card now with all its points converted to UR points. For those who have spent $6k, have you received your Free Night?
2017.06.21 Update: According to the letter, as long as you spend $6k (instead of $12k) on this card in this year before Aug 14, you can earn a free night! Note that the "year" here means card member year. For example, if you opened this account on Feb 25 last year, then you need to spend $6k from Feb 25, 2017 to Aug 14, 2017 to get the free night. For the people who get this card earlier this year, this policy couldn't be better: you must have spent $3000 already this year to meet the sign-up bonus requirement, so now you only need to spend $3000 more to get the FN! Considering Fairmont points will be converted to UR points in the end, this is really a fantastic deal, let's get the card out of the socket drawer and put spendings on it!
2017.06.14 update: Chase is beginning to send letters informing current card holders about the future of this card. Beginning August 15, the Fairmont Visa Signature card will be automatically converted to Chase Sapphire Preferred card, with all unredeemed points transferred to new card. I believe this means that all points on the account will finally become Ultimate Rewards points. You can continue using your current card until conversion.
2017.1.17 Update: All links are dead now, and this card is discontinued.
Application Link
This card no longer accepts new applications. Current cards have been converted to Chase Sapphire Preferred.
Benefits
You will receive 2 free nights after spending $3000 in 3 months. You can redeem them in any Fairmont hotel. Fairmont is a great luxury hotel group, so we believe the 2 nights can value more than $600.
Earn 5x points at Fairmont properties, 2x at airlines and car rental. You also get 1 point per dollar spent for all other purchases.
Free Fairmont stay starts at 25,000 points for one night and 75,000 for suite. You can also use fairmont points for air ticket booking at 1 cent/point, simply call 855-234-2538. You can also redeem the points for some Gift Cards, at 1 cent/point.
Complimentary Fairmont Premier membership status, which includes $50 dining certificate, 1 complimentary room upgrade and 1 complimentary suite upgrade as well as one chance of booking two nights and get the third night free.
Earn 1 free night after $12,000 spend with the card each anniversary year.
You will earn 1 night credit for every $7500 spending every year, up to 2 night credits towards Platinum membership.
No foreign transaction fee.
Disadvantages
Annual fee $95, waived first year.
Compared to other hotel groups with thousands of hotels, Fairmont only has 65 properties around the world.
Recommended Application Time
This card is not affected by the 5/24 rule for now.
This product is available to you if you do not have this card and have not received a new cardmember bonus for this card in the past 24 months. Note that what matters here is the time you got the sign-up bonus, not the time you open the account or close the account.
Don't apply for more than 2 Chase credit cards within 30 days, or it's highly likely that you will get rejected.
We recommend you to apply for this card after you have a credit history for more than a year.
Summary
The two luxury free nights sign-up bonus is really a highlight of this card. The 2 free night sign-up bonus doesn't have category restriction, so you can choose the most expensive Fairmont hotel in the world, this is fantastic! We strongly suggest you plan your trip ahead before apply for the card to make sure you can make use of the sign-up bonus. However, the earning speed is not so good, you will need to spend $12,000 to earn a free night, and if you spend these money on Citi Double Cash (DC), you will get $240 cashback, though the value of a luxury free night will be larger than this amount, but it's not rigid demand any way…
Recommended Downgrade Options
You can not downgrade this card to any card with no annual fee, so I suggest you close it when you don't want to keep it any longer.
After Applying
Call 800-436-7927 to check Chase application status. This is an automated telephone line, and the information has the following meanings: Receive decision in 2 weeks means your application is probably approved; Receive decision in 7-10 days means your application is probably rejected; Receive decision in 30 days simply means your application requires further review and there's nothing to tell you for now.
Chase reconsideration backdoor number: 888-270-2127 or 888-609-7805. Call it if you didn't get approve immediately. Your personal information will be acquired and they will then review it. You seldom answer questions, instead, just enjoy the music and then you get approved or rejected, or further information is needed to be hand in to the branch or faxed.
Historical Offers Chart
This card is discontinued in 2017.1.
Application Link
This card no longer accepts new applications. Current cards have been converted to Chase Sapphire Preferred.
---
Share this post with friends
If you like this post, don't forget to give it a 5 star rating!