Citibank Priority Package Review
2019.7 Update: The $600 offer is still alive, and the new deadline is 2019.09.30. But the deposit requirement is as high as $50k. It is more recommended to apply for the Citibank Account Package which has a $500 or 40k AA bonus with $15k deposit requirement; or Citi Basic Banking Package which has a $200 bonus with just $5k deposit requirement.
Application Link
Benefits
$600 sign-up bonus! Please read below for the requirement to get this bonus. The deadline for this offer is 2019.09.30.
There is a monthly maintenance fee of $30. You can avoid this by keeping a monthly balance of $50,000.
If you meet the above condition to avoid monthly fee, you can also use non-Citi ATMs for free.
No early termination fee. You can close your account at any time, but we recommend you to convert your account to the Citi Basic Banking package to avoid high monthly balance requirement.
If you have Citi Priority checking account, the annual fee of Citi Prestige will be lowered from $450 to $350. The $350 annual fee remains even if you close your Citi Priority account thereafter.
Bonus Requirements
This bonus is only available for new clients. Those who currently have a Citi checking or savings account, or have closed an account within 180 days are not eligible for this offer. Those with a Citi credit card are not exempt from this offer.
Within thirty (30) days, make a qualifying deposit of $50,000 or more in new-to-Citibank funds into the new checking account or a new or existing Citi Savings Account or existing Citibank Savings Plus Account, and maintain a minimum balance of $50,000 for sixty (60) consecutive calendar days following the date when you made the qualifying deposit.
Direct Deposit (DD) requirement: within sixty (60) days, 1 qualifying Direct Deposit must post to the new checking account each month for 2 consecutive calendar months after opening the new checking account. No DD requirement for now.
Different Citi Checking Accounts
Citi Priority Package (this post)
Access Account Package
Here is a comparison and contrast on the official website.
Summary
This account is similar to the old Citigold account. Now that Citigold requires $200k to keep, so if you don't have such money and you want the Prestige $100 off annual fee benefit, you can consider this one. The $600 bonus is really nice, just the deposit requirement is a bit high.
Historical Offers Chart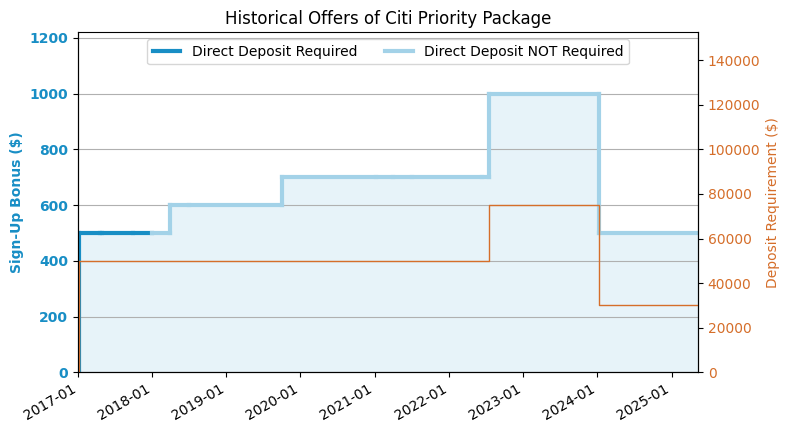 Application Link
---
Share this post with friends
If you like this post, don't forget to give it a 5 star rating!