BoA Alaska Airlines Visa Signature Card Review
2018.6 Update: According to Reddit user wantedacooltitle's inside information, starting from 2018.06.04, the downgraded version also has a 30k + companion pass bonus now! Before that, if you couldn't get approved for at least a $5,000 credit limit from BoA, they would approve your application but give you a downgraded card, which only had a 5k sign-up bonus. That policy was not very friendly and made it more difficult to apply for this product, but now BoA finally made a great improvement!
2018.3 Update: The new offer on the official website has no $100 statement credit any more, but there's still a link with $100 alive. Hurry up if you need this card.
Application Link
Benefits
30k+$100 Sign-Up Bonus: earn 30,000 Alaska Miles and $100 statement credit after spending $1,000 in first 3 months

.

 You also earn a free companion pass ($0 fare plus taxes and fees).
We value Alaska Miles at 1.8 cents/point (Airline Miles Value), so the 30k+$100 highest sign-up bonus is worth about $640!
Earn 3 miles per $1 spent on Alaska Airlines tickets, vacation packages, and cargo purchases, 1 mile per $1 on other purchases.
Alaska Airlines has A LOT of partner airlines, although it does not belong to any of the airline alliances. Some of it's partner airlines are American Airlines (AA), British Airways (BA), Delta Air Lines (DL). This makes Alaska Miles very flexible and relatively easy to redeem.
One round-trip Coach Companion Fare every year. Companion pays $99 plus tax for the round-trip. Companion Fare cannot be used on partner airlines flight.
No foreign transaction fee.
Disadvantages
$75 annual fee, NOT waived for the first year.
If you are approved but do not qualify for the Visa Signature card (at least $5,000 credit limit), you will be automatically downgraded to the Platinum version or Preferred version of this card, which has a much worse sign-up bonus (only 5k!). So be careful. Now the downgraded card also has a 30k + companion pass sign-up bonus!
Recommended Application Time
We recommend you apply for this card after you have a credit history of at least one year.
You can have at most 1 BoA credit card if you are an undergrad student, 2 if grad student. Other people don't have such a restriction, but BoA may cancel your credit cards to 4 if you have too many.
You can have multiples of the same credit card from BoA. You must wait at least 90 days to apply for the same credit card, otherwise the application will be automatically cancelled.

[New]

2/3/4 Rule: BoA will only approve you for at most: 2 cards per rolling 2 months; 3 cards per rolling 12 months; and 4 cards per rolling 24 months. Because their IT system hasn't been fully updated yet, you may not get declined because of this rule. Instead, you may get approved at first, and then the account will be closed because of "approved in error".
Summary
BoA Alaska Airlines Card is suitable for those who want to earn Alaska Miles, or those who fly Alaska a lot. The 50k offer expired some time ago is quite attractive because of the flexibility of Alaska Miles. However, the reward rate of BoA Alaska Airlines Card is not impressive, which makes it not a great choice to keep unless you really fly with them a lot or you can make use of the Companion Fare.
After Applying
Click here to check BoA application status.
BoA reconsideration backdoor number: 877-383-0120 or 866-811-4108. It seems that the number is changing. Please inform us at once if it fails. The representatives here can get in touch with decision-makers directly.
Historical Offers Chart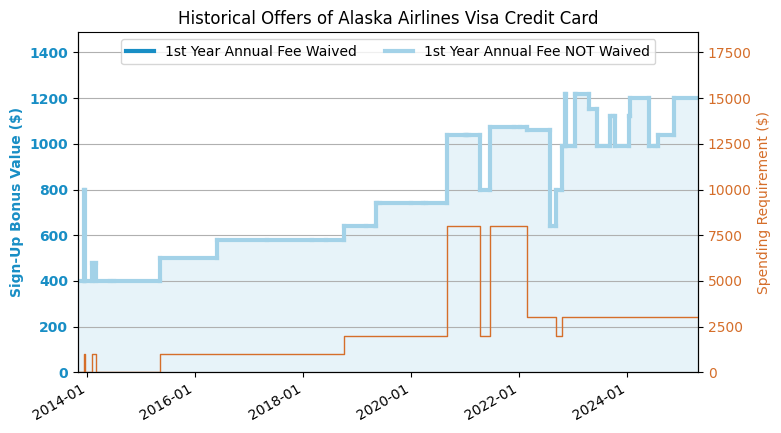 Application Link
---
Share this post with friends
If you like this post, don't forget to give it a 5 star rating!
[Total: 4 Average: 4.3/5]