AmEx Cash Magnet Credit Card Review
2018.7 Update: The bonus is dropped from 150+150 to 150+100.
Application Link
Benefits
$150+$100 offer: earn $150 statement credit after spending $1,000 in first 3 months. Earn another $100 after spending an additional $6,500 in the first 12 months. In total, it's $250 bonus for $7,500 spending.
Earn 1.5% cash back on every purchase.
Easy to get approved, you can try to apply for this credit card when you only have a credit history for 3 months (make sure you can see your credit report before applying), there have been several successful data points around.
No annual fee.
With this card, you can get access to Amex Offers, which usually offers very good discounts at some stores, such as: spend $15 or more and get $5 back at Walmart; spend $75 or more and get $25 back on Amazon.com.
Disadvantages
It has foreign transaction fee, so it's not a good choice outside the US.
This credit card is on the American Express Network, not Visa or MasterCard, so some small stores may not accept it.
Introduction to MR Points
Recommended Application Time
You can get the sign-up bonus once in a lifetime, so be sure to apply when the historical highest offer appears.
AmEx doesn't care about the number of hard pulls.
You can try to apply for it when you have a credit history of 3 months.
You must wait at least 90 days between the application for ED and EDP, otherwise the application will be cancelled.
Only one AmEx credit card can be approved in a day. This rule does not apply to charge cards, you can be approved for one credit card and multiple charge cards in the day. Multiple cards approved in the same day will only have one Hard Pull.
Only 2 AmEx credit cards can be approved within 90 days, but again, this rule does not apply to charge cards.
You can keep at most 5 AmEx credit cards, not including charge cards.
Summary
The card is said to compete with Chase Freedom Unlimited, but CFU does have advantage if you hold any Chase premium card that can boost the points you earned on CFU card. If you want point transfer availability, Everyday and Everyday Preferred are the better options. Even among no AF cards, there are options that offer better cash back rate, such as Citi Double Cash (2% everything). So in summary, I personally don't recommend this card.
After Applying
Historical Offers Chart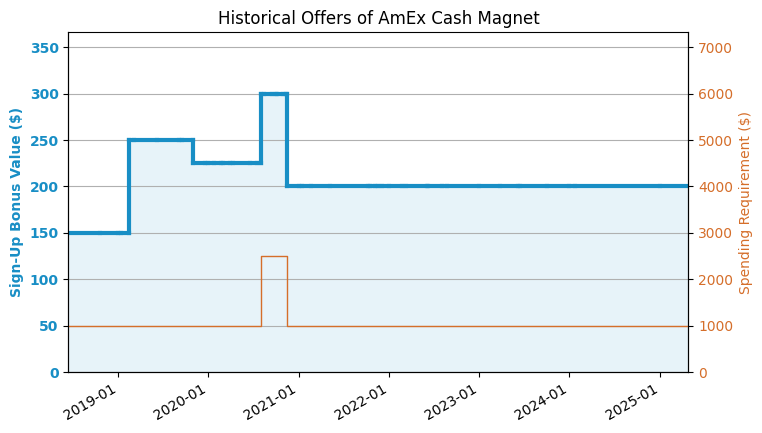 Note: The offer is $150 + $150 or $100. But the spending requirements after $150 are huge, so we don't treat them as sign-up bonus, we treat them as spending bonus instead.
Application Link
---
Share this post with friends
If you like this post, don't forget to give it a 5 star rating!