Non-affiliate disclosure: all information about the this card have been collected independently by US Credit Card Guide and has not been reviewed by the issuer.
---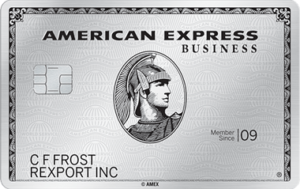 The Business Platinum Card from American Express Review
2022.12 Update: Higher welcome offers are expired. The current offer is only 150k.
2022.8 Update: There's a new 170k offer with $15k spending requirement. The amount of points is smaller than the 250k+10k offer, but the good thing about this offer is its spending requirement is also smaller. WARNING: using this special link may trigger accounts shutdown by amex!
2022.7 Update: There's a direct link for the 250k+10k offer! The spending requirement is $30k. WARNING: using this special link may trigger accounts shutdown by amex!
Application Link
Benefits
120k Offer: earn 120,000 MR after spending $15,000 in the first 3 months. The recent best offer is 260k ($30k spending requirement).
We estimate that Membership Rewards (MR) are worth about 1.6 cents/point, see below for a brief introduction. So the 150k highest sign-up bonus is worth about $2,400!
Earn 5x MR points for flights or hotels booked directly with AMEX Travel. (Note that only the personal Platinum cards can earn 5x on airfare booked outside of Amex travel.). Earn 1 MR per $1 spent on all other purchases.
Earn 1.5 MR points per dollar on qualifying purchases of $5,000 or more (that's an extra half point per dollar) with the Business Platinum Card. Up to 1 million additional points per year.
AMEX Business Platinum cardholders receive a 35% rebate when using MR to book travel on your airline of choice, or when booking a first or business class ticket on any airline, up to 500k MR points rebate per calendar year. This benefit applies to all MR earned with any AMEX credit or charge card as long as you have the AMEX Business Platinum. That means that all MR are worth a minimum of about 1.54 cents/point when redeemed for travel (calculation: 1/(1-35%)~1.54).
This card offers varies credits to cover some expenses, see details in the next section.
Complimentary access to the following airport lounges:
Complimentary Marriott Bonvoy Gold Status. Use this link to activate.
Complimentary Hilton Gold Status. Use this link to activate.
Complimentary membership for Avis, Hertz, and National membership. Use this link to activate.
Ten free Go-Go Internet passes per calendar year, usable for in-flight Wi-Fi.
Fine Hotels and Resorts (FHR) – if you book hotels through FHR you can enjoy the benefits of elite members, such as room upgrades, free Wi-Fi, free breakfast, etc. The benefits vary by hotel/property.
Concierge service (exclusive to Platinum card holders) – you can use this service to book event tickets, restaurant reservations, hotels etc. Recently I used this benefit to get face-value tickets to see sold-out Hamilton in Chicago, followed by reservations at a trendy, booked-solid restaurant for my sister-in-law's birthday. The concierge benefit is one of the most underrated aspects of any of the AMEX Platinum cards.
Access to the recently announced Global Dining Collection, Global Lounge Collection, and Global By Invitation Only Events.
Cell phone protection: get up to $800 per claim and 2 claims per year in cell phone protection against covered theft or damage for phones listed on your monthly cell phone bill when you pay it with your eligible credit card. Deductible $50.
With this credit card, you can get access to Amex Offers, which often offers very good discounts at some stores. In the past we have seen offers like: Spend $15 or more and get $5 back at Walmart; Spend $75 or more and get $25 back on Amazon.com. Note that there often are Amex offers targeted excess to the recently announced Global Dining Collection, Global Lounge Collection, and Global By Invitation Only Events.
No foreign transaction fee.
Authorized users also have access to the airport lounges mentioned above, and each of them can get complimentary hotel status. The $200 annual air credit is shared between cardholder and authorized users.
This card is relatively easy to get approved for because it is a Charge Card, not a Credit Card. Charge card means that you don't have the option to pay only minimum payment, you have to pay your balance in full on the due dates. Note that Charge Card applications will also result in a Hard Pull, just like Credit Card applications.
Charge Cards have no pre-set spending limit.
AMEX has a very loose definition of what constitutes a "business," which supplements the bullet above. If you apply as a sole-proprietor, AMEX makes you select an annual income for your business between $0 – $49,999. If you sell anything (including your time or skills), you may have a business. AMEX allows the use of your social security number (SSN) instead of a tax identification number (TIN) for sole-proprietor applications.
Refer a friend: You can earn 15,000 bonus MR points for every approved account you refer, up to 55,000 MR points per calendar year.
Varies Credits
This card has varies credits to cover some expenses. They are:
[$200 airline fee credit] $200 airline fee credit for incidental charges such as checked bags per calendar year on your selected airline. Because this benefit is based on calendar year and not cardholder anniversary date, you can get the airline fee credit TWICE during the first year you hold the card! Note that you must enroll and select an airline in order to get this benefit.
[$400 annual Dell credit] Get up to $200 in statement credits from January through June and up to $200 in statement credits from July through December. No minimum purchase required. Enrollment required.
[$120 wireless credit] $10 per month.
[$360 Indeed credit] $90 per quarter. Enrollment required.
[$150 Adobe credit] $150 per year for annually prepaid plan. Enrollment required.
[$100 Global Entry credit] Get $100 credit for Global Entry or $85 credit for TSA Precheck application fee.
[$179 Clear credit]. It's the same amount as the Clear annual membership fee. It's useful if you fly a lot, but the value is not much.
Disadvantages
$695 annual fee, NOT waived for the first year. Note that annual fee does not count towards the minimum spending requirement (true for all credit/charge cards)!
$300 fee for up to three Additional Platinum Cards.
Introduction to MR Points
You can earn MR points with AmEx ED, AmEx EDP, AmEx Green, AmEx Gold, AmEx Platinum, AmEx Platinum for Schwab, AmEx Platinum for Morgan Stanley, AmEx Blue Business Plus, AmEx Business Green, AmEx Business Gold, AmEx Business Platinum, etc.
The MR points you earn on different MR cards will automatically go to the same MR account.
MR points never expire. You will not lose the MR points on one card if you close the account, but you will lose all of the MR points if you close all of the MR cards. In order to avoid losing your MR points, we recommend to keep the no annual fee AmEx ED.
If you have any of the MR cards, MR points can be transferred to some airline miles. One of the most common and best way to use MR points is to 1:1 transfer them to All Nippon Airways (ANA, NH) miles (Star Alliance). Other good options are: Air Canada (AC) (Star Alliance), Delta Air Lines (DL) (SkyTeam), British Airways (BA) (Oneworld), Asia Miles (Oneworld), Singapore Airlines (SQ) (Star Alliance), Flying Blue (SkyTeam), Virgin Atlantic (VS) (Non-alliance), etc. If you use MR in this way, the value is about 1.6 cents/point.
If you have any of the MR cards, you can redeem your MR points at a fixed rate about 1 cent/point towards air tickets on AmEx travel portal.
If you have AmEx Platinum for Schwab, you can redeem your MR points at a fixed rate 1.1 cents/point towards cash. If you don't want to spend time studying airline miles, this is a pretty good way to cash out the points. If you don't have this card, you can only redeem your MR points at a fixed rate 0.6 cents/point towards cash.
In summary, we estimate that MR points are worth about 1.6 cents/point.
For more information about MR points, see Maximize the Credit Card Points Values (overview), and Introduction to MR: How to Earn and Introduction to MR: How to Use (very detailed).
Recommended Application Time
AMEX signup offers are only available once in a lifetime. Wait for the best offer.
You should have at least 6-months of credit history before applying.
If you apply and are approved in December, you may be able to get the $200 airline credit 3 times while only paying one annual fee!
Summary
The sign-up bonus on this card is very nice. Assuming you only have card for one year, you get the airline incidental credit twice, and you can enjoy all the benefits during the time. I use either AMEX Centurion Lounges or my Priority Pass almost every time I travel. While I would not pay for lounge access, I believe this to be worth at least a few hundred dollars (particularly when traveling through airports with exceptional lounges, such as Tokyo, Istanbul, Hong Kong, Vancouver, Seoul, and many other locations throughout the world!).
The 50% MR rebate benefit is quite useful. Although 1.54 cents/point is not the highest value to redeem MR points, but it is decent enough. The travel perks of this card combined with the 50% MR rebate on all travel purchases may make this card a keeper for many, including myself.
Note that MR earned with AMEX business cards pool with MR earned with personal cards. If you decide to cancel and want to keep your MR, you can apply for the AMEX EveryDay (ED) (no annual fee) to keep the MR points for use in the future (with no annual fee).
Recommended Downgrade Options
You can downgrade this account to the AmEx Business Gold Rewards (BGR) card after the first year. Once downgraded, most (all?) people are given the option to upgrade again to the AMEX Business Platinum while earning 50,000 MR after spending $10,000 (even if you have already received a sign-up bonus on the AMEX Business Platinum). I have used this trick to receive the annual fee credits, additional MR sign-up bonus, and all the other perks of the AMEX Business Platinum many times. Also note that, when you upgrade, AMEX does NOT do a hard-credit pull!
After Applying
Click here to check application status.
AMEX reconsideration backdoor number: 877-399-3083
Historical Offers Chart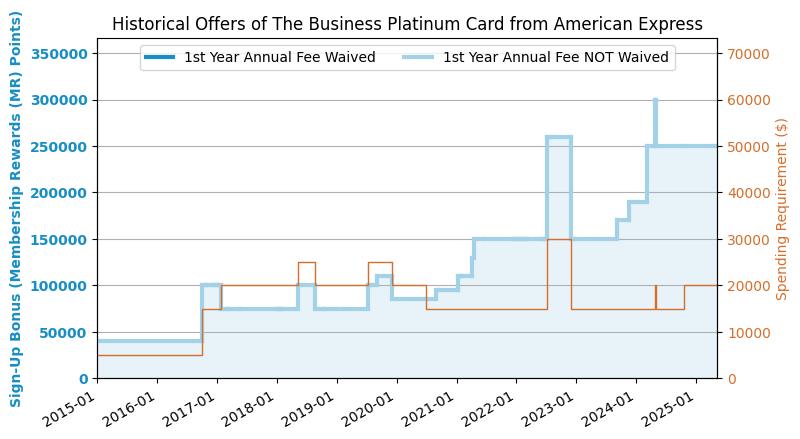 Application Link
---
Share this post with friends
If you like this post, don't forget to give it a 5 star rating!
[Total:

9

Average:

3.6

/5]