Deserve Edu Mastercard for Students Review
2018.5 Update: New benefit has arrived: up to $600 for mobile phone damage or theft when you pay your mobile phone bill with your card.
Application Link
Benefits
$30 offer: earn $30 after making one purchase within the first 3 months.
This is a credit card that is specially designed for students. International students can also apply even without a SSN and without any credit history! (See official FAQ) For those international students who cannot obtain a SSN in a short time, this card is a great choice as the first credit card.
This card is very friendly to foreigners: F1, M1, J1 visa holders are eligible to apply. If you are not a green card holder nor US citizen, then you need to provide the following information and documents:

University and major.
An electronic copy of your passport and US Visa.
An electronic copy of your Form I-20 / Form DS-2019.
Bank account information or the latest US bank statements (For newcomers: when you have a bank account in the US, you will receive a bank statement every month.)

Green card holders or US citizens will need to provide the SSN, just like applying for other credit cards in the market.
You can indeed build your credit history with this card. They will report the new account to 2 of the 3 credit bureaus after about 3 months of use: Experian (EX) and TransUnion (TU). For most people, the most important credit report is from EX, so as long as you have a credit history in EX you are fine. A lot of people mistakenly think that you cannot build credit history without SSN, but this is completely wrong. Credit bureaus can use your name, date of birth and address as identifiers, so you can actually build your credit history even without a SSN. After you obtain your SSN, the previous credit history will be tracked and appended. Your credit history does not start from the day you obtain your SSN; instead, it starts from the day you first borrow money (such as applying for a credit card).
Deserve will reimburse cardholders the cost of their Amazon Prime Student ($49.99 value) for one year.
Earn 1% cashback on all purchases.

New

: up to $600 for mobile phone damage or theft when you pay your mobile phone bill with your card.
No foreign transaction fee.
No annual fee.
As a credit card for beginners, the credit limit can be as high as $5,000.
Deserve (formerly SelfScore) is not a bank, it partners with Celtic Bank in issuing this credit card, so there should be no concerns about the credit card.
Disadvantages
It's currently not clear whether people holding dependent visas (such as F2 visa) can apply for this credit card.
Recommended Application Time
We recommend to apply for this card if you don't have a SSN and when you don't have any credit history.
Summary
Deserve is the new rebranded name from SelfScore, and this card is basically identical to the previous SelfScore Achieve. Deserve is a fintech company focusing on students, and is especially friendly to foreigners. I think this is a fantastic beginner's card for those international undergraduate and graduate students without SSN (of course, you can also apply for this card if you have a SSN). For those who have SSN, you can apply for Discover it as your first credit card; however, the international undergrads and master's students will not obtain a SSN in a short time, so the way to get a credit card is complicated.
Here are the major options of the first credit card for those who do not have SSN and do not have any credit history:
Go to a BoA branch and apply for BoA Cash Rewards or BoA Travel Rewards. You need to have sufficient amount of money depositing in BoA, we usually think >$10,000 is OK. Data points are conflicting, some people can success but some people can not.
Find a friend and ask him/her to add you as an authorized user, and after you build credit history with it, you can continue to apply for other credit cards you can get without SSN (mainly AmEx). Note that not all banks let you add an authorized user without providing his/her SSN. The drawback is that you need to own a debt of gratitude.
Deserve Edu. The Deserve cards are the only credit cards specially designed for internationals students, and has an easy online application process.
Go to a Citi branch and apply for Citi ThankYou Preferred for College Students. We DO NOT recommend to apply for this card, because it will affect the sign-up bonuses of other Citi ThankYou Points (TYP) cards!
Secured credit cards from major banks. These secured credit cards require security deposit, and they usually have annual fee. So basically secured credit card is the last choice, if you can get one of those in the above choices, you shouldn't apply for a secured credit card.
You can compare these options by yourself and find the best suit for you! Let's start the journey of credit cards!
Historical Offers Chart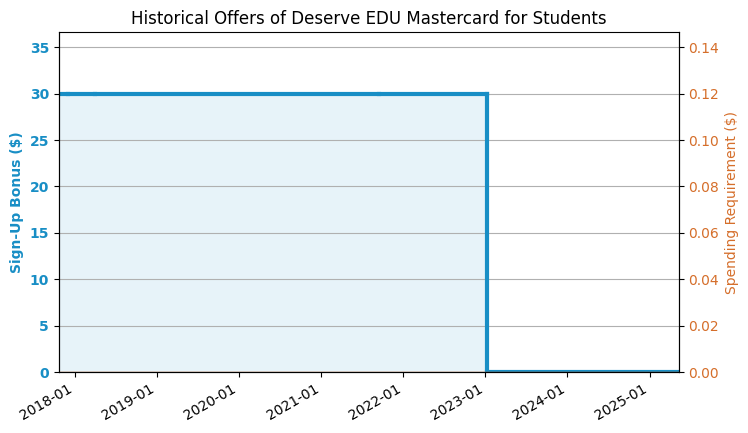 Application Link
---
Share this post with friends
If you like this post, don't forget to give it a 5 star rating!
[Total:

3

Average:

4.7

/5]