Bank of America Amtrak Guest Rewards World MasterCard Review
2019.3 Update: There's a 20k+$100 offer now.
2019.1 Update: The 30k offer is expired. Only 20k now.
Application Link
Benefits
20k+$100 offer: earn 20,000 bonus points + $100 statement credit after you make at least $1,000 in purchases on your new card within 90 days of account opening. The recent best offer is 30k.
The Amtrak points are worth about 2.5 cents/point, so the 30k highest sign-up bonus worth about $750!
You'll also receive a complimentary Companion Coupon, One-Class Upgrade and a single-day ClubAcela pass for access to ClubAcela, Amtrak Metropolitan LoungeSM or First class lounges upon account opening.
Earn 3 points for every $1 spent on eligible Amtrak travel purchases, 2 points per $1 spent on all other eligible travel purchases, 1 point for every $1 spent on all other purchases.
Earn Tier Qualifying Points (TQPs) in increments of 1,000 points for every $5,000 in eligible purchases on this card, up to 4,000 TQPs within a single calendar year.
Get a 5% Amtrak Guest Rewards point rebate when you book your Amtrak redemption travel using this credit card.
No foreign transaction fee.
Disadvantages
$75 annual fee, NOT waived for the first year.
There might be blackout dates issues for Companion Coupon and One-Class Upgrade etc.
Recommended Application Time
We recommend you apply for this card after you have a credit history of at least one year.
You can have multiple same credit card from BoA. You must wait at least 90 days to apply for the same credit card, otherwise the application will be automatically cancelled.

[New]

2/3/4 Rule: BoA will only approve you for at most: 2 cards per rolling 2 months; 3 cards per rolling 12 months; and 4 cards per rolling 24 months. Because their IT system hasn't been fully updated yet, you may not get declined because of this rule. Instead, you may get approved at first, and then the account will be closed because of "approved in error".
Summary
Previously the Amtrak partner was Chase, but now they have changed it to Bank of America, so the co-branded credit card is issued by BoA now. The old Chase Amtrak credit cards are converted to Chase Freedom automatically. Since 2016.1.24, Amtrak has changed their zone based redemption policy to revenue based, so the points will be devalued for expensive tickets. In general, we recommend people who travel with Amtrak a lot to apply for the Amtrak credit cards, you can save quite a bit with Companion Coupon and One-Class Upgrade etc. If you don't want to always pay the annual fee, you can consider downgrade it to BoA Amtrak Rewards Platinum. For the ones who are not used to Amtrak, you can continue to travel with flights, it's tiring to take long distance trains (of course you can see more veiws).
Related Credit Cards
BoA Amtrak Guest Rewards (this post)
Recommended Downgrade Options
After Applying
Click here to check BoA application status.
BoA reconsideration backdoor number: 877-383-0120 or 866-811-4108. It seems that the number is changing. Please inform us at once if it fails. The representatives here can get in touch with decision-makers directly.
Historical Offers Chart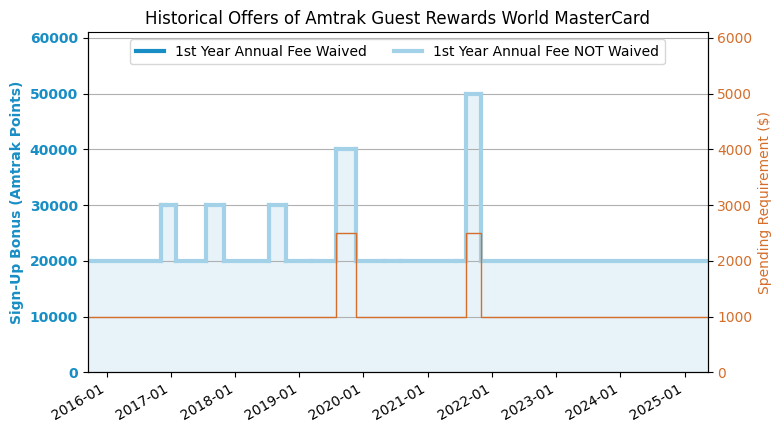 Application Link
You may see a 20k+$100 offer via dummy booking.
---
Share this post with friends
If you like this post, don't forget to give it a 5 star rating!
[Total: 3 Average: 3.3/5]