Schwab Investor Card from American Express Review
2018.8 Update: The $200 offer is expired. Now there's only $100 offer.
2018.7 Update: The offer has increased to $200, and will expire on 2018.08.15.
Application Link
Benefits
$100 offer: earn $100 after spending $1,000 in first 3 months.
Earn 1.5% cash back on all purchases.
With this credit card, you can get access to Amex Offers, which often offers very good discounts at some stores. In the past we have seen offers like: Spend $15 or more and get $5 back at Walmart; Spend $75 or more and get $25 back on Amazon.com.
No annual fee.
Disadvantages
You need to have a Charles Schwab Brokerage Account to be eligible to apply for this card. It's free though.
It has foreign transaction fee, so it's not a good choice outside the US.
Recommended Application Time
You can get the sign-up bonus once in a lifetime, so be sure to apply when the historical highest offer appears.
AmEx doesn't care about the number of hard pulls.
You can try to apply for it when you have a credit history of 3 months.
You must wait at least 90 days between the application for BCE and BCP, otherwise the application will be cancelled.
Only one AmEx credit card can be approved in a day. This rule does not apply to charge cards, you can be approved for one credit card and multiple charge cards in the day. Multiple cards approved in the same day will only have one Hard Pull.
Only 2 AmEx credit cards can be approved within 90 days, but again, this rule does not apply to charge cards.
You can keep at most 5 AmEx credit cards, not including charge cards.
Summary
1.5% cash back card is quite common nowadays. If you want an everyday cash back card, Citi Double Cash (DC) which has no annual fee and 2% cash back on everything is more recommended. Note that, this card is issued by AmEx, not Schwab, so it counts towards the 5 credit card limit. Personally I don't think this card is worth a slot.
After Applying
Click here to check AmEx application status.
AmEx reconsideration backdoor number: 877-399-3083. The "real" backdoor number of Amex is well protected. Different from Chase, the representatives from this AmEx reconsideration backdoor number only have the right to help you submit requests.
Historical Offers Chart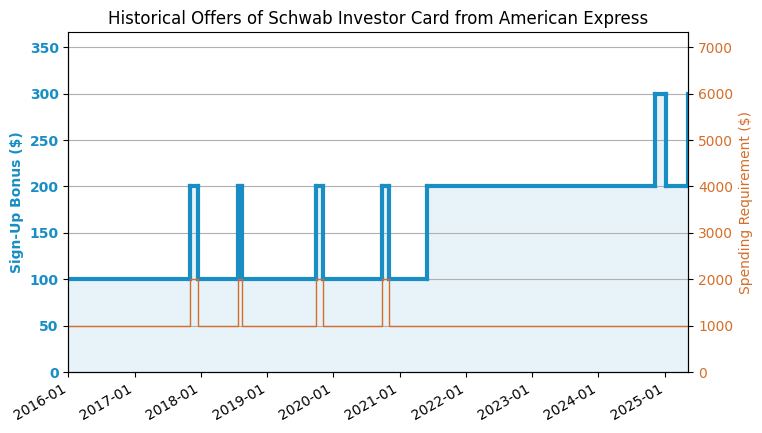 Application Link
---
Share this post with friends
If you like this post, don't forget to give it a 5 star rating!
[Total: 5 Average: 2.8/5]