I believe most of our readers already have one or more premium credit cards, therefore get access to some airport lounges. For example:
Now that we get these benefits, we certainly want to make use of them whenever get the chance. But there are so many kinds of airport lounges, how can we make sure we don't overlook some lounges? Personally I use this mobile APP to find lounges: LoungeBuddy (iOS only for now).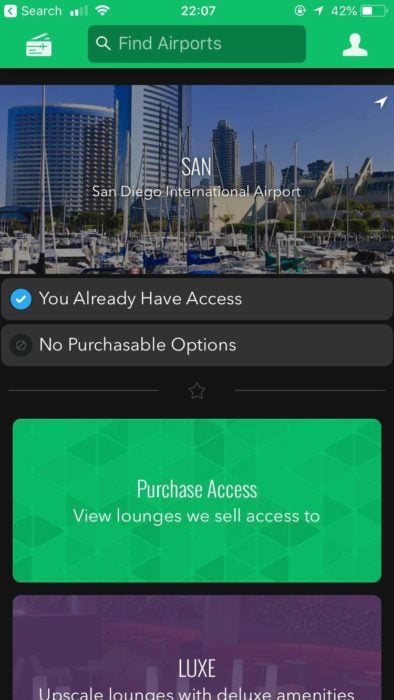 Input What Credit Cards You Have, And See All The Lounges You Have Complementary Access
Speaking of the APP to find airport lounges, we must make comparison with the Priority Pass Select (PPS) official APP which many people use. This official APP is a good one, but it only contains PPS lounges, and it is highly likely that you will overlook some lounges, especially the ones AmEx Platinum provides access to. Some people may argue: there are just a few Centurion Lounges out there, and they are already well remembered. However, even if we put aside newbies for now, people usually can't remember the AmEx Global Lounge Collection, such as the following one in MEX (Mexico City):
Apart from the Centurion Lounges, AmEx Platinum also gives you the access to Airspace Lounges which are easily overlooked. As a person based in SAN (San Diego), I know there's no PPS lounges here but only one Airspace Lounge, but for the people who just travel here may not know this fact without checking.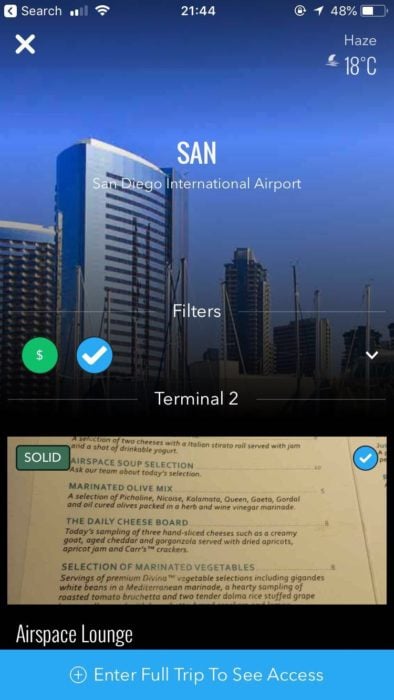 After installing LoungeBuddy, we can see all the lounges that we get complementary access to. The first step is, you need to input what credit cards you have in Settings -> Access Methods -> Credit Cards, and you can also input the airline elite status and lounge memberships if you have any.
After this information is saved, when you search for any airport, LoungeBuddy will show you the lounges you get complementary access to based on it!
Apart from the credit cards benefits, you can also input your trip info. If your flight is in business or first class, you also get access to some more lounges, and you can let LoungeBuddy to determine.
Lounge Detail Pages
LoungeBuddy have detailed info about every lounge.
In the lounge detail page, "Directions" part, you can find how to find the specific lounge. It usually says "Terminal XX, Inside Security; Level XX, near Gate XX", and then it is not hard to find the lounge. But comparing to the PPS official APP which contains detailed airport maps, LoungeBuddy needs some improvement.
LoungeBuddy put lounges in to the following categories: BASIC, SOLID, FRESH, LUXE. In the lounge list page, you can conveniently see the categories of all the lounges.
In "Lounge Amenities" part, you can see what to expect in the lounge, such as premium food or showers etc. For example, in the Plaza Premium Lounge in HKG (Hong Kong), you get premium food and showers and all sorts of good stuff, and it is much better than the lounges in the US, and you can see this kind of info before going in this APP:
And there are reviews and ratings from users, as well as some pictures that users uploaded, it's good to see them and get the right expectation beforehand.
If you are a more hardcore player, actually you can also check loungereview.com for lounge details. But that website can't remember credit cards you have and they don't have a mobile APP, so it's not as convenient as LoungeBuddy.
Paid Lounge Accesses
LoungeBuddy APP itself is free, and all the features mentioned above are all free to use. They make money by selling some lounge accesses, and their lounge passes are typically at a lower price than walk up rate. For example, the terminals in LAX (Los Angeles) are far far away from each other, and you may want to purchase the lounge access in the terminal you are in.
Summary
After installing LoungeBuddy, you don't need to do plannings about airport lounges any more! You can just arrive in the airport, open the APP, and see which lounges you can go to, and never worry about overlooking an airport lounge you already have complementary access to!
---
If you like this post, don't forget to give it a 5 star rating!