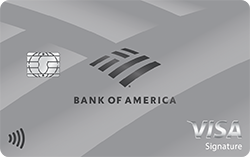 Bank of America Unlimited Cash Rewards Credit Card Review
2021.7 Update: This is a new card, and the welcome offer is $200.
Application Link
Benefits
$200 offer: earn $200 cashback after spending $1,000 in first 3 months.
Earn 1.5% cashback on all purchases.
BoA Preferred Rewards program: If you have checking/savings/brokerage account in BoA or Merrill Edge, you can earn additional points based on the amount of asset. Earn additional 25% rewards if you are in Gold tier ($20k or more in balance); 50% if Platinum tier ($50k or more in balance); 75% if Platinum Honors tier ($100k or more in balance).
No annual fee.
Disadvantages
It has foreign transaction fee, so it's not a good choice outside the US.
Recommended Application Time
You can get it even without SSN and with no credit history at all! We recommend you go to the branch in this situation.

[New]

2/3/4 Rule: BoA will only approve you for at most: 2 cards per rolling 2 months; 3 cards per rolling 12 months; and 4 cards per rolling 24 months. Because their IT system hasn't been fully updated yet, you may not get declined because of this rule. Instead, you may get approved at first, and then the account will be closed because of "approved in error".

[New]

24 month churn rule: This card will not be available to you if you currently have or have had the card in the preceding 24 month period.
Summary
The sign-up bonus is decent for a no annual fee card. If you have $100k+ balance in BoA or Merrill Edge, you can earn 1.5%*(1+75%)=2.625% in return! This card is quite similar to BoA Travel Rewards, the main differences are: (1) this card is a cashback card, so you don't need to worry about the hustle of redeeming point; (2) this card has foreign transaction fee, so you shouldn't use it outside of the US.
Related Credit Cards
After Applying
Historical Offers Chart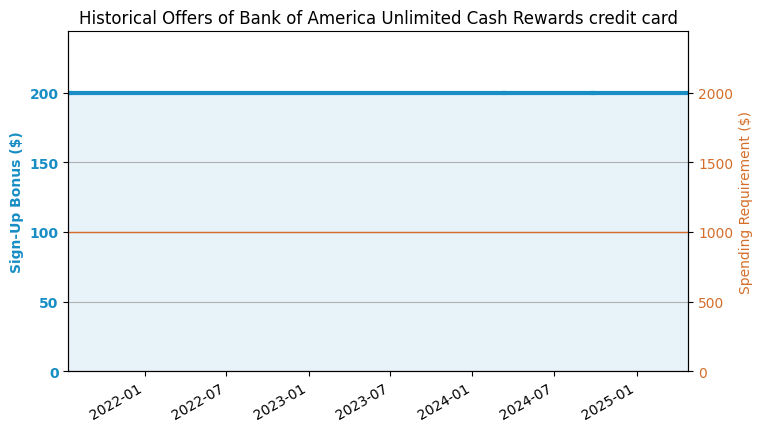 Application Link
---
If you like this post, don't forget to give it a 5 star rating!