Bank of America Premium Rewards Credit Card Review
Application Link
Benefits
Earn 50k points (worth $500) after spending $3000 in first 90 days.
Earning 2 points per dollar spent on travel and dining, earn 1.5x points elsewhere.
Points can be redeemed as statement credit or deposited into BoA Checking/Savings account. You can also use them in BoA Travel Center or choose to redeem for gift card.
$95 annual fee, not waived first year.
Earn an additional 10% bonus points if you have a regular Bank of America checking or saving account; an additional 25% bonus points if you have a Gold tier BoA bank account or investment account ($20k or more in balance); 50% if Platinum tier ($50k or more in balance); 75% if Platinum Honors tier ($100k or more in balance).
$100 airline incidental credit per calendar year, you can use it on seat upgrade, baggage fees, lounge fees or inflight purchases.
$100 credit toward TSA Pre or Global Entry.
No foreign transaction fee.
Recommended Application Time
We recommend you apply for this card after you have a credit history of at least one year.
You can have at most 1 BoA credit card if you are an undergrad student, 2 if grad student. Other people don't have such a restriction, but BoA may cancel your credit cards to 4 if you have too many.
You can have multiple same credit card from BoA. You must wait at least 90 days to apply for the same credit card, otherwise the application will be automatically cancelled.

[New]

2/3/4 Rule: BoA will only approve you for at most: 2 cards per rolling 2 months; 3 cards per rolling 12 months; and 4 cards per rolling 24 months. Because their IT system hasn't been fully updated yet, you may not get declined because of this rule. Instead, you may get approved at first, and then the account will be closed because of "approved in error".
Summary
It's a cash back card indeed. 2% on dining and travel, with 1.5% everything else, makes it an acceptable card on daily purchases. Comparing to Chase Sapphire Preferred, it doesn't support transferring points to your loyalty program, which isn't surprising because BoA doesn't offer such features so far. However, you do find it easy to offset the $95 annual fee due to its $100 annual airline credit. We are not sure if purchasing GC's work but you can still maximize it by taking advantage that $100 is reset at the beginning of every calendar year. If you have banking relationship at BoA, you do expect more rewards (up to ×1.75), which makes it more appealing. But don't forget BoA has a no fee card BoA Travel Rewards, which earns 1.5x points on everything and also earns up to ×1.75 if you have the banking relationship. To conclude, I think the card is not bad but not outstanding neither.
After Applying
Click here to check BoA application status.
BoA reconsideration backdoor number: 877-383-0120 or 866-811-4108. It seems that the number is changing. Please inform us at once if it fails. The representatives here can get in touch with decision-makers directly.
Historical Offers Chart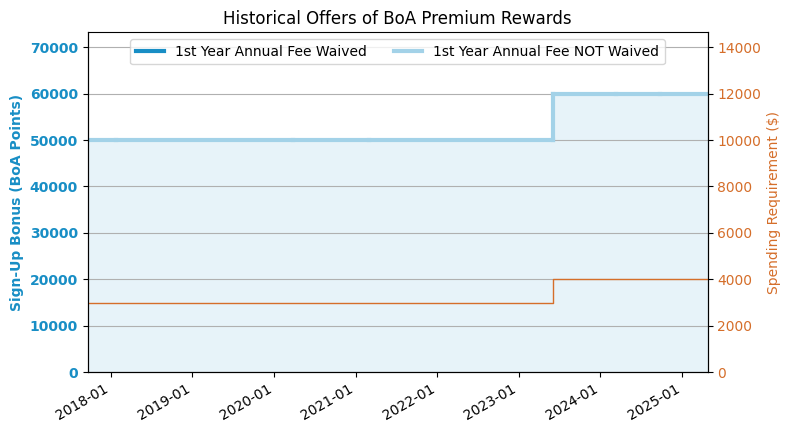 Application Link
---
Share this post with friends
If you like this post, don't forget to give it a 5 star rating!
[Total: 3 Average: 3.7/5]