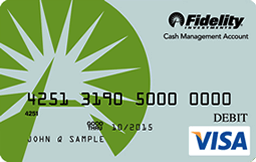 Fidelity Cash Management Account ATM/Debit Card (Fidelity Visa Gold Check Card) Review
2021.10 Update: There's a $100 offer now, and it's really easy to get: just transfer in $50!
Many people need to travel abroad frequently, and they usually ask a question: what is the best debit card to withdraw cash from ATM abroad? We all know that in some countries the credit cards are not so well accepted so you need cash sometimes. However, most debit cards even have fees when you withdraw from a ATM of other bank, no need to mention withdrawing cash in other countries, and the fee is not cheap at all. Fidelity is a magical bank, the Fidelity Check Card has NO ATM fee worldwide!
Application Link
Benefits
$100 offer: open an account with promo code FIDELITY100, and transfer in at least $50 within the first 15 days, and you can get $100 bonus. Account holders must maintain the bonus award (minus any losses related to trading or market volatility, or margin debit balances) in the account for at least 90 days from the date on which the bonus award is credited to the account. Fidelity may charge accounts that fail to comply with this requirement the cost of the bonus award.
NO ATM fee worldwide! Sometimes the ATM side will charge you a fee, but Fidelity will reimburse these fees, this guarantees that no fees will be charged in the end!!!
When you withdraw cash abroad, you can get local currency automatically, according to the exchange rate on the day, which is very convenient!
$0 monthly fee, no minimum deposit requirements.
$0 incoming wire transfer fee, for both domestic and international!
$0 outgoing wire transfer fee, for both domestic and international! This feature is very rare among banks!
This debit card is a Visa card, so you can withdraw cash from almost every corner in the world.
Disadvantages
Daily ATM withdrawal limit: $500.
It takes a LONG time to transfer money to the corresponding checking account in the first time, you need to receive a letter from Fidelity to verify your address information, so before traveling abroad, please be prepared and open the account in advance…
It may take 3~5 business days for the money you transferred in to become available (and this is also true for most banks). Therefore it is recommended to plan ahead before going abroad.
It is said on their official website: "Please note, there is a foreign transaction fee of one percent that is not waived, which will be included in the amount charged to your account." According to the actual experiences, this means you will pay a 1% fee when make purchases, while it is absolutely free to withdraw cash from ATM.
Summary
This debit card is a must-have if you need to travel abroad! Though the bank is not famous, its debit card is really fantastic. It is similar to the Charles Schwab Debit Card, you can compare these two and choose one of them. The main difference is: Fidelity Check Card has a 1% Foreign Transaction Fee (FTF) when you purchase stuff, while Charles Schwab Debit Card doesn't; Fidelity daily ATM withdrawal limit is $500, while Charles Schwab limit is $1000.
Application Link
---
If you like this post, don't forget to give it a 5 star rating!