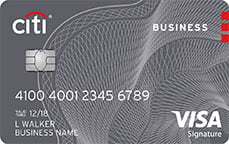 Costco Anywhere Visa® Business Card by Citi Review
Application Link
Benefits
Earn 4% cash back at gas stations worldwide (including Costco gas station); 3% cash back at restaurants and eligible travel spending worldwide; 2% cash back at Costco and Costco.com; 1% cash back on other purchases.
No annual fee if you are a Costco member.
No foreign transaction fee.
Disadvantages
You must have an active Costco membership in your name. We may cancel your Card Account and participation in this program if you do not maintain your Costco membership. You must maintain your Costco membership to redeem Costco Cash Rewards earned with the Card.
No significant sign-up bonus.
Only first $7,000 purchases per Annual Reward Year (12 billing periods in a row beginning with the one that includes January 1st) at gas stations can earn 4% cash back, after that you can only earn 1%.
You will get your cash back as Costco annual coupon, although you can redeem them for cash at Costco, it is still a little painful.
Recommended Application Time
[8/65 Rule] You can apply for at most 1 Citi card every 8 days, and at most 2 Citi cards every 65 days, whether approved or not.
Citi values the number of recent hard pulls a lot, we recommend you apply when there's less than 6 hard pulls in the past 6 months.
We recommend you apply for this card after you have a credit history of at least one year.
Summary
This card is basically identical as its personal version Citi Costco card. This is a wonderful no annual fee cash back credit card! Among no annual fee credit cards, 4% cashback on gas (include Costco gas) is the highest cashback rate; 3% cashback on restaurants is also as high as Chase AARP and is the best among no fee cards! The cashback on Costco itself is 2%, the only competitors are Chase Freedom Unlimited and Fidelity Visa Signature, however, Chase Freedom Unlimited is not available for many of us because of the 5/24 rule and Fidelity Visa Signature is useless considering the Citi Double Cash (DC) exists. In conclusion, all bonus categories are really good, for those who are not deeply interested in points and miles and favor cashback, this is a great card to keep! Nevertheless, there is no sign-up bonus on this card, so it's better to convert/downgrade to get this card than directly apply for it.
Note that, in order to get this card, you need to be a Costco member first. The Costco membership annual fee is $60 (no additional cashback at Costco) or $120 (2% additional cashback at Costco). The question is, if you are not interested in Costco, should you apply for a Costco membership purely because of this credit card? In my opinion, it is not worthwhile, because the benefit is not so great for having a $60 annual fee. But it's not a bad idea to try it out for a year and see, maybe you will become a Costco fan!
Historical Offers Chart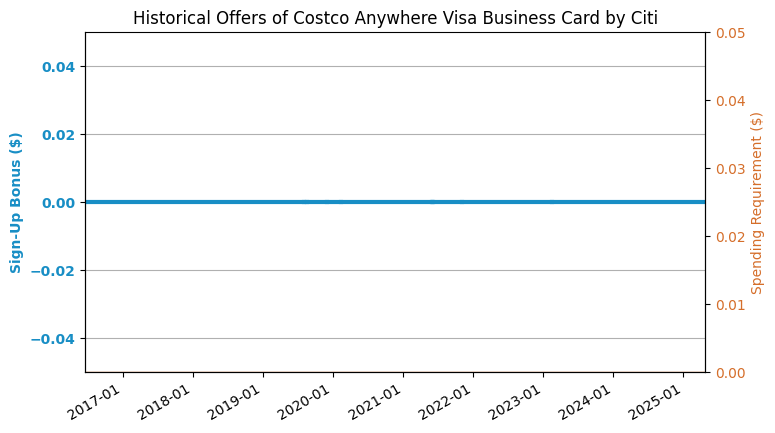 Application Link
---
If you like this post, don't forget to give it a 5 star rating!