Apple Card Review
2019.8 Update: It's publicly available now. If you still can't see it, please make sure your iOS system is updated to at least version 12.4. BTW, today there is a new bonus category: you can now earn 3% cashback on Uber and Uber Eats via Apple Pay.
Application Link
Features
Earn 3% cashback on Apple, earn 3% cashback on Uber and Uber Eats via Apple Pay, earn 2% cashback in other places via Apple Pay, and earn 1% cashback everywhere else.
Apply in iOS devices for the card. After that, you can ask for a physical card. The physical card is made by Titanium. There is no card number, no CVV, no expiration date, no signature on the physical card. If you need a card number, you can get a virtual number in the Wallet app in iOS devices.
It only requires the last 4 digits of SSN when you apply. Goldman Sachs will give you a decision about credit limit and APR first, and then let you decide whether to continue. If you choose not to continue or get denied, there will be no hard pull (HP). There will be HP only after you continue and finish the whole process.
No foreign transaction fee.
No annual fee.
Disadvantages
No sign-up bonus.
Summary
This is an attempt to challenge the current credit card market by Apple. It has deep integration with iOS devices. Compared to other credit cards, it is OK but not great. You can get 2% cashback in most places via Apple Pay. For the people who want to maximize credit card rewards, this card is not for you. But the card looks fancy, and maybe the Apple logo is a sufficient reason for some people to have it.
Historical Offers Chart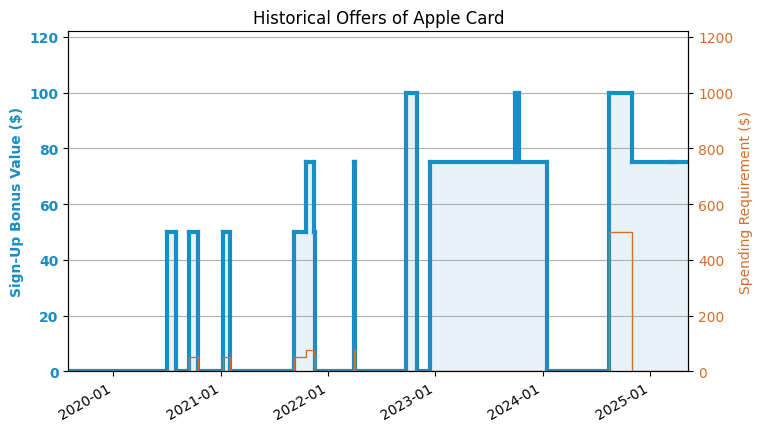 Application Link
---
Share this post with friends
If you like this post, don't forget to give it a 5 star rating!