Apart from Star Alliance, OneWorld and SkyTeam members, there are some airlines out there that refuse to be a member of any airline alliance. Although often ignored for some reason, these airlines usually run well, and establish good partnership with other airlines. Some even have partners throughout three major alliances. From this perspective, we should not ignore these hub airlines when it comes to the award tickets. Here we are going to talk about one such hub airline— Etihad Airways (EY) and its frequent-flyer program Etihad Guest. (Don't confuse Etihad Airways with Emirates.)
Etihad Airways is well known for its luxury. If you take a look at its A380 suite with google image search or see its official website, you know what we mean. (The picture of A380 suite is not shown due to copyrights issue.)
In this post, I'll start by covering the basics of EY in section 1-3, and then elaborate on the highlights of EY in section 4-5. An as aside, I give high marks to Etihad Guest because it's pretty well organized.
1. Earn miles by flying EY
Sign up to Etihad Guest at the official website and you will receive 1,000 bonus miles with any purchase (The purchase can be made through its portal, like the way you do with UA). You can also earn miles every time you fly with Etihad Airways. The earning ratio per fare class is as follows.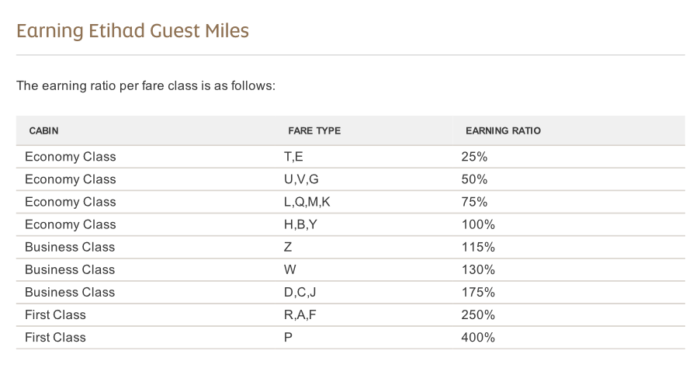 The timeline of expiry for Etihad Guest Miles is related to a member's Etihad Guest tier level (as shown below):
2. Redeem miles for EY flights
It's not really a good option to redeem miles for Etihad Airways flight. However, the calculation of miles required for redemption is pretty straightforward. We'll briefly talk about the calculation. Here is a mileage calculator. Just click "GuestSeats" (similar to Saver) and select your preferred search strategy(search by number of miles or by destination) to find out how many miles you need on a specific route.
Here is where you redeem for the ticket. Let's explain a little bit why this redemption is not a good option. The pictures shows a one-way flight from JFK to PVG in economy class:

We can see that, it costs around 80K miles + $100 taxes and fees! The high cost is partially attributable to EY's premium facility and service. But you can upgrade your flight using moderate amount of miles, a rather good strategy for those who prefer to redeem miles for EY flights.
Despite the high cost of award tickets, the good news is that refunding and changing them does not cost much (shown). Generally, a refundable ticket can be refunded for a fee of 2,000 miles. Etihad Guest Gold and Platinum members are exempt from this charge. Even if a member does not show up for his or her flight, he or she only has to pay a no-show fee of 2000 miles plus the refund fee of 2000 miles. As for changing, the first date change is free of charge, and all subsequent date changes are processed for a fee of AED 100 per change. But remember not every ticket is valid for refund. It is not difficult to find out whether refunds and changes may apply as it is usually clearly stated.
Another good news is that EY will keep offering award tickets until all tickets are sold out. So it is easy to check its award seat availability.
3. Membership tier levels
There are four tier levels in Etihad Guest membership: Guest,Guest Silver,Guest Gold,Guest Platinum. The differences across tier levels are in here, and the main differences are: Platinum, Gold or Silver members gets additional 75%, 50% or 25% award miles and are allowed to carry additional 20kg/32kg luggage (depending on segments) compared with general members.
In order to attain and maintain a certain tier, members have to earn enough tier segments in a given calendar year.

4. Airline partners
So why do we write a post on EY when its redemption ticket sucks? The most important underlying reason is its extensive network of airline partners.
There are two categories of airlines in terms of partnership. One category include Air Serbia,Air Seychelles,Etihad Regional, which have shared frequent flyer benefits with Etihad Airways. Another category consists of its general partners throughout three major alliances, including AA, ANA, Air Berlin, Hainan Airlines, Korean Air (which only allows earning miles) and Asiana Airlines. Click here for the full list of EY's partners.
If some airline, like AA, is found on the list of EY's partners, it means that you may redeem rewards points of the very airline for Etihad flights. By this approach, you are only able to redeem miles for "Guest seats" rather than "Open seats". This still makes sense since it is often too expensive to book tickets with Etihad Guest miles. But we are not going to elaborate on this aspect. Instead, we'll focus on how to redeem Etihad Guest miles for AA and ANA flights. The process can be extrapolated to other airlines with slight variations.
4.1 Redeeming Etihad Guest miles for AA flight
American Airlines uses a zone-based award chart. Refer to this chart to find out how many miles you need to redeem for a specific AA route, for instance, the China-US route. In the chart, China is included in Asia 2, and EO is abbreviated for Economy Off-season. Refer to more abbreviations at the end of the chart.
As you can see, mileage required for different fare options vary slightly. However, in real world situations, the miles needed for redemption may be not exactly the same as shown here. The difficulty in this redemption lies in finding award availability. In other words, how do you find award space that can be redeemed with Etihad miles? There is no single best answer. You may try search AA award seats with search engines of other One World partners (for instance, BA). If the award tickets are offered to BA members, chances are that they are available for Etihad members as well. In conclusion, do remember to check the award availability before transferring points. In addition, there are a few more things you need to keep in mind:
Book the ticket with miles at least 14 days prior to your intended travel date. Reward tickets are valid for a maximum period of one year from the original date of issue.
One-way tickets are allowed.
You have to call Etihad Guest Service Centre to redeem for tickets. However, not every associate is familiar with the redemption process. If he/she sounds confused, hang up politely and call again later.
You have to check on the flight number, times, dates, departure airport, etc., and be able to provide these information to associates at service center.
You are allowed to change flight date once after booking the ticket. Subsequent changes are subject to the change policy of tickets marketed by Ethihad Airways. The same is true with refund policy.
Stopovers are permitted.
Name changes are not permitted.
There are no black-out dates with AA flight.
4.2 Redeeming Etihad Guest miles for ANA flight
Here comes the highlight! The redemption table shows mileage required for a one-way journey with specified origin and destination airports. Here is part of the table:
The right three columns show the miles required for economy class, business class and first class. As you can see, a one-way flight in first class from west coast LA to Hangzhou costs 51.2K (35.1K+16.1K) plus $100-150 taxes and fees. By comparison, the same route may cost 90K ANA miles when flying with its partners, and 82.5K miles when flying ANA during off-seasons. Please refer to PDF version of the table for more information.
The biggest challenge is still to find an available award ticket within ANA flights. Similar to the strategy mentioned above, try search with UA search system. I just did so to find out a few award tickets available for booking. Remember to check the tickets before transfers. Besides, here are the variations in terms and conditions compared with that of AA.
One-way tickets are not permitted.
ANA does have black-out dates. Please refer to the latest notice.
Stopovers are permitted without combined open jaw.
5. Transfer partners
It's a good option to credit the miles into your Etihad Guest account whether you fly Etihad Airways or fly with other partner airlines such as Hainan Airlines and Korean Air (Again, it only allows earning, not redemption).
In addition, you can transfer points into miles from some of Etihad Airway's credit card and hotel partners:
Transfer Citi ThankYou Points (TYP) into miles at a 1:1 ratio. You may get additional 20% bonus miles during promotions.
Transfer SPG Starpoints into miles at a 1:1 ratio. And you'll get 5,000 bonus miles with every 20,000 miles transfer.
Transfer AccorHotels points into miles at a 2:1 ratio.
Transfer Amex Membership Rewards (MR) points into EY miles. Note that only the AmEx cards issued in some European countries can work this way, and AmEx cards issued in the US or China can't transfer MR to RY miles.
You are making a good value out of the points like TYP, isn't it? Again, do check the availability of award tickets before transfer.
---
If you like this post, don't forget to give it a 5 star rating!