1. How to get the free ticket
Airline Info: Outbound: JFK in New York -> NRT in Tokyo, NH1009, 12 hours and 55 minutes duration, first class. Inbound: NRT -> JFK, economic class.
Total Cost: 95k ANA miles + $272 fee in total. 75k miles for outbound first class ticket, and 20k for inbound economic class ticket.
Source of Miles: AmEx PRG 50k MR sign-up bonus + AmEx EveryDay (ED) 10k MR sign-up bonus + 10k MR earned by everyday spending + 25k ANA miles stockpiled previously. Note that MR points can be 1:1 transferred to ANA miles.
Itinerary planning:
I've planned to spend 2 weeks travelling around Japan before going back home. My itinerary was divided into two parts. And I've only booked the round trip ticket between New York and Tokyo (mixed-class ticket booking with first-class from New York to Tokyo and economy class on my way back). I directly booked my award ticket using award booking in the official website and there was no need to call. Since I rescheduled my ticket two weeks before my trip, I've got the extra charge back which came from the price difference of gas price and exchange rate of yen.
2. Travel Note
Japanese people have long pursuing a refined life. During Kamakura period, Japanese monks have combined their understanding of Buddhism and the world with tea ceremony and thus formed their unique sado culture. Sodo features in primitive simplicity and has abandoned trivial formalities and pompous rituals. It has influenced every aspect of Japanese' lives. ANA, a member of Star Alliance Airlines with a long standing reputation and a representative of the world-class airlines (be renowned for the Skeytrax 5-star airline three years in a row), serves as a spokesman for meticulous and careful service in Japan. I'll show you the experience in the brand-new ANA Boeing 777-300ER first-class and its considerate services reflecting in every detail.
The term "Ichi-go ichi-e" originates from ancient Japanese sado which means "once in a lifetime, it's destiny that brings us together, we should cherish" It is also the code of conduct insisted by ANA. With countless passengers fly across oceans every day, "to encounter" is fate which has a relatively low possibility. There is no reason not cherishing this short dozen of hours. ANA has provided its customers with perfect service.
Terminal 7 of JFK was probably not the best start for my trip. The old air port with the worst service in the world was always full of long queues and noisy crowds. Counters of ANA had to be set in a corner in this small place. There was nothing quite different to fist-class passengers for there would always be their exclusive check-in counter and security channel. There was nothing more pleasant than bypassing the long long queue. You could go directly to the first-class business lounge when passing the security check, which was rent from lounges of the British Airway. Black tea, champagne, wine and desserts, just enjoy yourself and relax before boarding. #Don't drink too much or you would possibly be rejected of boarding.
The first-class cabin in ANA was relatively plain compared with luxury ones in the three tyrant airlines in Mideast. It looked like "an office" with square-shaped compartments and simple decorations. However, Japanese are not specialized in pomp. Relaxing and comfort are the essence of their service. 27-inch big screens with recreation systems and 48-centimitre large-sized comfortable seats would take you away from the sense of push and squeeze in the economy class. The seats were neither too hard nor too soft with enough room of privacy. Storage bags, plugs and all kinds of control systems were accessible. On the counter right before the seat, there were first-class only toiletries and a cashmere robe. The service was subtle and careful. Air hostesses were all well-looking who could remember the names and hobbies of each and every passenger. Besides, the most flattered was the service they've provided with which was in line with the highest standard of Japan. They would squat till their eyes were in the same level line with the customer whose requirements they were listening to. It was those details that made us admire the spirit of carefulness of Japanese.
First-class meals can best represent features of airlines. Air hostesses started to take orders from passengers from their boarding. When the plane was stale, first-class passengers were served with wine and four dishes that went with it while those from economy class were served with bento that they couldn't be more familiar with. As the spokesman for Japanese airline business, meals in ANA featured in the famous Kaiseki which originated from sado tea pastry and symbolized the highest level of Japanese cuisine. The basic meal package consisted of a soup and three dishes with all kinds of delicacies. Materials were carefully selected and tailored in accordance with season characters. Arrangements of tableware and tastes were sophisticated and perfected which were reflected in the exquisitely prepared 8 courses by 5-star chefs of ANA. Since tastes tended to degenerate when people were flying in the sky, ANA has improved their traditional menu by increasing the proportion of strong flavor dishes, assuring its customers' experience of authentic Kyo-Kaiseki. Besides the dinner, there were plenty choices of instant meals that could be ordered at anytime, including Japanese style curry rice, Ippudo ramen noodles, roast mackerel with rice, etc. For students who were used to book the ticket of economy class, it was thrilling and surprising enjoying this on call experience.
There were western-style food and Kaiseki (don't hesitate to choose Kaiseki!) after meal with 8 courses and 19 dishes served at 6 times separately in the following order: starters with stains and burning materials (middle-left), dishes before the main course (lower right), Bream tuna sashimi with crab meat (upper right), strong flavor dishes, rice and miso soup (lower left) and desserts and fruits (upper left) as well as the Itouen matcha and tea refreshements.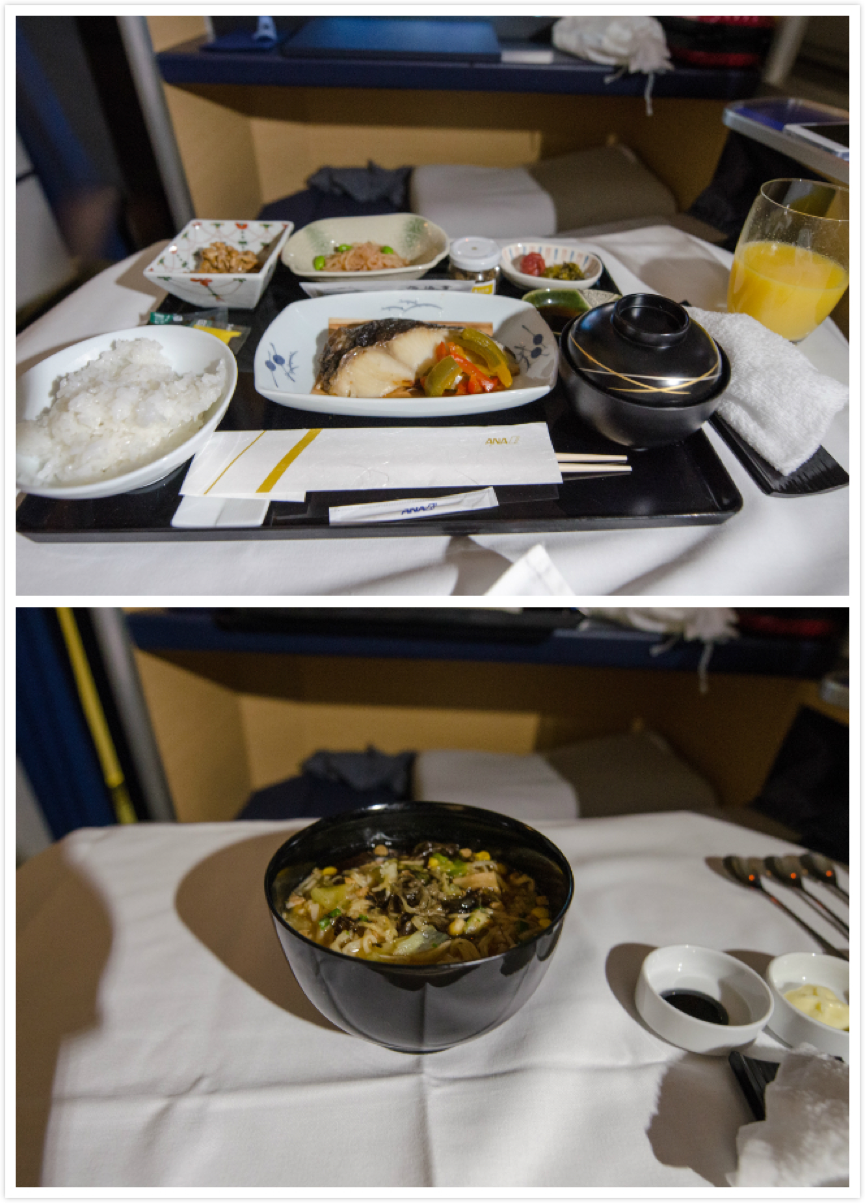 There were 12 dishes on the plane that could be ordered at anytime. I was a little greedy to order both a dish of Xiking salmon and a dish of Ippudo ramen noodles.
During the long flight, it was a sweet dream for most passengers in economy class to get a comfortable sleep. Almost every seat in business and first-class cabins in most airlines offered seats that you could lie low in. In ANA, there was more. Air hostesses would hand out pure cashmere robe to every first-class passenger after your satisfied meals. They would made the beds and offered quilts during your changing of clothes and washing ups. Sony noise canceling earphones were provided to passengers which could make your flight comfortable and tranquil and your sleep sound and peaceful. And of course, don't forget to fasten your seatbelt.
The plane landed safe and sound at Tokyo NRT after 13 hours' flying. The flight was delayed by over an hour due to the weather in New York. I arrived at Narita at around 10 pm. The last bus to downtown would be here at about 10:35 pm. Passengers from the first-class cabin got the priority of taking off the plane. Entering the luggage hall, I found my luggage taking circles in the turntable waiting for me when I got through the Customs check with no one queuing. It only took me 15 minutes to finish my entire inbound procedures. This experience was flattered and compared with the ones of being an economy class passenger. I had to wait in the crowded corridor with my heave luggage and queued in a long line waiting for the Customs check. And also, I had to identify my luggage in front of the turntable among crowds of people with my neck stretching out. The exclusive priorities enjoyed by first-class passengers were irresistible.
There was an old Chinese saying goes, "It's easier to go from rags to riches than to go the other way around." My first-class experience was the best proof. It was as good as death thinking about my experience of being a economy class passenger flying across oceans. ANA has shown me with the best flying experience with the highest level of service as a world-class airline, especially the taste of Kaiseki which I would never forget. The 13-hour flight was short but has left me with a nice impression of the concept of "ichi-go ichi-e" and the once in a lifetime considerate service provided by the air hostesses were hard to forget.
---
Appendix
(This short passage is the author's own experience of transferring ANA air tickets. We would provide with you more details in ANA airline miles in future)
The rules of transferring airline miles with air tickets in ANA are almost the same with other America airlines which characterize in more limits for long-distance flights and less so with short-distance multi-segment flights. Though you have to pay for the fuel (oil price is relatively low at present), it's a best choice for those who could plan in advance especially for those who want to transfer their flight in Japan and take a trip by the way or go for a trip in another country (e.g. take your parents to travel around America).
Procedures of booking an air ticket are simple and easy to follow. First of all, you should register an ANA mileage club account in the American official website. You'll receive a membership card from ANA. (It takes about two weeks sending from Japan to America)
You can choose airlines that you are going to accumulate you airline miles in from Star Alliance airlines and you can also transfer your BTA to airline miles at the ratio of 1:1. Specific rules of accumulating airline miles are basically the same with the ones in other Star Alliance airlines. You can find your answers in official websites. You can choose award booking at the homepage when you need to book air tickets or just want to find out your transferrable airline miles. You will see the following booking page:
Operations in the new edition ANA booking page are simple and easy to follow. You can directly book round-trip tickets or multi-segment tickets and mixed-class tickets. Be careful that ANA requests your booking include at least two segments with the departure and destination in the same country which is different from other American airlines. It also requests that there could be two charging zones at most for the air tickets you booked. Round-trip air tickets like New York-> Tokyo->Beijing could only be booked separately. The picture above was an example of booking round-trip air tickets. You can choose dates having chosen your flights.
You will see seat arrangements of flights both from ANA and other Star Alliance airlines when clicked in. It will automatically book your air tickets after calculating the total airline miles and spending when you've chosen your flights and segments. It is very convenient for you to reschedule your flights online after booking.
Despite the many transferring limits of ANA airlines, you can save points by booking mixed-class air tickets. For airline segments in the same charging zone, there are few limits in open jaw and stopover. And you just need to pay for a part of airline miles. ANA points are suitable for booking multi-segment national cruising flights (it is also the most common and valuable way of transfer). The page of transferring multi-segment air tickets is shown below:
You can choose your seat and flight when entering the page:
Last but not least, when you transfer air tickets for others other than for yourself don't forget to add them in the registered user list of mileage.
---
Share this post with friends
If you like this post, don't forget to give it a 5 star rating!