MERRILL+ Visa Signature Credit Card Review
2017.3.18 Update: Many reddit users report that you still can apply for this card via phone (866-751-1257). The representative over the phone may tell you there's no sign-up bonus, or may tell you the bonus is 50k/$3000 spending. But the data points from the reddit thread show that no matter what the representative tells you, you will actually get a bonus of 25k/$2500 spending in the end. The bonus has been halved, so it is not a great deal any longer.
2017.3.3 Update: The application link is dead. Actually it already lasted longer than I expected. We still don't know whether we can apply over the phone. You can apply over the phone, 800-551-0839. Make sure to confirm the sign-up bonus before applying!
Application Link:
Features:

Earn 50,000 Merrill+ Points after spending $3000 in first 3 months!
Earn 1x Merrill+ Points on all purchases.
How To Use Your Points: Redeem points for air ticket, cash rewards and gift cards. Anytime, Anywhere™ Air Rewards start at 25,000 Merrill Points for flights up to $500 (inclusive of taxes and fees). Cash rewards start at 3,000 Merrill Points and shall be issued for a U.S. dollar sum equal to 1% of the amount of Merrill Points redeemed in the form of a statement credit, an electronic deposit to a Bank of America® checking or savings account or a contribution to an eligible Merrill Lynch Cash Management Account®. The redemption value for gift cards varies.
Spend $50,000 or more a year in purchases on your MERRILL+® card and receive: Your choice of a $200 Travel Credit that can be used on travel incidentals or complimentary Delta Sky Club® lounge membership.
No Foreign Transaction Fee.
No Annual Fee.
Summary:
Many data points show that you don't need any Merrill or even BoA account to open this card. However, since the application page was dug up by reddit, there's still a chance that we get approved without those accounts. This card has an extremely high sign-up bonus worth about $500~$1000 and there is no Annual Fee so it is definitely a good deal!
Recommended Application Time:
We recommend you apply for this card after you have a credit history of at least one year.
You can have at most 2 BoA credit cards if you are a student.
You can have multiple same credit card from BoA. You must wait at least 90 days to apply for the same credit card, otherwise the application will be automatically cancelled.
After Applying:
Click here to check BoA application status.
BoA reconsideration backdoor number: 877-383-0120 or 866-811-4108. It seems that the number is changing. Please inform us at once if it fails. The representatives here can get in touch with decision-makers directly.
Historical Offers Chart: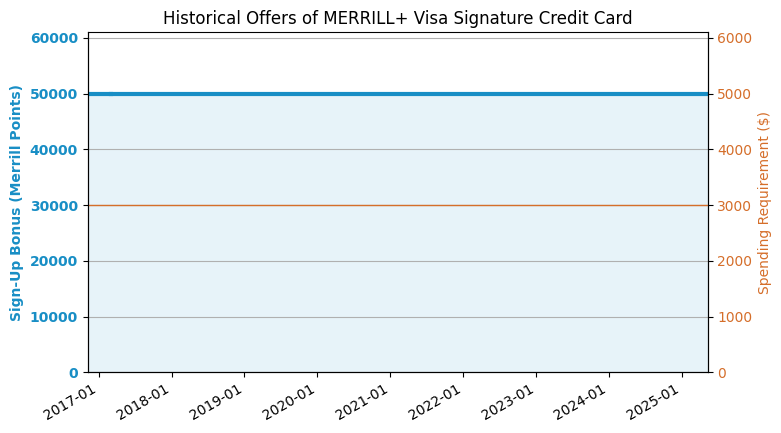 Application Link:
HT: reddit
---
Share this post with friends: