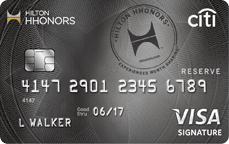 Citi Hilton HHonors Reserve Card Review
Application Link
This card no longer accepts new applications.
Benefits
Earn 2 weekend night certificates after spending $2500 in first 4 months. We value this bonus at about $600 since you can redeem the free nights at most hotels within the Hilton Portfolio, including some of the most expensive ones.
We value Hilton HHonors Point at 0.5 cents/point (Hotel Points Value). Click here to see how many points are required for a free night.
Earn 10 Hilton HHonors points per $1 spent on hotel stays within Hilton Portfolio, 5 points on airline and car rental, 3 points on other purchases.
Complimentary HHonors Gold status for cardholder. Upgrade to HHonors Diamond status when you make $40,000 or more in purchases each calendar year.
Earn 1 weekend night certificate after spending $10,000 each year.
No foreign transaction fee.
Citi retention offer (offer for cardholders that want to close their account) is typically very generous, but still, YMMV (Your mileage may vary).
Disadvantages
$95 annual fee, NOT waived for the first year
Summary
There are 4 Hilton credit cards, you should probably get all of them if you are interested in getting lots of Hilton HHonors points. You could keep AmEx Hilton and Citi Hilton anyway since they both have no annual fee, but AmEx Hilton Surpass and Citi Hilton Reserve are more suitable for those who often stay in Hilton. Keep in mind that 2 free nights are only valid for 1 year, so it would be better to have a travel plan before applying for the card.
Related Credit Cards
Citi Hilton Reserve (this post)
Recommended Downgrade Options
Recommended Application Time
[8/65 Rule] You can apply for at most 1 Citi card every 8 days, and at most 2 Citi cards every 65 days, whether approved or not.
[New] Hilton HHonors Bonus Points are not available if you have had any Citi

 

Hilton HHonors

 

card opened or closed in the past 24 months. Product change is treated as account closure.
Citi values the number of recent hard pulls a lot, we recommend you apply when there's less than 6 hard pulls in the past 6 months.
We recommend you apply for this card after you have a credit history of at least one year.
After Applying
Call 888-201-4523 to check Citi application status.
Citi reconsideration backdoor number: 605-331-1698. This is a so called "Citi EO" (Executive Office) phone number. This phone number is not designed to make reconsiderations, but the representatives are really helpful.
Historical Offers Chart
This card is discontinued in 2017.06.
Application Link
This card no longer accepts new applications.
---
Share this post with friends
If you like this post, don't forget to give it a 5 star rating!