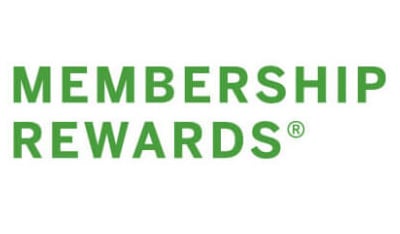 Recently, American Express has had a lot of large sign-up bonuses offers and many of you have obtained or will obtain many Membership Rewards (MR) points. What is the best way to use those points? We will introduce how to use those points and hope you can find the best way to use yours! You can click Introduction to Amex Membership Rewards (MR) I: How to Earn to get some information about how to earn MR points.
Overview
The following uses of Membership Rewards Points can be found on the official website of American Express:
To redeem for Gift Cards or as a statement credit.
Generally speaking, the only way to get any decent value from your points is by transferring to a frequent flyer program.
Before we begin, and this goes for any flexible currency, we highly suggest that you do NOT transfer your points over until you have a redemption in mind and confirm that it is available. Most frequent flyer programs will allow you to call and put your reservation on hold while you transfer points over. One of the only circumstances in which you might speculatively transfer points is when a promotion is going on.
The table below describes several airlines available for MR points transfer, including respective transfer ratios and time.
| Partner | Airline Alliance | Transfer Ratio | Transfer Time |
| --- | --- | --- | --- |
| Air Canada (AC) Aeroplan | Star Alliance | 1000 : 1000 | Instant |
| All Nippon Airways (NH) ANA Mileage Club | Star Alliance | 1000 : 1000 | 2~3 days |
| Avianca (AV) LifeMiles | Star Alliance | 1000 : 1000 | Instant |
| Singapore Airlines (SQ) KrisFlyer | Star Alliance | 1000 : 1000 | 0.5~2 days |
| British Airways (BA) Executive Club/Avios | Oneworld | 1000 : 1000 | Instant |
| Cathay Pacific (CX) Asia Miles | Oneworld | 1000 : 1000 | Instant~3 days |
| Iberia (IB) Iberia Plus/Avios | Oneworld | 1000 : 1000 | 0.5~2 days |
| Qantas (QF) Frequent Flyer | Oneworld | 500 : 500 | Instant |
| Aeromexico (AM) Club Premier | SkyTeam | 1000 : 1600 | 4~5 days |
| Air France KLM (AF&KL) Flying Blue | SkyTeam | 1000 : 1000 | Instant |
| Alitalia (AZ) MilleMiglia | SkyTeam | 1000 : 1000 | Instant ~1 day |
| Delta Air Lines (DL) SkyMiles | SkyTeam | 1000 : 1000 | Instant |
| Aer Lingus (EI) AerClub/Avios | None | 1000 : 1000 | Instant |
| El Al (LY) Matmid | None | 1000 : 20 | Instant |
| Emirates (EK) Skywards | None | 1000 : 1000 | Instant |
| Etihad (EY) Etihad Guest | None | 1000 : 1000 | Instant |
| Hawaiian Airlines (HA) HawaiianMiles | None | 1000 : 1000 | Instant |
| jetBlue (B6) TrueBlue | None | 250 : 200 | Instant |
| Virgin Atlantic (VS) Flying Club | None | 1000 : 1000 | Instant ~2 days |
| Marriott Bonvoy | (Hotel) | 1000 : 1000 | Instant |
| Hilton Honors | (Hotel) | 1000 : 2000 | Instant |
| Choice Privileges | (Hotel) | 1000 : 1000 | Instant |
Next, we will choose several common transfer partners and highlight their pros and cons. You can click each subtitle to have a knowledge of detailed mile redemption rules for each airline. Also, please head over to Award Hacker and you can actually search by either Frequent Flyer program OR even by MR!
1. Star Alliance
Air Canada is a good choice for Star Alliance and they are one of the few that don't pass along few charges for most of the carriers, even in first class! Here is their award chart and some of the highlights are short haul flights to/from Canada for 15K roundtrip as these can often be expensive, and even North America to Asia 1 (China, Eastern Russia, Hong Kong, Japan, Macau, Mongolia, North Korea, South Korea, Taiwan) at 75/150/210K roundtrip.
SQ miles can be transferred to from four American points transfer systems, which makes it easy to pool points together. SQ has some of the best hard and soft products in the business and that』s why I often recommend them. Also, SQ often has 30% discounts on award redemptions so be sure to look out for that! A few options that stand out:
Western United States – Hong Kong: 60K/130K/165K + fees for Economy, Business, and First
Eastern United States – Europe: 40K/90K/135K + fees for Economy, Business, and First
See more on their award chart here!
If you really want to use SQ miles between China and America, we advise you to redeem your miles on a UA flight as there will be no fuel charges.
1.3. All Nippon Airways (NH)
ANA is a spectacular airline and has become one of the first choices for people who fly between China and the US. ANA』s service is much better than that of United or China Air.
ANA』s Award Chart includes the redemption of its own flights and its partner airlines. The following charts are from ANA』s official website, showing the prices of roundtrip redemptions between Asia 1 (Basically China, Hong Kong, and Manila) and all other parts of the world. L/R/H in the chart refers to redemption in low, regular, and high seasons. Note that the redemption chart for partner airlines do not have seasonality.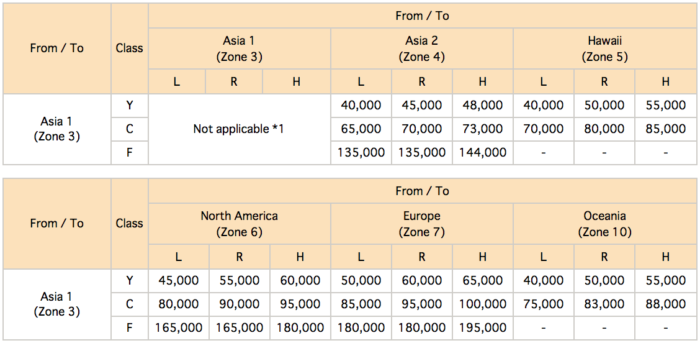 Redemption Chart for ANA
We can see from this chart that ANA has a great advantage in redemption the round-trip tickets between China and America.
ANA flights require a minimum of 45K/80K/165K
ANA』s partner airlines require 60K/95K/180K
However, there are a few issues:
Bugs often seem to occur in its ticket-searching system. Many people suggest to search tickets by way of multiple cities first, then contact ANA customer service by phone to issue your ticket.
Fuel charges will be passed along with the exception of redeeming with UA.
One can only redeem ANA miles for a roundtrip flight, no one-ways.
The award chart for ANA flights is here, the chart for partners is here.
2. Oneworld Alliance
Unfortunately, BA made some big changes in their award chart 2 Feb 2016. One of the best redemptions they had was that flights under 650 miles were 4.5K/9K/18K Avios one way. This has since changed and now flights up to 1151 miles are 7.5K/15K/30K Avios. That being said, they still operate on a distance based chart and there is still some great value to be found! A few of our favorites:
Honolulu to West Coast Cities (SAN, LAX, SJC, PDX, SEA…) via AA/AS: 12.5K one way in economy
Boston to Dublin via Aer Lingus: 12.5K one way in economy! (Search via United and call BA to book)
They don't exactly publish an award chart so sometimes you need to price things out yourself. Check out the tool on wandr.me to price routes out! The sweet spot of this chart is definitely the 2001 – 3000 mile range pricing out at 12.5K one way in economy and is what allows us to complete the above redemptions.
Amex often has promotions for transferring MR to Avios so be on the lookout as they unfortunately typically transfer 1:0.8 but we've seen that as high as 1:1.2 recently. Lastly, remember that because this is distance based, layovers WILL add to distance! Which is why, for example, SFO to HNL prices out at 20K each way because neither AA nor AS fly that route direct.
2.2. Cathay Pacific (CX)
Asia Miles is the Award Mile Program of Cathay Pacific.
The disadvantage of Asia Miles also lies in fuel charges (YQ) . But YQ is not required in the corresponding countries of American Airline (AA), Japan Airlines (JL), and Australian Airlines (QF).
One quirk about their award chart is that a roundtrip is much cheaper than the cost of two one-ways, so it's best to treat their chart as roundtrip only. Although some of the redemptions may look enticing; they typically have terrible wait times/customer service, and sometimes their website will say you a certain redemption will be allowed but they won't actually allow it.
With the above information coupled with the long wait time to transfer, we do not recommend you transferring your MR to Asia Miles unless you have a specific redemption in mind and have confirmed it's availability.
3. SkyTeam Alliance
3.1. Delta Air Lines (DL)
Delta is tricky because they do not have a posted or concrete award chart. Their prices seem to change not only weekly but even on an hourly basis! Sometimes they have promotions which can make the miles worth it but this is definitely a volatile currency and some people like to endearingly call SkyMiles, "SkyPesos".
Definitely consider DL and search around-you should be able to find flights from US to Asia for 35K one way. Also, you might be able to find some sales, for instance they recently ran a promotion for 50K roundtrip flights from US to Tokyo and I once flew from Atlanta to Toronto for 9K one way!
Fuel surcharges and Blackout Dates do exist so be wary of them. Particularly, availability is nonexistent with Korean Air (KE) and China Southern (CZ) during several periods of the year and certain partners will pass along surcharges.
Flying Blue is a program jointly operated by Air France and KLM. This program is a bit more complex and though it may not be very useful for Sino-American flights (A one-way economy ticket is 40k miles), it can be a great choice for many other redemptions.
Here are some great redemptions that stood out to us:
Promo Awards are award tickets on certain routes that are discounted at 20 to 50 percent! All of the awards are with KLM or Air France and will always carry a surcharge. That being said, you can sometimes get 50% off a flight to Europe so saving 12.5K miles each way can definitely make the surcharge worth it! They are updated on the first of each month so be sure to check them out.
North America to Hawaii – 15K each way in Economy
North America to Central America/Caribbean – 15K each way in Economy
No YQ if you redeem for Delta flights!
4. Non-Alliance Airlines
4.1. Virgin Atlantic (VS)
Virgin Atlantic often has very high YQ but we've listed some redemptions without any:
Delta: redemption ratios of Europe-US and of North America inside are suitable. For example, only 40k miles of a round-trip ticket is required between LHR and JFK;
Virgin America: Some of the shorter routes within the US require less miles than those of the three major American airlines.
ANA: Though they do not publish a chart, you can find some good value without any surcharges.
It's a bit difficult to sift through but here is how you get to the partner award charts and here is their own chart. VS is not to be confused with Virgin America (VX). They are also a transfer partner but as MR transfer to VX at a ratio of 2:1, it is not recommended and we will not discuss them.
Conclusion
American Express offers more cards that earn their currency than Citi and Chase do. Also, they arguably have much larger sign-up bonuses so it's much easier to collect MR than UR or TYP. Unfortunately they have less standalone value than the other two currencies but really their only value lies in transferring to frequent flyer programs.
Make sure to do your due diligence, check out Award Hacker, and keep in mind the other advice in this post!
Hope this helps you best use your MR to get your dream redemption!
---
If you like this post, don't forget to give it a 5 star rating!