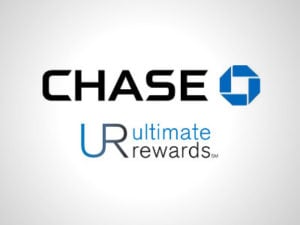 In the first installment of the Guide to Transferrable Points Currencies, we discussed the different ways in which you can earn Earning Chase Ultimate Rewards (UR). In Part 2 – Burning UR, we discuss how to redeem these points.
0. Overview
There are four main redemption options for spending UR:
Click 「Explore and book travel」 under 「Use points」 if you choose to redeem your UR points for booking flight ticket or hotel through UR site.
Click 「Transfer to travel partners」 then you can transfer you points to one of Chase』s airline, hotel and rail partners. Here are some partners with higher redemption value. Airlines: United Airline, Singapore Kris Flyer, Korean Air, and British Airways. Hotels: Hyatt. Rail: Amtrak. And we』ll come back to these partners in detail later.
Click 「Shop gift cards & products」 or 「Get cash back」 if you want to redeem for gift cards or cash back.
However, if you do not have a CSP, let』s say you only have a Chase Freedom, you have to choose between the first and the third options. And you can get no more than 1.00 cent per point when redeeming for travel and hotel stays. Fortunately, when you sign up for a CSP card, you can transfer your Freedom points into your CSP account and still enjoy a better price. However, it』s totally OK to stay with your Freedom card, because redeeming for something is always better than nothing.
1. Redeem your UR points for air travel and hotel stay
We』ll briefly cover this part. As we mentioned above, when you click 「Explore & Book travel」, you』ll be directed to the flight search pages where you can redeem your points for flight tickets.
On the website page, you may find other options like hotels, cars and activities on the website.
You may notice that the page shows that I have 54,448 points that worth $680 towards travel, which suggests a rate of 1.25 cents per point on the Chase. What』s more, if you redeem your points for cash back, you may get less than 1.00 cent per point. When redeeming your points, you can use points for all or part of the tickets. For instance, you may cover a $600 ticket with 40,000 points (worth $500) and $100 cash combined.
Under most circumstances, however, this is not the best way to use your points. Here are the reasons. Firstly, the tickets shown in the UR websites are often more expensive than ones you find in other websites or agents. Secondly, you』ll lose eligible stays/points when you book hotels this way. We strongly recommend you use tools like priceline bid or book rooms directly on hotel websites in this case. But this approach is still worth trying when you need rent cars. Sometime you get a better price than anywhere else.
2: UR→Airlines
In the next section, we』ll cover our most important part today: how to transfer your points to Chase』s partner programs. This is the best way to use your points and thus is most frequently asked about on the Internet. In fact, by transferring, you may redeem 70,000 points for a ticket worth of $2,000-3,000, say UA』s one-way economic class ticket from USA to China. By comparison, if you redeem these points for cash, it is $700.
Here we』ll introduce how to transfer your UR points to Chase』s airline, hotel and rail travel partners in detail.
Here is the list of UR airline travel partners:
Remember that UR points transfer 1:1 to these airlines in increments of 1000. Most transfers are instant. But for SQ, it usually takes 2 days to complete the transfer.
After the transfer, you can use the miles to book award ticket. However, award ticket booking is such a complex topic that it is beyond our scope to cover the rules of each airline, since redemption policies vary from airline to airline. Instead, we will just take a few examples to give you a rough idea of transferring your UR points into award tickets.
We』ll start with UA and SQ, members of Star Alliance TM. And we』ll spend a few more words on UA, which we believe is more frequently used.
United Airline (UA), one of the largest airlines in the United States, is ranked as #1 in trans-Pacific airlines. It operates flights to big Chinese cities including Beijing, Shanghai, Hongkong and Chengdu. It is said UA also plans to include Xi』an on its destination list.
Pros of UA award tickets are as follows:
Miles can be used for one-way travel. This is popular with most travelers, especially those with flexible schedules. It can be really annoying if you are required to redeem for round-trip tickets, which is often the case with certain airlines.
UA has lower transaction fee. For a round-trip travel that requires 70,000 miles, UA may charge as low as $ 10, compared with $200-300 by some other airlines.
UA offers more award seats within its own airline and its Star Alliance partners. This makes it competitive on the trans-Pacific services.
The following award chart applies to one-way travel between China and USA. The redemption rates for flights operated by UA and its Star Alliance partners are as follows:
| | | | |
| --- | --- | --- | --- |
| | Economic class | Business class | First Class |
| UA | 35k | 70k | 80k |
| Star Alliance partners | 35k | 80k | 120k |
If you are booking a round-trip ticket, you can simply combine two one-way tickets. The exact miles required are based on flight operators.
For instance, you』d like to book a round-trip business class ticket from New York to Beijing. So you search on the UA website and find flights available as follows:
Feb 2, 2016: New York-Beijing, transferring at Toronto. Operated by Canadian Airlines. 80,000 miles.
Feb 24, 2016. Beijing- New York. Nonstop. Operated by United Airlines. 70,000 miles.
In sum, this round-trip requires 150,000 miles plus fees of $ 41. If you do not use your miles, this trip roughly costs $4,200.80. This makes approximate 2.80 cents per UR point through this transfer, which is much higher than the rate of 1.00 cent per point when redeeming for cash.
In fact, you may make even better value out of your points/miles if you choose economy class tickets. I choose business just out of personal preference. No matter economy class or business class, the points are valuable only when you redeem them.
SQ, another Star Alliance member, is also a good option. From my own experience, SQ has several advantages over UA.
SQ provides better service than UA. This is especially true for business/first class. Since SQ no longer accepts redemption with UA miles, you can only book award tickets with your SQ miles. Besides, SQ offers additional 15% discount on miles when you redeem for flight.
You can still redeem your SQ miles for flights ticketed by other Star Alliance members including UA. However, some flight bookings are not available online, you may need to call SQ agents to book your tickets. (This is not uncommon in the industry, e.g. you have to call the offices to redeem your AA miles for Cathay Pacific flights.)
SQ accepts redemption from a wide range of its credit card partners, including Chase, Amex, Citibank and SPG, all of which can allow you transfer to SG.
If you』d like to fly back to China, it is a good option to transfer at Hongkong. The one-way economy/business/first class flight from San Francisco to Hongkong respectively requires 25,000/63750/70125 miles plus $51.20 fees.
You may consider A380 flights operated by SG if Europe is your destination. For economy/business/first class tickets, it costs 17000/48875/57375 miles plus $179 fees. (The fee is a little bit too much for economy tickets.)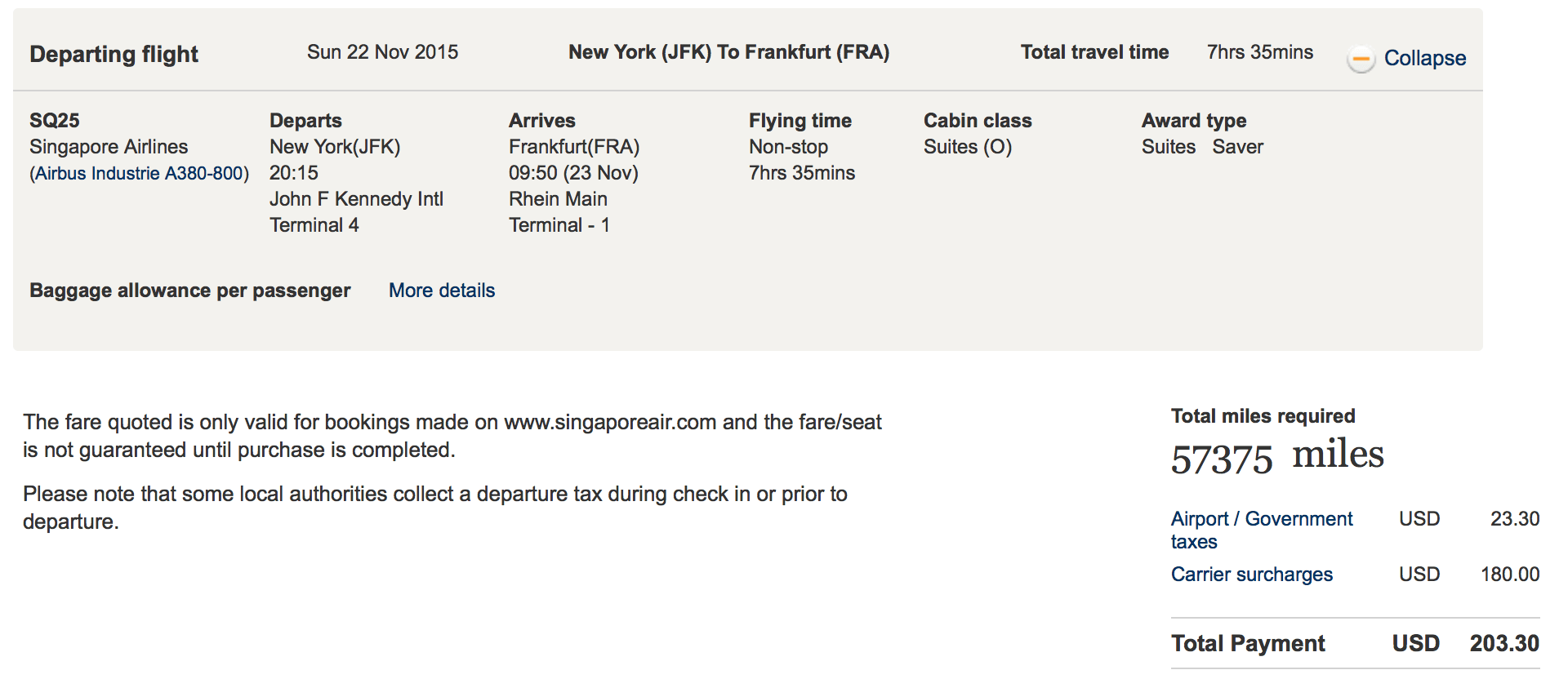 Korean Air (KE) is also on the list. KE provides attracting service for travelers despite the fact that certain accidents do occur with Korean airlines. The A380 flights from LA and NY to Seoul are one of its best services. However, KE has its own shortcomings compared with UA.
Relative high transaction fees.
Seasonal fluctuation of miles required for a certain flight. In other words, it costs you much more miles during travel seasons than off-seasons.
For instance, during off-seasons, an economy/business/first class flight from New York (JFK) to Beijing (PEK) (transferring at Seoul) requires 35,000/62,500/80,000 miles plus $200 fees. At this rate, economy tickets are much less competitive. On the other hand, you may still consider business/first class flight. The following picture is part of Award Chart provided by KE. The chart shows miles required for round-trip flights from China to different destinations during travel/off seasons.
Next we』ll talk about British Airways, which is known for its short-distance flights. The redemption rules are as follows:
The miles required for award ticket are based on flight distance. 4500 points are required for economy flights below 650 miles. The details are as follows.
The points required for multiple separate segments are the sum of points required for each segment.
Let me explain a little bit why BA is known for its short ride. For a one-way non-stop travel within the US continent, you have to spend 12,500 miles with AA miles, but you save a lot of miles using BA miles for AA flights.
For example, suppose you are flying from Philadelphia to Boston at afternoon, August 27. You search on AA website. It turns out as follows:
Then you try the same strategy at BA website:
All these three flights provide award tickets worth of 4500 Avios plus $5. It is not difficult to calculate the redemption value is more than 2 cents per point.
Although it is a good option to use BA, there are two things you need to keep in mind:
You have to register at the BA official site before you search award tickets.
BA website only shows Saver award flights of AA. Sometime ago BA website encountered some technical problems of showing AA flights. However, remember that you can call BA offices to redeem for award tickets when you find Saver tickets at AA website.
In conclusion, BA is a good option for both short-distance and trans-Pacific travels.
3. UR→Hotels
The list of UR hotel partners include:
3.1. Hyatt
You get a relatively higher redemption value with Hyatt. The points required for hotel stays are based on hotel categories. And you can redeem your points for all or part of your stay (PointS+Cash approach). The details are as follows:
Then you』ll see how this works. As shown below, it will cost you $ 249/15000 points or $261/ 12000 points for Hyatt hotel stay on Friday, September 18 in Seattle.
That means 1.66 cents per point for the former and 2.17 cents per point for the latter case. You see it beats the redemption rate for cash back again. Sometimes you can even make the rate as high as 3.oo cents per point.
Similarly, if you adopt the Points+ Cash approach, the redemption rate is 1.99 and 3.10 cents per point respectively. And you are making more out of your points. It is up to you anyway.
3.2. Marriott
We talk enough on Hyatt. Then we』ll turn to Marriott and Ritz-Carlton. These two partners have their own merits although the redemption rate is kind of fixed at 1.00 cent per point.
Actually, Marriott and Ritz-Carlton share the same program in spite of slight differences. One feature of the program is 「Travel Package」 bonus, which includes great miles and 7-day consecutive hotel stays. You don』t really need a lot of UR points for the package since both Marriott and Ritz offer high sign-up bonus for their new clients.
3.3. IHG
Then we turn to IHG, a hotel empire distributed worldwide. In spite of its less competitive redemption rate, one of its merits lies in the Points Break activities. These activities are usually held several times each year. During the activities, you can redeem for one night stay at designated hotels with 5000 points. The IHG hotels are also on the designated hotel list. However, we do not recommend using UR points this way. You can just enjoy IHG stays from sign-up bonus and IGH』s annual one-night complimentary hotel stay.
4. Conclusion
Due to the length limit, we just provided a rough picture of each program. We will try to cover these programs in details in our future posts. And we also welcome comments on our review. There is a wide range of approaches to use UR points, and we are looking forward your sharing your experience with us. Thanks for your time.
---
If you like this post, don't forget to give it a 5 star rating!