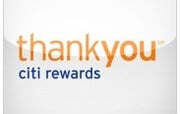 Citi ThankYou Points (TYP) is the rewards system of Citi credit cards. Citi ThankYou Points, although less popular than Chase Ultimate Rewards, is still very useful and promising. This is the first post in the introduction to TYP series, and the second one is Introduction to Citi ThankYou Point (TYP) II: How to Use.
Our reviews consists of two parts:
How to earn points: including possible options available and tips on being a savvy point earner.
How to redeem points: including details about a variety of redemption options.
Here we will focus on how to earn points, and we』ll cover how to redeem the points in our next post.
Now, let』s take a look at earning aspect of the system. Generally there are four ways to earn points:
1. Credit Card Sign-Up Bonus
Citi have several credit cards that earn ThankYou Points:
The current offers above are all best offers in the past few years, except for ThankYou Preferred Card.
If you open the first four credit cards mentioned above, you』ll get 140k TYP sign-up bonus, which worth $2,240 if you have Citi Prestige Card and redeem for AA/US tickets.
Notably, although TYP earned by above credit cards will not expire, you』ll lose your TYP earned by one card in 60 days after closing that card. There are 3 ways to prevent such loss. The most straightforward approach would be redeeming all your points before closing the card. Or you can transfer all your points to airline miles, if you have a Citi ThankYou Premier Card or Citi Prestige Card. Finally, you may change your card to the corresponding no annual fee version, like Citi ThankYou Preferred Card or Citi AT&T Access Card. But keep in mind that sign-up bonus is no longer available when you apply for a new no annual fee card you've transferred to, at least not before you've closed it for 18 months. From our experience, we recommend the third option because of Citi』s generous retention offers. And we』ll come back to retention offers later.
2. Checking Account Sign-Up Bonus
You can earn ThankYou Points by opening a new Citi checking account. The points you earn depend on the type of account package (as shown below). However, to qualify for the bonus, you must be a new customer and have made one qualifying bill payment each month in the next 2 months after account opening.
All account packages require monthly service fees. However, you can get the fees waived by maintaining a minimum balance. In addition, there are two things you should keep in mind. First, the bonus points from account opening cannot be transferred to miles through Premier/Prestige card. The positive side is that you don』t really have to use your points this way, since there are more popular and flexible options. Second, you may be required to pay taxes for these bonus points. Citi used to treat the bonus as business income and sent their customers 1099-MISCforms. This may cause legal problems for non-citizen customers without green cards. Although it seems Citi stops doing so in the past two years, it is always better to play safe for those without green cards.
Links to open account: http://www.offer.Citibank.com/ (promotional code 4YQY4RMDTT)
3. Credit Cards Spending Rewards
Card spending is always a reliable source of ThankYou Points. The rewards are as follows.
Entertainment includes movie theaters and amusement parks.
Travel includes flight tickets, hotels, travel agencies, cars and parking.
Online purchases at travel websites include booking flight tickets, hotels and travel agencies online.
Travel agencies include websites such as Priceline.
In brief, you can earn points with most of your spending except grocery. It will be better if you have another grocery credit card.
Citi Prestige Card members may get additional relationship bonus with all points earned from spending (shown). If you have large deposits in your account, you should consider these banking products.
| CITIGOLD | GLOBAL CLIENT | EMPLOYEES IN A SPECIAL OFFER | CITI PRIVATE BANK |
| --- | --- | --- | --- |
| 15% | 15% | 15% | 25% |
4. Retention Offers
A retention offer is something that credit card issuers present to customers who want to have their cards closed. Citi is known for its generosity about retention offers. In fact, you may even get a retention offer for a card you just opened several months ago or a no annual fee card. And there are savvy consumers who earn more points this way than with card spending.
Citi』s retention offerson points are like: Earn x amount of ThankYouPoints if you spend x in total or monthly for x amount of time. Or earn 2x, 3x, 4x, etc points per dollar in x category for x amount of time (often with upper limits).
But how do you get your desired offers? The general process is as follows.
First, you call the number on the back of your card and indicate that you are thinking about whether to keep the card. Then you should be transferred to the retentions department. Next, tell the retentions associate why you want to cancel the cardand see if they have any offers available for you. Typically, you』ll be offered some options, and you can choose your favorite. In addition, you can even try your other cards and see if there are more offers for you.
And here are some tips for you.
Be NICE to associates at customer service and Retentions Department. Because they are the people who provide you with options fromsystem auto-generated retention offers based on your account characteristics. Sometimes, a goodwill gesture is critical in getting your desired offer.
Come up with convincing reasons why you should cancel the card. For instance, you don』t want to pay for the annual fee, or you don』t feel you are earning enough rewards.
Do not start by saying you are going to cancel the card. The representative may not even provide you any offers and choose to let your business go. If he/she does so, you are getting yourself into trouble.
Check other offers available before you make your final decision. Card issuers usually have a range of offers that they can present to customers, so take your time.
Take advantage of every opportunity. Although it seems impossible, you may end up getting a retention offer for your no annual fee cards or 3-month-old cards.
Do not ask for retention offers too often. We do not recommend you try more than once in 6 months since most offers are based on 6-month cycles. And there are posts saying consumers got rejected because they had been provided offer in the preceding x months. Besides, abuse of retentions offer may lead to stricter Citi regulations, which may jeopardize consumers' interests in the long run.
Remember that the Retentions Department works during bank opening hours (EST) rather than 24/7. If you call when retentions are out of office, the Customer Service is authorized to cancel your card directly without informing Retentions Department. So plan ahead and call at appropriate time. If things do not work out as your plan, just hang up and call later.
Summary
Here is a brief summary of Citi cards available for your reference.
We really hope this article could help you out, and don』t forget to follow our next one about how to redeem points in the upcoming article.
---
If you like this post, don't forget to give it a 5 star rating!