Capital One Spark Cash Plus Review
2023.7 Update: The new offer is $1,200, and its spending requirement is $30k in 3 months. It's equivalent to extra 4% cashback. The spending requirement is huge so it is only suitable for those who has a lot of spending.
2022.3 Update: The previous offer is expired. The current offer is $500+$500 (the latter part requires $50k spending and it's completely not worth it).
2022.1 Update: The new offer is $500+$2,500 (the latter part requires $50k spending).
Learn More
Benefits
$1,200 offer: earn $1,200 cashback after spending $30,000 in the first 3 months.
Earn 2% cashback on all purchases.
If you have a Capital One Miles earning card (such as Capital One Venture), then you can transfer your cashback to Miles and improve its potential value.
This card is a charge card, meaning: it has no preset credit limit, and you need to pay in full every month.
$150 annual bonus: earn an annual $150 cash bonus every membership year if you spend $150,000 or more.
No foreign transaction fee.
Disadvantages
$150 annual fee, NOT waived for the first year.
Capital One will pull all three major credit bureaus (Experian, TransUnion, Equifax) for one credit card application!
Capital One business credit cards WILL be reported to your personal credit history (most other banks won't report business credit cards to your personal credit report). Therefore, the balance on this card will affect your personal credit score, and this card will count towards Chase 5/24.
Introduction to Capital One (C1) Miles
Recommended Application Time
We recommend you apply for this card after you have a credit history of at least two years and you are very comfortable with the credit card game.
[1/6 rule] You can only apply for 1 Capital One credit card for every 6 months, including both personal and business credit cards. You will get automatic denial if you violate this rule, but there will be no hard pull.
Summary
This card replaced Capital One Spark Cash, but its annual fee is higher. It is a charge card, and it is very rare to see a charge card issued by a bank other than AmEx. I don't think it is useful to most people, but if your spending is so huge that any card with a finite credit limit is not enough, then this card may be a good choice for you.
Related Credit Cards
Historical Offers Chart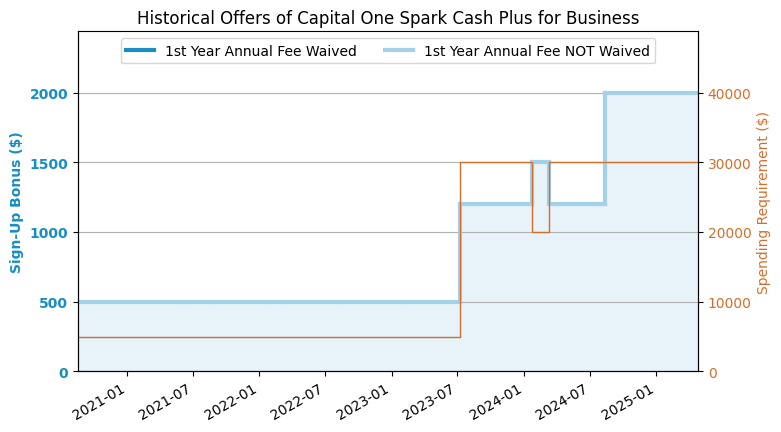 Note: Sometimes there are $500+$700 offer on this card. But the spending requirements after the first $500 are huge, so we don』t treat them as sign-up bonus, we treat them as spending bonus instead.
Learn More
---
If you like this post, don't forget to give it a 5 star rating!