Korean Air (KE) has always been the desired airline of the author's Sino-US round-trip. Compared with pit North America Airlines, KE fares much better in its comfort hardware and software and services.In this post, we will introduce how to use miles to redeem tickets in Korean Air membership Plan SKYPASS.
1. How to earn Korean Air SKYPASS miles
1. Earning miles by taking Korean Air, SkyTeam Airlines and Alaska (AS), America (AA), Emirates (EK), Etihad (EY) and other Partner Airlines.
2. Chase Ultimate Rewards (UR) conduct 1:1 transfer. You need to have Chase Sapphire Preferred (CSP) or Ink Plus Credit Card.
3. SPG points 1:1 transfer. Single transfer more than 20k will score, SPG will award 5k more, so the redemption rate is 1:1.25.
4. US Bank co-branded credit card. Visa Signature version conventional sign-up bonus only have 15k miles, there have been had 25k-40k offer. Annual fees $80, Starting from the second year another 2k miles will be awarded after paying the Annual fees. Personally i believe sign-up bonus is too less, and US Bank also don't have a good reputation, so we don't recommend KE even if you are a huge KE fan, it is much better to apply for Chase UR Credit Card. Common version co-branded card is even worse, no use to introduce. Pay attention that even though the version you applied are Visa Signature, US bank may approve lower card for you, sign-up bonus of no qualify Visa Signature.
2. Earn SKYPASS miles by taking SkyTeam and other Partner Airline flights
1. Taking Korean Air flight. Each KE routes earned miles can be searched here and different class earned miles ratio can be searched here. The commonly seen discount economy class earned miles are generally 70%. It is much better compared with west coast KE returning economy ticket price.
2. Taking by Sky Team membership flights and other Partner Airlines flights. The correspondingly class earned ratio can be searched here, the earning of economy of personal chosen flights are generally so-so, not that excellent but also not that worse among SkyTeam membership.
3. Brief introduction of SKYPASS membership Elite Status
SKYPASS Elite Status is classified into three levels: Morning Calm Club, Morning Calm Premium Club and Million Miler Club. One official forum demonstrate clearly of the qualification of different level.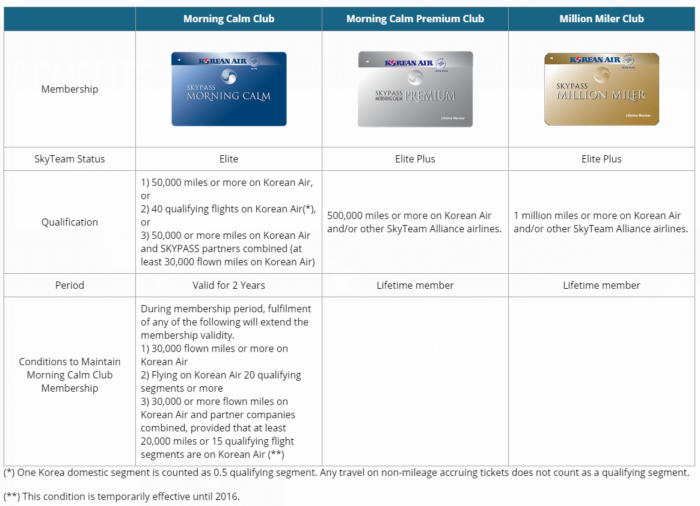 Take the example of Morning Calm Club, initial qualification will be got only by earning 50000 miles at any time(Mileage has 10 years validity ), but the benefits only equal to Star Alliance Silver, the welfare of non-KE flights are very less. Yet the welfare is just equals to Morning Calm Premium Club of Star Alliance Gold which need to earn 0.5 million miles, for ordinary people, it is a hard job. From a practical point of view, it is no use to chase for the elite status of KE, economy and first class redemption by miles is enough.
4. Redeem for Korean Air tickets
The basic redemption rules of the KE tickets are as following:
Single-trip tickets redemption is permitted, the required miles is a half of the round-trip required miles.
Round-trip tickets can choose open jaw, because it can be treated as two single-trip tickets.
Single-trip tickets allow one stop over in ICN, round-trip allow two.
The ticket redemption standard are classified as Peak Season and Off Season, the required miles are different.
Peak Season chart of 2015 and 2016, actually the block date is not that much, there are also quite a long time to redeem in summer holiday.
Take the example of the airline departing from South Korean, redeem the Award Chart of KE flight. The required miles of US-Europe airlines departing from China are the same with that departing from South Korean. Yet Southeast Asia and South Asia need even more. We can see that the redemption appear just so-so except the US-Europe. Even though the required miles redemption of the two class is not that excellent, but KE has one advantage-Availability.
Now take the example of the author on his routes to China, the 21th September tickets from Los Angeles to Dalian booked on 19th September.
It's very easy to search the first class on the official website, the required mileage are 80000 and YQ (fuel surcharges) are $208.67 USD.
Although this YQ is a little bit high, but it is very worthy for its easy access to first class. This kind of ticket bought by cash are 9000 USD.
Below is the first class seat of KE380.
The required YQ of economy and business class are the same with that of first class, it appears not much advantage for the redemption.
The availability of the business class is also very good, it is also a consideration if the miles are really not enough yet also temporarily need the requirement.
Korean Air allows the Mileage upgrading payments from economy class to business class or that from business to first class, ye the class price are also very high which can be upgraded, here we ignore.
5. Redeem for SkyTeam partner tickets
The redemption rules departing from North America, the required miles aspect fares very common. Pay attention that even though the redemption of the 100000 miles first class to Europe appears very attractive, yet Air France never allow the redemption of own first class with Partner mileage. North America runs more fairly in the two class redemption, you can book if you have the requirement and also understand the Delta redemption. The redemption of Partner tickets cannot redeem tickets from the official website, you need to search for the seat first and then call the customer service or redeem the tickets from the Korean Air Office. Searching the seats from the Air France official website are recommended.
6. Redeem for other partner tickets
You can also redeem the tickets of Alaska,Emirates,GOL,and Hawaii Airline with SKYPASS miles. The details redemption standard can click here. The author have read some and find nothing useful, so here we don't introduce.
7. Tips for redeeming SKYPASS miles
If you redeem for simple one way ticket, you can redeem it online directly; if stop-over is needed, you need to call.
If you don't have enough miles to redeem, you can call and ask to hold ticket, and tell them you will transfer points to SKYPASS miles.
Finally let me summarize the advantages and disadvantages of SKYPASS miles:
Advantage:
Excellent two class Availability, you can redeem first class before one or two days traveling.
More routes compared with other Asia airlines, lots of destination to choose over the routes to North America and Asia, especially suit for the students' US round-trip whose family is in Northeast China or far away from the airports.
The facilities of ICN are very good, girls can buy and eat something over the transfer period.
Award tickets single-trip can also add a ICN stop over free of charge, 30 days non-visa Immigration if you hold US visa, you can make a tour to the places show in the the Korean TV or entertainment programs.
Nice air food, service and very comfortable, A380 has the least seats among all Korean airlines, and also have the biggest economy rooms, especially suit for the Mom and Dad who are not used to US-European taste.
10 years validity mileage, an advantage for the non-frequent traveler, no need to earn the miles by other ways.
Disadvantages:
Except yourself, the award tickets can only present to blood-ties, and also need very complicated process.
High YQ(fuel fee-added and airport tax-added), economy class redemption are not a good deal.
SkyTeam are weaker compared with other two Alliances, the possibility of no chance of getting needed tickets is also great.
4.Elite status membership is hard to get, the one who have requirement for senior membership status are not suit for earning the miles.
10 years validity mileage, but can't earn more validity over 10 years, (actually you will at least fly once within 10 years).
SkyTeam are weaker compared with other two Alliances, the possibility of no chance of getting needed tickets is also great.
---
If you like this post, don't forget to give it a 5 star rating!