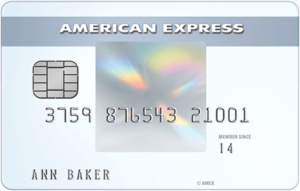 The AmEx EveryDay Credit Card (ED) Review
2021.1 Update: It seems the 25k offer is no longer available. The current offer is 10k.
2020.10 Update: The 25k offer comes back. You may need to use incognito mode to see it.
Application Link
Benefits
10k offer: earn 10,000 Membership Rewards (MR) Points after spending $1,000 in first 3 months.The recent best offer is 25k.
We estimate that Membership Rewards (MR) are worth about 1.6 cents/point, see below for a brief introduction. So the 25k highest sign-up bonus is worth about $400!
Earn 2 Membership Rewards Points per $1 spent at US supermarkets; 1 Membership Rewards Point per $1 spent on other purchases.
If you use your card 20 or more times in a billing period, get 20% more points on those purchases: 2.4 MR (~3.8%) at US supermarkets, 1.2x (~1.9%) on other purchases.
Easy to get approved, you can try to apply for this credit card when you only have a credit history for 3 months (make sure you can see your credit report before applying), there have been several successful data points around.
No annual fee.
With this card, you can get access to Amex Offer, which usually offers very good discounts at some stores, such as: spend $15 or more and get $5 back at Walmart; spend $75 or more and get $25 back on Amazon.com.
The points earned by this credit card is Membership Rewards, they are the same as the points earned by PRG or AmEx Platinum etc which offers very high sign-up bonus, so you can use this no annual fee credit card to keep your Membership Rewards when you don't want to keep your high annual fee cards any more.
Refer a friend: You can earn 7,500 bonus MR points for every approved account you refer, up to 55,000 MR points per calendar year.
Disadvantages
Only first $6,000 purchases per calendar year at US supermarkets can earn 2x MR, after that you can only earn 1x.
According to the definition by American Express, Target Walmart and Costco don't count as supermarkets, and you can only get 1x when shopping there.
This credit card is on American Express Network, not Visa or MasterCard, so some small stores may not accept it.
The 2x bonus categories are limited within the United States. Well, the Foreign Transaction Fee exists anyway, so better not use it outside the US.
Introduction to MR Points
Recommended Application Time
You can only get the welcome bonus once in a lifetime, so be sure to apply when the historical highest offer appears.
AmEx doesn't care about the number of hard pulls.
You can try to apply for it when you have a credit history of 3 months.
You must wait at least 90 days between the application for ED and EDP, otherwise the application will be cancelled.
Only 2 AmEx credit cards can be approved within 90 days, but this rule does not apply to charge cards. Multiple cards approved in the same day will only have one Hard Pull.
You can keep at most 5 AmEx credit cards, but this rule does not apply to charge cards.
Summary
Since you can have it in a very early stage (a credit history for 3 months), this credit card is very worth applying! Also as a good grocery credit card and the only no annual fee credit card to keep MR points, this credit card is also very worth keeping! Note that our most recommended grocery credit card is not this card, but should be one of AmEx Blue Cash Preferred (BCP), AmEx EveryDay Preferred (EDP) (see Best Rewards Credit Cards For Grocery).
Here I recommend a way to meet the spending times requirement quickly, in case you can't meet the requirement in time: Amazon Gift Card Reload. The minimum amount $0.50 each time.
Related Credit Cards
After Applying
Historical Offers Chart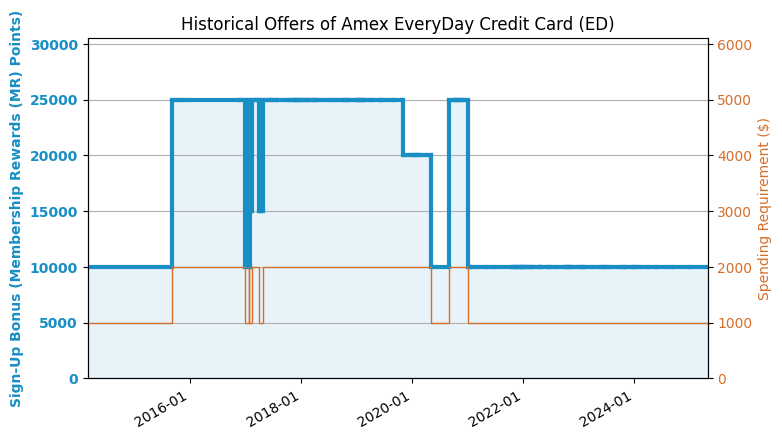 Application Link
---
If you like this post, don't forget to give it a 5 star rating!
[Total:

9

Average:

3.9

/5]