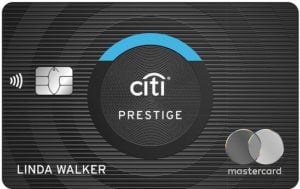 Citi Prestige® Credit Card Review
2021.7 Update2: It seems this card is indeed discontinued. HT: Bloomberg, OMAAT.
2021.7 Update: The application link is gone. Not sure whether Citi is going to make some change of this card or it will just discontinue.
2019.9 Update: The following negative changes are in effect in Sep 1 2019:
4th night free benefit will be limited to 2 times per calendar year. Currently it's unlimited.
Currently, with this card, you can use your TYP at a fixed rate 1.25 cent/point on airlines on thankyou.com. After Sep the rate will become only 1 cent/point, so you shouldn't use this redemption method any more because you can redeem for cash at 1 cent/point as well.
2x TYP on entertainment will be removed.
The annual fee will be raised from $450 to $495. The $350 annual fee because of Citigold relationship will be grandfathered.
Many insurance benefits are removed, including the trip delay insurance.
The raise of the annual fee is OK in my opinion. The remove of unlimited 4th night free will be a really bad news for a few people, but I believe it is acceptable for most users. Generally these are fairly good changes!
Application Link
Benefits
50k offer: earn 50,000 ThankYou Points (TYP) after spending $4,000 in first 3 months. 
We estimate that ThankYou Points (TYP) are worth about 1.3 cents/point, see below for a brief introduction. So the 50k sign-up bonus could be worth about $800!
If you have this card, you can transfer your TYP to partner airlines miles. Besides, with this card, you can also cash out TYP at a fixed ratio 1 cent/point.
Earn 5 TYP per $1 spent on restaurants and airlines, 3 TYP per $1 spent on hotels and cruises, and 1 TYP per $1 spent on other purchases.
$250 annual (

year resets on the Dec statement date

) travel credit (including airline tickets, hotels, OTA, transportation, etc.). Just use your card to pay the expense, and the reimbursement will show as a statement credit in the next billing cycle.
Complimentary 4th night for any hotel stay worldwide (need to stay for continuous 4 or more nights).

The limit is 2 times per calendar year since 2019.9.

Complimentary Priority Pass Select (PPS) card, which gives you free access to many airport lounges worldwide. With this Priority Pass Select (PPS) card, you can bring 2 guests with you for free!
$1,000 cell phone insurance: Pay your monthly cell phone bill using this card and get up to $1,000 protection against damage or theft. Deductible $50.
This is a World Elite MasterCard card (WEMC), the cardholder will receive complimentary premium membership of major car rental companies provided by WEMC, including Avis, National, Hertz, Sixt.
Up to $100 credit for Global Entry application fee. Note that this card does NOT reimburse TSA Pre✓ application fee.
Authorized users also receive Priority Pass Select card, and they can also bring 2 guests with them for free. The $250 annual air credit is shared between the cardholder and authorized users.
No foreign transaction fee.
Disadvantages
Annual fee is NOT waived for the first year, and is divided into two types:

$350 annual fee: if you are a Citigold customer, then you can automatically get this annual fee no matter where you apply. Even if you apply online using a $495 AF version link, your AF will become $350 automatically. If you are not a Citigold customer, then in order to get this lower annual fee, you have to apply in branch and ask the banker to select Citigold for you (Citi will not verify) and then apply.
$495 annual fee: if you are not a Citigold customer and you apply online, you can only get this $495 annual fee version. We don't recommend applying online because of a higher annual fee.

Note that annual fee does not count towards the minimum spending requirement (and this is true for all credit cards)!

Each authorized user costs $75 per year.
No trip delay insurance as a premium card.
Introduction to TYP
You can earn TYP with Citi Premier, Citi Rewards+, Citi Custom Cash, Citi Double Cash, etc.
You can add all these cards into the same thankyou.com account, and points that are about to expire will be redeemed first in the order in which they expire automatically.
In most cases, TYP never expire. But closing account, product change, or receiving points from other people may cause TYP on that account to expire.
If you have Citi Prestige or Citi Premier, TYP can be transferred to some airline miles. The best way to use TYP is to 1:1 transfer them to Asia Miles (Oneworld) or Avianca (AV) miles (Star Alliance). Other good options are: Singapore Airlines (SQ) (Star Alliance), Flying Blue (SkyTeam), Virgin Atlantic (VS) (Non-alliance), etc. If you use TYP in this way, the value is about 1.6 cents/point.
If you have Citi Prestige, you can redeem your TYP at a fixed rate 1.25 cents/point towards air tickets on thankyou.com. This is a common way to use TYP. Points+cash is available when redeeming for air tickets, so no need to worry if you do not have enough TYP.
If you have Citi Prestige or Citi Premier or Citi Custom Cash or Citi Double Cash, you can redeem your TYP at a fixed rate 1 cents/point towards cash.
If you have Citi Rewards+, you can get 10% back when redeeming TYP, up to 100k TYP per year. This feature further boosts the value of TYP.
In summary, we estimate that TYP are worth about 1.6 cents/point.
For more information about TYP, see Maximize the Credit Card Points Values (overview), and Introduction to TYP: How to Earn & Introduction to TYP: How to Use (very detailed).
Recommended Application Time
[1/24 Rule] Bonus ThankYou Points are not available if you received a new cardmember bonus for Citi Rewards+, Citi ThankYou Preferred, Citi Premier or Citi Prestige, or if you have closed any of these cards, in the past 24 months. Product change is treated as account closure if the account number is changed.

[Update]

Despite what the term says, if you convert a non-TYP card (e.g. Citi AA card) to a TYP card, this action will reset the 24 month clock and affect the bonus eligibility!
[8/65 Rule] You can apply for at most 1 Citi cards every 8 days, and at most 2 Citi cards every 65 days, no matter approved or not.
Citi values the number of recent hard pulls a lot, we recommend you apply when you have less than 6 hard pulls in the past 6 months.
We recommend you apply for this card after you have a credit history of at least one year.
Summary
This card used to be a fantastic card;  however, unfortunately, over the past few years, some of the killer features are gone now. The current $495 annual fee is quite high. After subtracting the $250 travel credit (very easy to get), $245 is still left over. Currently the most unique benefits are 5x earning rate on dining and the 4th night free benefit (limited 2 times per calendar year). You need to determine whether these benefits are worth the annual fee based on own spending structure. If you need a card to transfer your TYP to partner airlines, Citi Premier (which has a lower annual fee) may be more worthwhile.
Related Credit Cards
Citi Prestige (this post)
Recommended Downgrade Options
Citi Rewards+. We recommend you downgrade this card to these no annual fee cards that can earn TYP, because you can keep your TYP if so. If you downgrade this card to DC/Dividend, the TYP you earned from this card will expire in 60 days.
After Applying
Call 888-201-4523 to check Citi application status.
Citi reconsideration backdoor number: 605-331-1698. This is a so called "Citi EO" (Executive Office) phone number. This phone number is not designed to make reconsiderations, but the representatives are really helpful.
Historical Offers Chart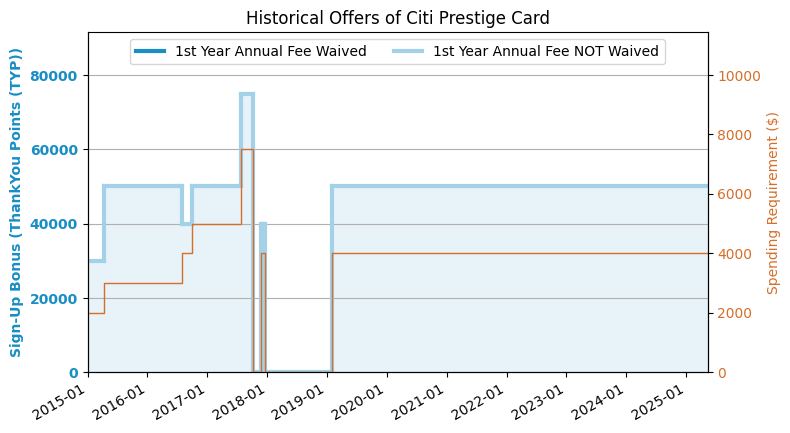 Application Link
---
If you like this post, don't forget to give it a 5 star rating!