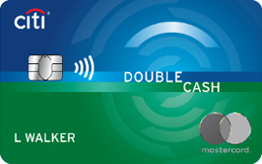 Citi® Double Cash Card (DC) Review
[2019.9 Update]: This card has been revamped. Now cashback can be transferred to Citi ThankYou Points (TYP) at a ratio of 1:1, meaning every dollar spent on the DC earns the equivalent of 2 TYP. If you have the Citi Premier or Citi Prestige and are able to redeem points at 1.25 cents per point through the travel portal, the DC is now effectively a 2.5% no-annual fee card, which rivals the Amex Blue Business Plus for earning potential on a no-annual fee card. According to this Doctor of Credit post, these points will be transferable to all Citi travel partners.
Application Link
Benefits
Everything 2% cash back: earn 1% cash back on every purchase you make, and an additional 1% cash back when you pay at least the minimum due.
Now cashback can be transferred to Citi ThankYou Points (TYP) at a ratio of 1:1, meaning you can choose between 2% cashback or 2 TYP per dollar spent.
No annual fee.
Disadvantages
No sign-up bonus.
It has foreign transaction fee, so it's not a good choice outside the US.
Recommended Application Time
[8/65 Rule] You can apply for at most 1 Citi cards every 8 days, and at most 2 Citi cards every 65 days, no matter approved or not.
Citi values the number of recent hard pulls a lot, we recommend you apply when there's less than 6 hard pulls in the past 6 months.
We recommend you apply for this card after you have a credit history of at least one year.
Summary
This card was already a no-brainer for most people when it offered only 2% cashback. Now that it earns 2 TYP per dollar, the DC has become the most valuable no-annual fee card on the market in my opinion. You should use this card for all transactions that don't have 2%+ reward rate. There's no standard sign-up bonus on this card, so instead of applying for this card directly, we recommend you the DC by downgrading other Citi cards once you receive the signup bonus. According to Citi's policy, all the accounts older than 12 months can be downgraded to this card. If you just want to get a good cash back card and don't want to spend time doing research, you should just apply for it directly.
There are some other no annual fee 2% cash back cards: Fidelity Rewards (Visa), Alliant Visa Platinum Rewards (Visa), and Synchrony PayPal Cashback (Mastercard). I prefer the DC among these cards because you can get it from downgrading a card that has a huge sign-up bonus. In "other" spending category, except for the 2% cash back cards, you also have these two options:
Chase Freedom Unlimited (CFU), 1.5x UR points on all purchases. According to our points value estimation, it's about ~2.4% return. No annual fee.
Amex Blue Business Plus – earn 2 Membership Rewards points on all purchases up to $50k in spend per year. No annual fee.
Historical Offers Chart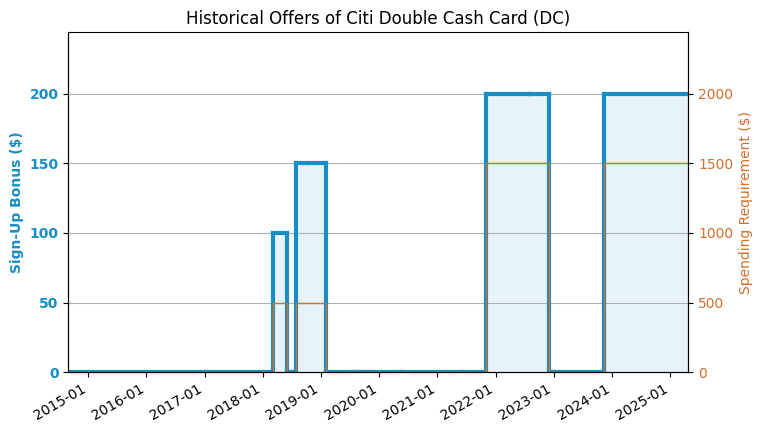 Application Link
---
Share this post with friends
If you like this post, don't forget to give it a 5 star rating!
[Total: 8 Average: 4.4/5]