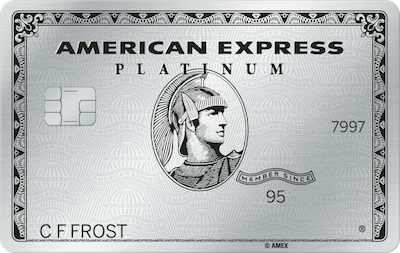 Mar 30th Update: Changes should be in effect today. $15 Uber Credit is now available in your Uber account. And you can request the metal card now. Simply login in to your online account, click 'Account Services', then 'Card Management', and you should be able to see a card replacement option. Any newly issued or replacement card after Mar 30th will automatically be the metal card! If you request now, your new metal card will arrive on Mar 31.
To check Uber credit, launch Uber app and select payment tab. Remember you must use this $15 credit before Apr 1 or it will expire.
---
With the release and immediate success of the Chase Sapphire Reserve (CSR) last August we saw American Express respond by making changes to their Platinum products in October to the tune of 5x points on Airfare and a few changes to the Business Platinum Card. Shortly after these changes they stated in an earnings call that this was really just the beginning of changes and we're here to highlight those changes and what we think of them!
October 2016 Changes
5x MR Points on Airfare booked directly with airlines or with American Express Travel on all Personal Platinum Cards
1.5x MR points on purchases of at least $5000 on the Business Platinum Card
50% points back when using MR points to book a flight with your selected airline, or when booking first/business class flights on any airline (2cpp)
For a product with a $450 annual fee, it was always a bit disappointing that you would only ever earn 1 point per $ so these changes were definitely welcomed. However, they were relatively minor and not an adequate enough response to the CSR. This new round of changes definitely makes the product more competitive!
March 30, 2017 Changes to Personal Cards
$200 in annual Uber credits ($15 per month, $35 in December) and automatic VIP status where available
5x MR Points on hotels booked directly through American Express Travel
2 Free guests on Priority Pass lounge visits
Free authorized user Gold Cards
New metal card design
Annual Fee increase to $550
March 30, 2017 Changes to Business Card
5x MR Points on Airfare booked with American Express Travel (Note that only the personal Platinum cards can earn 5x on airfare booked outside of Amex travel.)
2 Free guests on Priority Pass lounge visits
It's great to see that they're making changes to both their Personal and Business products but let's dive deeper to see how beneficial they really are.
Uber Credit
This credit will be loaded to your account and will expire at the end of the month. This is not the most versatile credit but luckily the credit will be loaded just by linking your Platinum account and you will be able to use your payment method of choice (hopefully something with a higher earning rate!)
Note: The first Uber credit will load on March 30th and expire by April 1st so be sure not to forget about it!
5x MR points on hotels
At first glance this perk looks amazing! If paired with the Biz card you could effectively get 10% back on your hotel stays. However, stays booked through Amex Travel are typically not eligible for points/nights accrual as they are a third party site. It's going to almost always be better to get 2-3x points with another card and accrue points/nights through the Hotel program.
2 Free guests
Nice change that brings this perk up to par with the Citi Prestige and CSR!
Gold Cards
Currently there is a $45 fee for adding up to 5 Gold cards to your account. These cards come with no additional benefits but are just a way to have authorized users, really it never made any sense to pay Amex to let you have more people spend money on your account.
Affected Cards
The above changes will be applied to the entire family of AmEx Platinum products
AmEx Platinum for Morgan Stanley (Exclusive)
AmEx Platinum for Goldman Sachs (Exclusive)
Summary
It is a bit difficult to say if the annual fee increase is worth it because all the benefits can be seen as subjective. Personally, I ride Uber enough that this alone outweighs the annual fee increase. You'll have to ask yourself how much you value all the benefits but I definitely think these are steps in the right direction.
Note: Existing card holders with their annual fee due before Sep 1 will be billed $450 this year. Those with that date or later will be billed $550. For those looking to apply, be sure to do so before March 30 for an annual fee of $450 this year!
AmEx Platinum for Schwab
If you've been on the fence about applying for a Platinum card or are unsure if these new benefits are worth the $100 increase, we suggest applying for the Schwab Platinum product now before the fee increase! The Ameriprise Platinum always waives the first year annual fee, so there's no hurry for this card. Both the Mercedes-Benz and regular Platinum card have seen higher sign-up bonuses in the past, so we suggest waiting on those. The Schwab Platinum card has had a consistent bonus of 40K MR for $3,000 spend, and along with all of the regular benefits of a Platinum card it allows you to deposit MR points to your Schwab Brokerage account at 1.25 cents per point!
This is a great way to get all of the aforementioned benefits without paying a higher Annual Fee and also without missing out on a higher sign-up bonus!
---
If you like this post, don't forget to give it a 5 star rating!