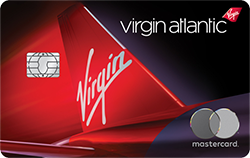 Bank of America Virgin Atlantic World Elite MasterCard
2023.6 Update: This card seems discontinued. Application link can not be found on the landing page, and it says "We』re not accepting new applications right now".
2021.10 Update: The 65k offer is back~
Application Link
Benefits
65k offer: earn 60,000 Virgin Atlantic (VS) miles after spending $2,000 in the first 90 days. Earn an additional 2,500 VS miles by adding an authorized user, up to 5,000 VS miles. The official website says 80k offer, but that's because the anniversary bonus mentioned below is counted as well (but actually this shouldn't be counted as part of sign-up bonus). This is the best offer in recent history.
For each anniversary year (counting from the day approved): earn 7,500 VS miles after spending $15,000; earn an additional 7,500 VS miles after spending $25,000 in total. That's 15k VS miles in total per year.
We value VS Miles at 1.5 cents/point (Airline Miles Value), so the 65k offer is worth about $975!
Earn 3 miles per $1 spent directly on Virgin Atlantic purchases and 1.5 miles per $1 spent on all other purchases.
You will earn 1 tier point for every $2,500 spent on net purchases with the card.
If you spend at least $25,000 in net purchases on your card within a year (beginning on the date you open your account and resetting every 12 month period thereafter), the primary cardholder will also qualify for an economy-fare companion reward ticket for half the standard miles of a reward economy seat, maximum one reward companion ticket per year.
You can use your VS Miles to redeem for Delta, Virgin America, Hawaiian Airlines tickets.
No foreign transaction fee.
Disadvantages
$90 annual fee, NOT waived for the first year.
Recommended Application Time
We recommend you apply for this card after you have a credit history of at least one year.
You can hold multiples of the same BoA credit card at the same time. You must wait at least 90 days between applications for the same credit card, otherwise the application will be automatically cancelled.

[New]

2/3/4 Rule: BoA will only approve you for at most: 2 cards per rolling 2 months; 3 cards per rolling 12 months; and 4 cards per rolling 24 months. Because their IT system hasn't been fully updated yet, you may not get declined because of this rule. Instead, you may get approved at first, and then the account will be closed with the bank citing that you were "approved in error".
Summary
This sign-up bonus is decent if you value VS miles. Virgin Atlantic is a good airline for flights across the Atlantic. We recommend learning about the VS miles program and having a specific redemption in mind prior to applying for this card.
After Applying
Click here to check BoA application status.
BoA reconsideration backdoor number: 877-383-0120 or 866-811-4108. This number constantly changes. Please inform us at once if it fails. The representatives at this number have direct access to the underwriters.
Historical Offers Chart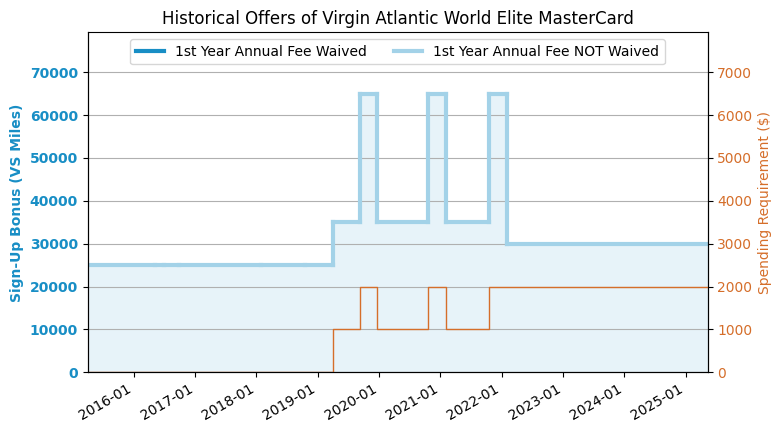 Note: there is a 25k + 50k offer, but the spending requirement for the 50k is very high, so we don't count that as sign-up bonus.
Application Link
---
If you like this post, don't forget to give it a 5 star rating!