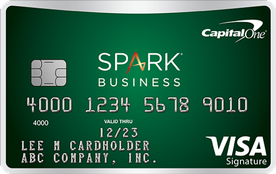 Capital One Spark Cash for Business Review
2023.2 Update: This card is discontinued.
Learn More
Benefits
$500 offer: earn $500 cashback after spending $4,500 in the first 3 months.
Earn 2% cashback on all purchases.
If you have a Capital One Miles earning card (such as Capital One Venture), then you can transfer your cashback to Miles and improve its potential value.
No foreign transaction fee.
Disadvantages
$95 annual fee, waived for the first year.
Capital One will pull all three major credit bureaus (Experian, TransUnion, Equifax) for one credit card application!
Capital One business credit cards WILL be reported to your personal credit history (most other banks won't report business credit cards to your personal credit report). Therefore, the balance on this card will affect your personal credit score, and this card will count towards Chase 5/24.
Introduction to Capital One (C1) Miles
Recommended Application Time
We recommend you apply for this card after you have a credit history of at least two years and you are very comfortable with the credit card game.
[1/6 rule] You can only apply for 1 Capital One credit card for every 6 months, including both personal and business credit cards. You will get automatic denial if you violate this rule, but there will be no hard pull.
Summary
This card is very similar to Capital One Spark Miles. The major difference is: this is a cashback earning card while Spark Miles is a Miles earnings card. Cashback can be converted to Miles, but Miles can not be converted to cashback. Therefore cashback card is better in the Capital One system. The welcome offer is really good. In 2021, Capital One improved its Miles system a lot, which makes this card more valuable. Now that C1 Miles are valued more than 1 cent/point, its everything 2x earning structure is attractive. The earning structure on itself is similar to Citi Double Cash (DC) in the TYP system, and this card has an annual fee, but C1 Miles system has other good cards that have a good earning rate to work together. Note that Capital One will pull all three major credit bureaus (Experian, TransUnion, Equifax) for one credit card application, and it is very difficult to get approved if you have a lot of recent hard pulls.
Related Credit Cards
Historical Offers Chart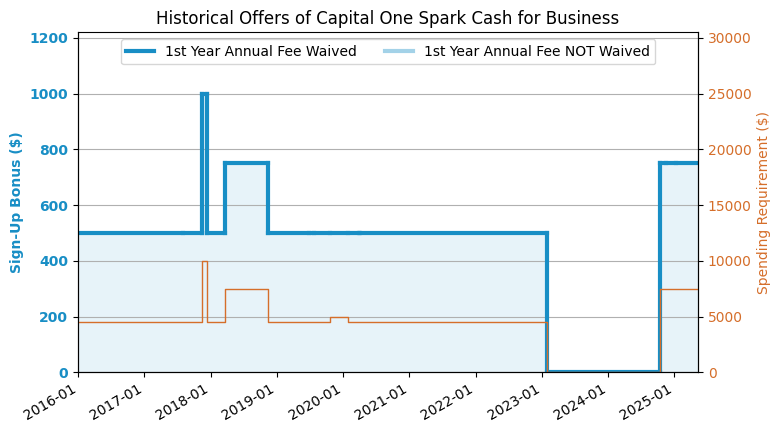 Note: Sometimes there are $500+$1500 offer on this card. But the spending requirements after the first $500 are huge, so we don』t treat them as sign-up bonus, we treat them as spending bonus instead.
Learn More
---
If you like this post, don't forget to give it a 5 star rating!