Bank of America Business Advantage Customized Cash Rewards Mastercard Review
2021.10 Update: The $750 offer is expired. The $500 offer is still alive.
2021.3 Update: There is a new $750 offer now. HT: DoC.
2020.2 Update: There is a new $500 offer now. HT: DoC.
Application Link
Benefits
$500 offer: earn $500 after spending $5,000 in first 3 months. The recent best offer is $750.
Earn 3% cash back in the category of your choice: gas stations (default), office supply stores, travel, TV/telecom & wireless, computer services or business consulting services. And earn 2% cash back on dining. Earn 1% cash back on other purchases.
BoA Preferred Rewards program (business version): If you have checking/savings/brokerage account (business version) in BoA or Merrill Edge, you can earn additional points based on the amount of asset. Earn additional 25% rewards if you are in Gold tier ($20k or more in balance); 50% if Platinum tier ($50k or more in balance); 75% if Platinum Honors tier ($100k or more in balance).
No annual fee.
Disadvantages
You'll only earn 3% and 2% cash back on the first $50,000 in combined bonus categories each calendar year, then earn 1%.
It has foreign transaction fee, so it's not a good choice outside the US.
Recommended Application Time
We recommend you apply for this card after you have a credit history of at least one year.

[New]

2/3/4 Rule: BoA will only approve you for at most: 2 cards per rolling 2 months; 3 cards per rolling 12 months; and 4 cards per rolling 24 months. Because their IT system hasn't been fully updated yet, you may not get declined because of this rule. Instead, you may get approved at first, and then the account will be closed because of "approved in error".

[New]

24 month churn rule: This card will not be available to you if you currently have or have had ANY BOA BUSINESS CARD in the preceding 24 month period.
Summary
Its sign-up bonus is very good for a no fee card. This card is just so-so in terms of spending rewards, note that the 3% online shopping category as in its personal version does not exist in this business version. However, if you can reach the highest level of BoA Preferred Rewards (business version), then the spending rewards could be good.
After Applying
Click here to check BoA application status.
BoA reconsideration backdoor number: 877-383-0120 or 866-811-4108. It seems that the number is changing. Please inform us at once if it fails. The representatives here can get in touch with decision-makers directly.
Historical Offers Chart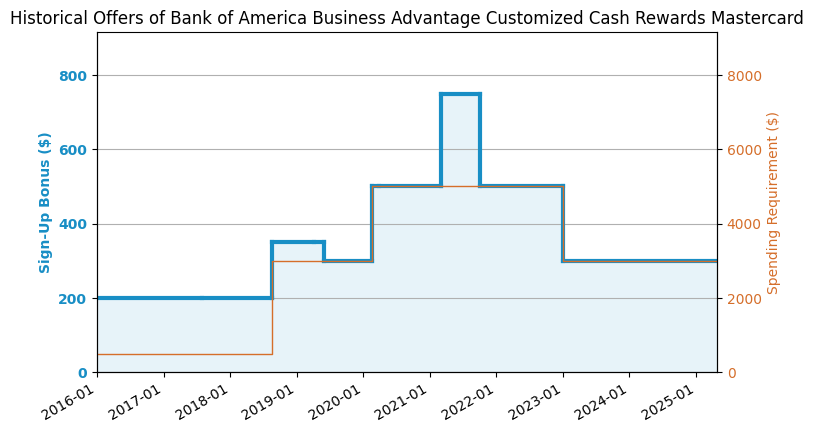 Application Link
---
Share this post with friends
If you like this post, don't forget to give it a 5 star rating!