There are so many banks in the US. Some big banks with a lot of branches, such as Chase, BoA, Citi, Wells Fargo, have real people to serve you, but the interest rates of these banks really suck. Online banks, such as Ally, Discover, Barclays, Marcus, have much better interest rates, but these banks also have some disadvantages. Each bank has its own advantage, so many people here have several of bank accounts. If so, then you need a hub bank to connect all these bank accounts. I choose Ally Bank as the hub bank.
Application Link
About Ally Bank
Ally Bank was formerly called General Motors Acceptance Corporation (GMAC), and is rebranded as Ally Bank in 2010. It became public in 2014. Although its name is not as famous as Discover, it is actually a big bank. Its asset is actually greater than Discover. I find Ally Bank can provide almost everything you will need as a bank.
Checking+Savings Combo
Ally Bank has both checking and savings account, and the transfer between them is instant. You can move most of your money in the savings account to earn interest most of the time, and move to checking account only when you need them. You have the option to use the "overdraft transfer service", so that when your checking account is overdraft, Ally will automatically pull money from your Ally savings account to cover it. Just remember that you can only withdraw 6 times per month from savings account (same as all other savings account), required by law.
Among all the online banks, Ally and Discover are the only big players to offer both checking and savings account.
High Interest Rate
Ally savings usually have a very good interest rate, the current APY (Oct 2018) is 1.90%. Although it is not the highest one, but the banks with higher interest than Ally are usually the banks nobody has ever heard of. Other banks with similar interest rate usually don't offer a checking account, such as Barclays or Marcus by Goldman Sachs. Ally usually has a little higher APY than Discover and Capital One 360.
Fees
It is very common that online banks have low fees if not none. Ally also basically has no fees (except for some special cases):
$0 monthly fee, no minimum deposit requirement.
$0 incoming wire transfer fee, even for international incoming wire transfers.
$0 fee for requesting checks.
Zelle
Ally is a member of Zelle, which is quite uncommon for an online bank. With Zelle, you can transfer money instantly with your friends using their name + email address. Most online banks, such as Discover and Barclays, do not support Zelle. Other members of Zelle include Chase, BoA, Citi, US Bank, etc., almost all the big banks with branches, see here for the full list.
Some people report that Zelle is quite slow for Ally (several days for the fund to arrive), but I guess it is because the transfer triggered some review. Usually the fund will arrive instantly.
Note that you can also transfer your fund between your own banks by Zelle. You just need to register each bank with a different email address.
Very Big ACH Transfer Limit
ACH transfer is the most common way to transfer money between your own banks. Ally also support ACH of course, and it also support periodic ACH transfers.
The best thing is, the ACH transfer limit of Ally is so big. Other banks, for example, Chase, has a limit of $10,000/transfer and $25,000/day. On the other hand, the limit of Ally is $150,000/day and $600,000/30days! The limit of Discover is $250,000/30days, also smaller than Ally.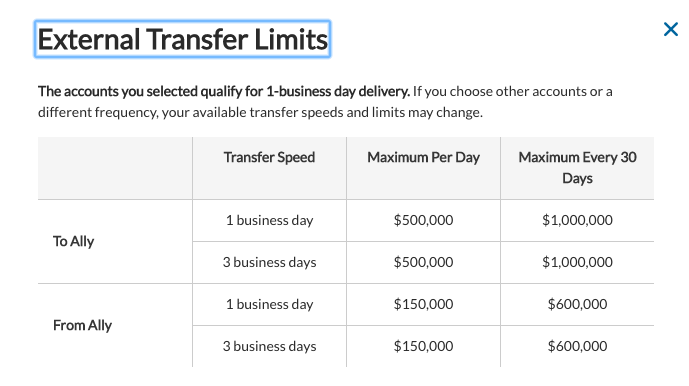 Wire Transfer
It is free to accept incoming wire transfers, including international wire transfers; and outgoing wire transfer is $20/transfer. You can not send international wire transfers with Ally. Here's the instruction about how to receive international wire transfers:
Check Deposit
Check deposit is also an advantage of Ally Bank. With no branches, online banks usually support check deposit via mobile app. You can not only take a picture of the check and deposit it into Ally Bank via mobile app, but also upload a picture of the check on desktop via their website. The upper limit is $50,000/day! In contrast, the limit is just $5,000/day for Discover, and only $2,000/day for Chase. So Ally Bank is so convenient if you need to deposit large checks from time to time. By the way, you can also deposit MO (Money Orders) via mobile app as well.
ATM Withdrawals
You can use your debit card to withdraw money from All Point ATMS for free, and get up to $10 ATM fee reimbursements per month on all other ATMs (in the US). If you only need to withdraw 3~4 times per month, the $10 reimbursement is basically enough.
Service
Ally offers customer services via phone, secured messages, and online chat. The drawback is of course there is no local branch.
Disadvantages
It may take ~3 business days for Zelle transfer to arrive sometimes, slower than other banks such as Chase.
You can not get unlimited ATM fee reimbursements, and the fee is not covered outside US.
You can not send outgoing international wire transfers.
You can not deposit cash.
Ally Bank has no good credit cards.
Summary
Ally Bank basically can satisfy everything you need as a bank: high interest rate savings account, support of Zelle, big transfer limit, big check deposit limit… Of course, its debit card is not good outside of the US, so you still need a Charles Schwab or Fidelity debit card. You can not send outgoing international wire transfers, and you may also need another checking account with a branch in case you need to deal with cash. All in all, Ally Bank is a great bank and is very suitable to be a hub bank.
Application Link
---
Share this post with friends
If you like this post, don't forget to give it a 5 star rating!