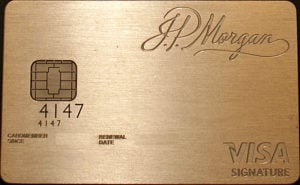 JP Morgan Palladium Review
2016.8.23 Update: This card is now discontinued, and is replaced by JP Morgan Reserve. According to an email posted on FT, this card will be automatically converted to JP Morgan Reserve. Note that you won't receive a sign-up bonus if you convert your card.
Application Link
This card no longer accepts new applications.
Benefits
The credit limit is infinity
This card is made of Palladium (Pd) and 24k gold, it feels fantastic.
The weight of this card is as heavy as 27g, which makes it one of the heaviest credit card in the world, and it can be used as weapon if needed. For comparison: Chase Ritz-Carlton 27g; AmEx Centurion Card (Black Card) 15g; CSP, Chase Marriott, Chase United Club 12g; regular credit cards about 5g.
The materials in the card is expensive, it is said that even if you melt the card and sell its metal, you can get a $1000+ in value. Of course, if you tell Chase you lost your card and want a new one, you can only receive a plastic card. Someone says he let people analyzed the component of this card, and fount the major component is copper and zinc, so maybe the palladium is only a legend.
Earn 2x Ultimate Rewards (UR) on travel, 1x on other purchases. Get extra 35k UR points if you spend $100k in a year.
Complimentary access to Lounge Clubs and United Clubs.
No foreign transaction fee.
And some other high-end perks, I won't list them all here, you can ask your private banker about them.
Disadvantages
You can apply for this card only if you are a Chase Private Client (CPC), to be short, you need $250k assets in Chase.
The annual fee is $595, and $99 for each authorized user.
Summary
This card is extremely heavy and looks great, if you are qualified you should go for one! Actually its threshold is much lower than the legendary AmEx Centurion, if you work hard it is possible to reach the goal. If you don't have so much money and you are interested in heavy metal card, you can go apply for Chase Ritz-Carlton which has almost the same weight.
Historical Offers Chart
This card is discontinued in 2016.8.
Application Link
This card no longer accepts new applications.
---
If you like this post, don't forget to give it a 5 star rating!