City National Bank (CNB) Crystal Visa Infinite Credit Card Review
2020.1 Update: There are some negative changes starting from 2020.1.1:
The air credit is now $350 per calendar year across the whole account (previously each authorized user has separate $250 air credit).
The guests are not free any more with this PPS cards.
Gas and grocery are removed from 3x categories.
Visa Infinite Discount Air is removed.
Authorized user accounts are not free any more; instead, the annual fee is $95.
In summary, this card is weakened a lot. The previous air credit benefit was too good to be true, and now it is not a must-have fantastic card any more, but still a decent card.
Application Link
Benefits
30k offer: earn 30,000 points after spending $3,000 in first 3 months. When the card first came out, the offer was 100k, but people doubt whether we will see such an offer again. No current sign-up bonus.
The points earned by this card can be redeemed for gift cards on airlines and other third party merchants. If you use them to buy Visa Gift Cards, the points are worth about 1 cent/point. When redeeming for airline tickets, the points are worth about 1.2 cents/point. See this post for details.
Earn 3 points per $1 spent on airline, hotel, taxi, limousine, rental car, train bus, restaurant, fast food and takeout food and dining purchases and 1 point per $1 spent on all other purchases.
Receive a statement credit of up to $350 per account per calendar year for Qualifying Airline Purchases (not including airline tickets). For details, please see this thread. Data points show that American Airlines eGift Cards <=$250 per transaction is fine.
Complimentary Priority Pass Select (PPS) card, which gives you free access to the Priority Pass airport lounge network worldwide. Note that guests are not free with this PPS card.
Up to $100 reimbursement for a Global Entry application fee. Note that this card does NOT reimburse the TSA-Pre Check application fee.
Visa Infinite benefits, including: Visa Infinite Hotel Collection, Visa Infinite Hotel Privileges, Visa Infinite Car Rental Privileges. But note that the $100 air discount benefit is NOT included any more.
No foreign transaction fee.
Disadvantages
$400 annual fee, NOT waived for the first year.
$95 annual fee for authorized users. You can add up to 3 authorized users. You can get 2 PPS cards in total across all users. Note that since 2020.1 the $350 air credit is the total amount shared by the main card holder and authorized users, not a separate amount any more.
You can't apply online, you have to go to the branch to apply. The branches are only in the following states: California, Georgia, Nevada, New York and Tennessee. The branch location map is here.
Data points show that you need a $100k+ income for approval of this card. The bank may require you to provide your pay stubs and W-2 Form to prove your income.
The official term says: "The Airline Incidental Fees Statement Credit benefit may be subject to taxation and/or Form 1099 reporting. Taxes, if any, are the responsibility of the Crystal Visa Infinite Credit Cardholder." However, we have not heard of any datapoints where a 1099 was received for these credits.
Recommended Application Time
If you have the requisite $100k income and there's a branch nearby, we highly recommend you apply as soon as possible!
Summary
Since the negative benefit change in 2020.1, this card is not a must-have fantastic card any more, but still a decent card. The previous air credit benefit $250*4=$1,000 was too good to be true, so that you could earn hundreds of dollars every year simply by air credit even if the air credit is valued by 70% of its face value. Now the air credit is $350 per account per calendar year, and we value it at 70% of its face value because it is a bit difficult to obtain, then it is worth about $245. So, after subtracting air credit value, the $400 annual fee is $155 equivalent annual fee. This is not a very cheap price comparing to its benefits. This card is difficult to apply, so I don't recommend applying when there is no sign-up bonus. But when there's a high sign-up bonus again, it is worth applying.
Recommended Downgrade Options
Historical Offers Chart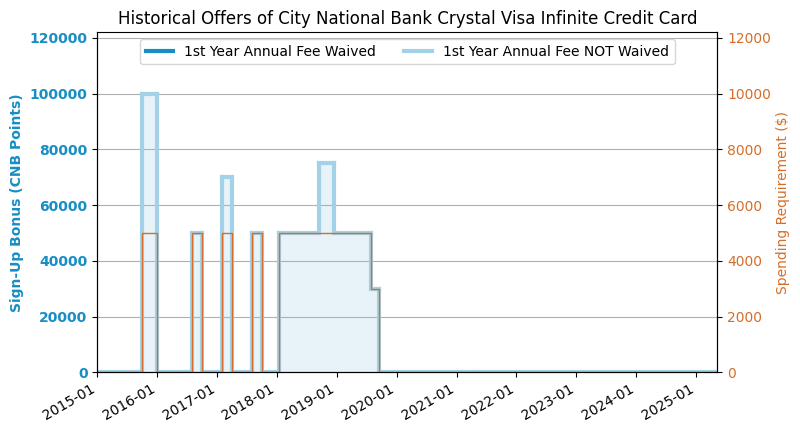 Application Link
---
Share this post with friends
If you like this post, don't forget to give it a 5 star rating!
[Total:

13

Average:

3.7

/5]