ABOC (Amalgamated Bank of Chicago) Platinum Rewards Credit Card Review
2021.8 Update: The 5% cashback feature will be removed as of Aug 27. You can only earn 1% cashback on all purchases afterwards. HT: DoC.
2021.5 Update: It seems this card is discontinued.
2019.7 Update: There's no Foreign Transaction Fee (FTF) on this card any more. BTW, the new 5% category for Q3 is travel.
Application Link
Benefits
$150 offer: earn $150 statement credit after spending $1,200 within the first 3 months.
Earn 5x ABOC points each quarter on purchases in rotating categories, and 1x point on all other purchases. Activation is required. The bonus categories in 2021 are:
The value of the ABOC points depends on how you redeem them. They are worth slightly less than 1 cent/point in general.

When redeeming for statement credit, the value is fixed 0.75 cents/point. $25 minimum.
When redeeming for gift cards (including Amazon, Albertsons, etc.), the value is 0.77~0.93 cents/points. The detailed redemption options are: 3,250 pts = $25; 6,250 pts = $50; 10,750 pts = $100.
When redeeming for travel, the value is fixed 1 cent/point. The travel items can be booked using a combination of rewards points and charges to your ABOC card. A minimum of 15,000 pts for flights or 5,000 for other travel must be used if combining points and card charges.

No foreign transaction fee.
No annual fee.
Disadvantages
Only first $1,500 purchases per quarter on bonus categories can earn 5x points, after that you can only earn 1x.
Recommended Application Time
We recommend you apply for this card after you have a credit history of at least two years and you are very comfortable with the credit card game.
Summary
This is a new 5x card on rotating categories. It is similar to Chase Freedom, Discover it and US Bank Cash+. The value of the ABOC points are slightly less than 1 cent/point in general, and the redemption is more complicated than a pure cash back card. However, the bonus categories for each quarter are very useful. Therefore I think one more 5x card is worth considering.
Historical Offers Chart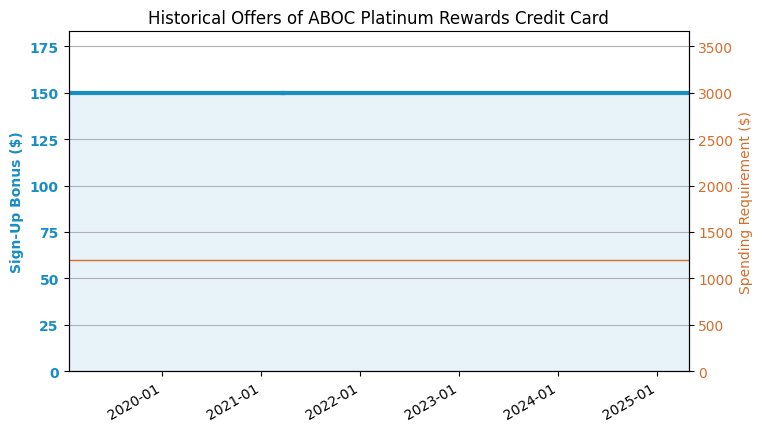 Application Link
---
If you like this post, don't forget to give it a 5 star rating!