Update: Starting from 2016.2.2, BA miles will be devalued. The reward flights in the north America that currently require 4,500 miles will cost 7,500 in the future, flights in others distances are not affected. Other than that, there might be bugs when you use British Airways website to search for American Airlines tickets. We suggest you use the AA website to search first, and make sure the MilesSAAver flight exists for your date and destination, and then use the BA website to redeem. 
Avios was one of the most popular award currencies for short distance travels inside America until this change.
Now let's introduce detailed rules. If you have never used BA's website, please refer to the appendix of this article to know how to use this website.
1. Introduction to BA's Frequent Flyer Program
British Airlines is a member of OneWorld. Other famous airlines in OneWorld includes British Airways(BA), American Airlines(AA), Cathay Pacific Airways(CX), Japan Airlines(JL) and Qatar Airways(QR).
Frequent flyers tiers in BA are divided into four levels , the requirements of which and corresponding benefits for which being listed at the chart below. If you want more detailed information about elite levels, please turn to the official website of BA.
| Levels | Blue | Bronze | Silver | Gold |
| --- | --- | --- | --- | --- |
| oneworld equivalent tier | — | Ruby | Sapphire | Emerald |
| Tier Points needed | — | 300 | 600 | 1500 |
| Avios bonus | — | 25% | 50% | 100% |
| Priority check-in and boarding | — | Yes | Yes | Yes |
| Extra baggage | — | — | Yes | Yes |
| Lounge access | — | — | Yes | Yes |
The award miles of BA is called Avios Points. You can search your total Avios Points and Tier Points of one flight through the Calculate your Avios Points (a simulator on the BA's official website). Your Avios are valid for 3 years, during which the expiry date can be postponed if any change occurs in your account.
Household Account is another major feature of BA's frequent flyer program. Family members living in the same address can accumulate all their Avios points and everyone can redeem these points. In addition, each account member can possess a family and friend list including no more than 5 people of different living addresses. The points of the Household Account can only be used to redeem award tickets for its own members or members on that list, rather than other people. Detailed introduction to the Household Account can be found on the Official Website of BA.
2. How to Earn BA Miles
Here are major ways to obtain BA's Avios points for us in the US:
To accumulate miles by flights of BA or its partners;
To transfer through the system of Chase Ultimate Rewards (UR);
To transfer through the system of Amex Membership Rewards (MR);
To transfer through the system of Starwood Preferred Guest (SPG);
To use Chase BA credit card.
2.1. Taking Flights
Though BA has not adopted the revenue based award that the big three (UA, AA, and DL) use, the cheapest seat of the economy class can accumulate award miles of only 25 percent of flight distances, regardless of if you're flying with BA or of its partner airlines. Detailed flight information about accumulated miles can be found on the Official Website of BA.
2.2. Transferring Points
You can also acquire Avios by transferring points from UR, MR and SPG. The redemption rate between UR and SPG is 1:1(there is a bonus of 5,000 points when you transfer 20,000 SPG). The redemption rate between MR and BA is 1000:800 as of October, 1st, 2015. However, sometimes there are bonuses for MR transfers!
2.3. Co-branded Credit Card
You can click Chase BA if you need more information.
3. How to Use BA Miles
A basic principle for the redemption miles of Avios is that required miles are related to the flight distance. The starting standard only requires 4,500 miles, while it's only 4,000 miles during BA's slack seasons, which is a dramatically low demand for miles. And that's why BA is known as the King of Short Distance Flights.
3.1. Award Charts
For people in North America, the biggest advantage of BA miles is to redeem short distance flights inside America through American Airlines(AA) and Alaska Airlines(AS). Now let us look at the redemption charts of partner flight airlines with BA miles, except BA and Iberia Airlines.
| Flight Distance | Economy | Premium Economy | Business | First |
| --- | --- | --- | --- | --- |
| ≤650 | 4500 | 6750 | 9000 | 18000 |
| 651~1150 | 7500 | 11250 | 15000 | 30000 |
| 1151~2000 | 10000 | 15000 | 20000 | 40000 |
| 2001~3000 | 12500 | 25000 | 37500 | 50000 |
| 3001~4000 | 20000 | 40000 | 60000 | 80000 |
| 4001~5500 | 25000 | 50000 | 75000 | 100000 |
| 5501~6500 | 30000 | 60000 | 90000 | 120000 |
| 6500~7000 | 35000 | 70000 | 105000 | 140000 |
| >7000 | 50000 | 100000 | 150000 | 200000 |
Now you can see the benefits of short distance redemption. As a member of One World Alliances, American Airlines (AA) redeem points with one-way flight of 12.5k miles inside America. So it's better for you to choose BA as a transfer flight inside America, no matter how far your distance is. When you redeem medium-range direct flights between eastern and western coasts, miles that BA requires should go up as the same one that AA requires.
Next is the award chart of BA's flights:
Flight Distance
Economy
Premium Economy
Business
First
Off Peak
Standard
Off Peak
Standard
Off Peak
Standard
Off Peak
Standard
≤650
4000
4500
5750
6750
7750
9000
15500
18000
651~1150
6500
7500
9500
11250
12750
15000
25500
30000
1151~2000
8500
10000
12750
15000
17000
20000
34000
40000
2001~3000
10000
12500
20000
25000
31250
37500
42500
50000
3001~4000
13000
20000
26000
40000
50000
60000
68000
80000
4001~5500
16250
25000
32500
50000
62500
75000
85000
100000
5501~6500
19500
30000
39000
60000
75000
90000
102000
120000
6501~7000
22750
35000
45500
70000
87500
105000
119000
140000
>7000
32500
50000
65000
100000
125000
150000
170000
200000
The distinguish for off-peak and standard is a features of this redemption chart. Demands in slack seasons become less. Detailed divisions between slack and peak seasons will be informed in a pop-up window as you search flights on the website of BA, or you can also download this PDF file to get information you need.
But we advice you not to redeem the flights of BA due to surprisingly high fuel charges. For example, a flight ticket of 800 dollars can be redeemed with over four or five hundred in fuel charges. Thus, it is smarter to bury a flight ticket than to redeem one.
3.2. Redemption Miles Required
The points required at the redemption chart depend on the flight distance between two cities. Is that true? The answer is NO. It is necessary for you to know the detailed redemption rules by using BA miles.
Redemption miles required depends upon the flight distance;
If there is more than one flight, the total redemption miles required refer to the sum of redemption miles that each flight requires.
Next let us look at this redemption principle in detail through a small example. First, let us try to search the mile ticket from Boston(BOS) to Pittsburgh(PIT) on October 29th. Then log in BA's official website and search the ticket we need, and we can see one direct flight among many choices:
The direct flight distance from BOS to PIT is 496 miles. According to the redemption chart of BA, only 4,500 points of BA is required, which is also demonstrated by the search result in the diagram above. What if you choose to have a connection, rather than the original non-stop flight?
There are 399 miles from BOS to DCA, and 204 miles from DCA to PIT. According to the redemption chart of BA, 4,500 miles is required to redeem a ticket, which means 9,000 miles are the total sum demonstrated in the chart. Therefore, we can see that total points required in the multi-flight ranges refer to the accumulation of respective points every flight range requires, rather than the simple sum of total flight miles.
That feature of BA's redemption proves that although it is very economical to redeem short distance flights, it is really only advantageous when you are flying non-stop.
Since the devaluation, flights start at 7500 Avios which is still less than your big three but greatly devalues the currency. 
3.3. Fuel Surcharges
Although BA has advantages in the miles required in middle and short distance flights, people still think it's not economical to redeem due to high fuel charges. Sometimes people would rather directly buy a new flight ticket. Take the flight ticket below from New York to London for example.
For people who mainly take flights inside America, there is no need to worry about fuel charges. You don't have to pay fuel charges when redeeming tickets from BA to AA or AS inside America. Generally speaking, you don't need to pay surcharges on the following redemption miles of Avios:
Flights of AA, except flying across the Atlantic
Flights of AS inside America
Flights of LAN Group flying to North America and South America
Flights of JL Group inside Japan
Short distance flights of Cathay Pacific Airways Ltd and Hong Kong Dragon Airlines Ltd
Flights of Air Berlin flying between America and Europe
3.4. Commission Charges
One advantage of booking a flight ticket at BA is no close-in fee within 21 days, during which UA and AA will charge you 75 dollars. When you book a ticket by phone, you will be charged 25 dollars as the commission charge.
Another amazing advantage of BA's mile tickets lies in the commission charges caused by refunding tickets. For frequent flights inside America, refunding tickets means no extra expenses except small commission fees caused by reservation. What's more, all the miles consumed by reservation will be returned to you account on the condition that you should refund your tickets at least 24 hours before the departure of the flight.
4. Other functions of BA's Website
Besides searching AA's domestic flights, the biggest function of BA's website is to help search the award tickets of OneWorld airlines. Take the redemption we often come across for example. As AA's website blocks the search results of CX and JL, we often have to resort to the search engine of BA's website to redeem award tickets of CX and JL through AA miles. And that is what we have mentioned in this article about AA Miles again and again.
However, many friends complain that BA's search engine is difficult to use. For example, you can search flights within only one week, and the search speed is relatively a little slow. If you want to know your award tickets during a certain period, you have to wait for a long time and even just get wrong information due to the issue of date. As Britain and America have a different way to express the date, the former being MM/DD and the latter being DD/MM, you should pay attention to the date on the website before searching relevant information.
In conclusion, we have introduced the simplest and major usages of BA miles and hope you will benefit from it.
---
Appendix: Introduction to the Usage of BA's Website
Before searching mile tickets on the BA's website, you should register an account as a frequent flyer of BA. Now please click Register Now on the top right corner of this page.
And fill in your personal information on the registration page. We advice you to choose "Join the Executive Club"( which is free ) among Your Options.
It is easy to complete your registration. Now please log in your account and you are on the homepage of My Executive Club, which is the entrance page to search mile tickets. If you turn to other pages and don't know how to get back to your homepage, you can click the Executive Club first on the top of this page, then the My Executive Club on the right side of menu option and you will be on the homepage.
If you want to search mile tickets, you should click the select box on the left side of this page, choose Book with Avios and fill in your departure, destination and date. Finally click the Search Flight.
Now you are on the search result page and can search flights within only one week one time. Please click Previous Week/Next Week if yo want to search the flights of other dates, and click Change if you want to change your search information.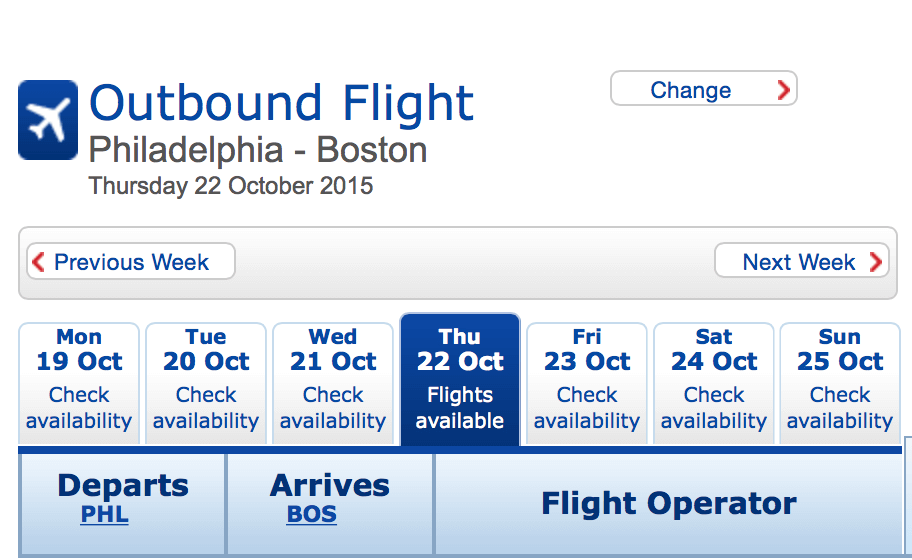 However, the bug we have mentioned above easily occur on the page of Change. For example, you will get wrong search results when you just change the date from 22 to 23. That's because it is illegal for BA's search engine to become British MM/DD from American MM/DD. At this moment, you just choose your date at the Date Selection Bar again.
---
If you like this post, don't forget to give it a 5 star rating!