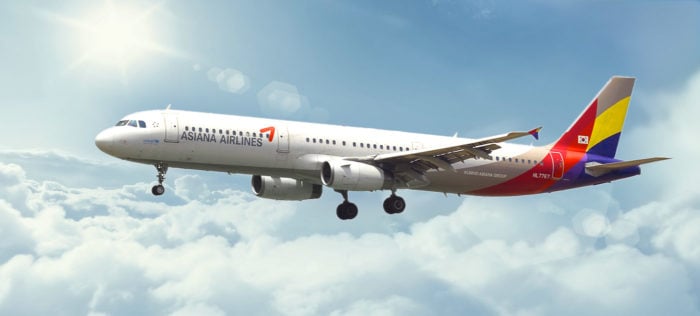 As a member of Star Alliance, Asiana Airlines (OZ) ranks No.2 in South Korean airlines. It operates many North American routes and provides much better service than many North American airlines. Very often, it offers affordable economy class and business class seats. OZ and South Korean No.1 airline – Korean Air (KE) not only have close destinations and similar service, but also have a lot in common about their frequent flyer plan. This post introduces OZ』s mileage ticket exchange of frequent flyer program – Asiana Club as well as the co-branded credit card issued by Bank of America.
1. How to Earn Asiana Club Mileages
To accumulate miles by taking flights of Asiana Airlines、Star Alliance, Qatar Airways and Etihad Airways and other partner airlines.
SPG point transfer with a ratio of 1:1. SPG will give you extra 5k for a single transfer of more than 20k. So the exchange rate is 1:1.25.
Asiana Airlines American Express Card from Bank of America.
The Asiana Club mileages chosen to be accumulated by hotels and car-rental companies & points earned by purchasing duty-free items on the plane.
2. Earn Asiana Club Mileages by Taking Flights of Star Alliance and Other Partner Airlines
Miles earned from Asiana Airlines are as below
Rate of earning miles for discount economy seats is 70%, same as Korean Air, nothing special. However, the rate of earning miles for business class seats and first class seats are a little low.
Before March of this year, OZ gives 100% mileage accumulation to the discount economy class seats of United Airlines(UA). What』s more, it's much easier for OZ to get Star Alliance Gold. So many flyers accumulate their mileages on OZ. However, after March, the rate OZ gives to UA discount economy class seats is only 50%, thus making it less attractive.
If you want to look at the OZ mileage accrual table by class to partner airlines, please click here. Personally I think these accumulation rates are low. If you care about the flexibility and performance price ratio of mileage ticket exchange, why not accumulate your Star Alliance mileage on UA and ANA (your mileage will be transferred to Chase Ultimate Rewards and AMEX Membership Rewards respectively). And if Star Alliance Gold is your priority, why not try Turkish Airlines (TK)?
3. Brief Introduction to the Elite Level of Asiana Club Member
Gold (Star Alliance Silver): 20k miles in 2 years, or 30 voyages of OZ self-carrying flights
Diamond (Star Alliance Gold): 40k miles in 2 years, or 50 voyages of OZ self-carrying flights
Diamond Plus (Star Alliance Gold): 160k in 2 years, or 100 voyages of OZ self-carrying flights; or 500k miles in total, or 500 voyages of OZ self-carrying flights
Platinum (Lifetime & Star Alliance Gold): 100w miles in total, or 1000 voyages of OZ self-carrying flights
Compared with the fact that UA needs 5k miles a year to get Star Alliance Gold, it is a lot easier to get Star Alliance Gold choosing OZ. Before OZ lowering its accumulation to UA, it was reputed by a lot of regular customers as the airline that gets Star Alliance Gold easiest.
Now even OZ』s rate to UA decreased, if you have rigid demand for OZ, that is, to fly regularly, it is worth flying for a gold card. OZ off-season price for the round-trip ticket between China and United States is usually $600-700, so it is quite easy to get a Star Alliance Gold by just flying four times in 2 years.
4. Asiana Club Mileages in Exchange for Asiana Airlines Tickets
The basic rules of exchanging OZ tickets are as follows:
Half of a round-trip mileage is needed in exchange for a one-way ticket.
Open jaw is ok for a round-trip ticket, because it can be seen as two one-way tickets.
A one-way ticket allows one stop over in Incheon International Airport while a round-trip ticket allows two.
Ticket exchange standards are divided into Peak Season and Low Season. 150% mileage is needed in exchange for a Peak Season ticket.
The first three rules are really just the same as that of exchanging KE tickets. As of the fourth rule, only the mileage needed to exchange a peak season ticket is slightly different.
Below is the award chart.
Peak Season
Please note that OZ will charge relatively high YQ (fuel surcharge), so exchange business class and first class will be more cost-effective.
For example, LAX – ICN, the mileage needed for a first class one-way trip from Los Angeles to Seoul is 80 k plus $104.2 fuel oil surcharge.
LAX-ICN-PEK, Los Angeles to Beijing via Seoul, the first voyage is first class and the second one is business class (There is no first class during this voyage). The one-way trip needs 85k mileages plus $193.97 fuel oil surcharge.
Similarly, LAX-ICN-HKG, the first voyage is first class and the second one is business class. The mileage needed is 95k and fuel oil surcharge is also $193.97. Hong Kong is classified into Southeast Asia, so the exchange standard is different from that of mainland China.
Like KE, OZ allows to upgrade a paid ticket seat with mileage. Upgrading an Economy class to Business Smartium class from northeast Asia to North America via ICN needs 42.5k mileage. This mileage sounds not bad. However, OZ only says on its website that mileage upgrading flight is restricted to seat with a discount under 50%. It didn』t give a corresponding seat code. It is also possible that you have to go to OZ branch office on your own to collect ticket, and the procedure is a little complicated. You can find it out if you have such need. We skip it here.
In view of the strange navigation and words of OZ website, we will take Los Angeles – Dalian one-way trip as an example to explain the ticket query and ticket exchange procedures.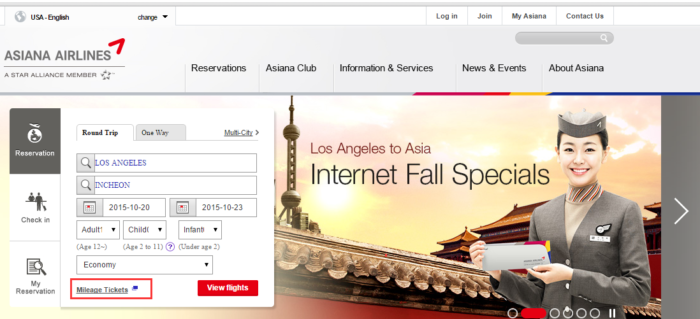 Click Mileage Tickets on the first page, and then select International Mileage Ticket Issuance on the next page.
OZ mileage query must be input by voyages, so you cannot just input departure city. Select Via Korea, and then input your whole itinerary. When you input date, you should take different time zone of your transit area into consideration. You can finish the procedure during this step if you need an ICN stop over. While in KE, you need to make a call to collect your ticket.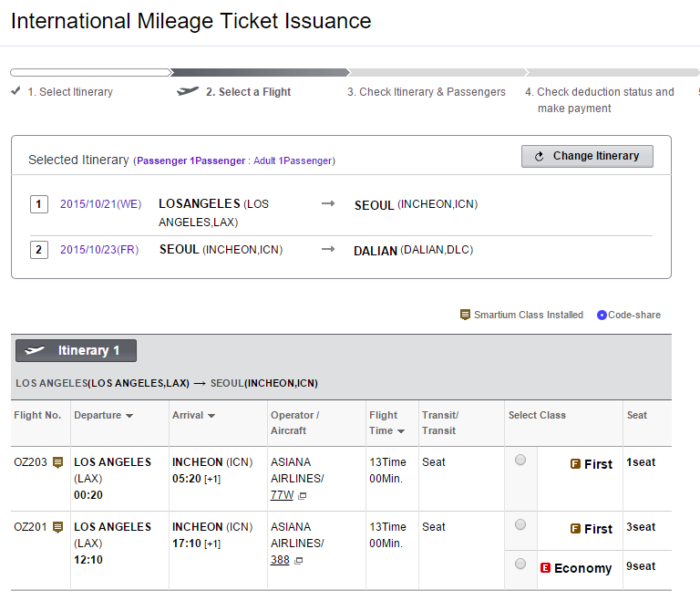 This shows the ticket situation departing on 21th, October when checks on 18th, October. There is no ticket for business class but there are tickets for first class and economy class. OZ』 availability to internal exchange is always good, so they always have first class tickets basically.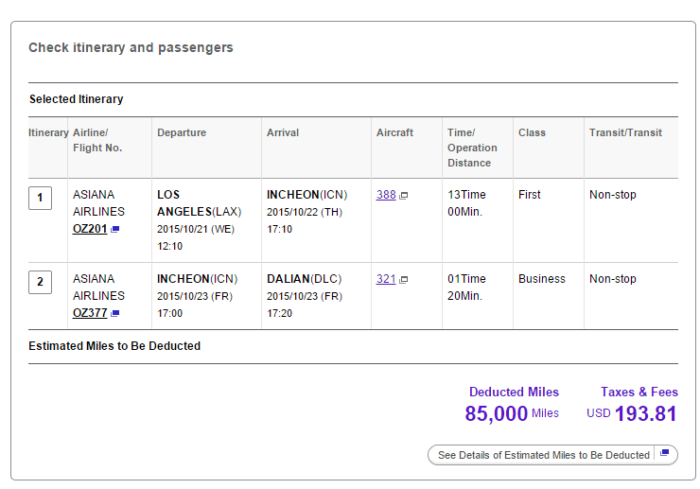 After selecting the flights for each voyage, it will show you the total mileage and fuel oil surcharge. If there are enough mileage in your account, then your ticket can be issued.
OZ has no close-in booking fee. It you want to refund the ticket, online issued ticket needs no fee, but ticket booked on phone or in branch office needs to deduct $30 or 3000 mileage. This is not bad.
5. Asiana Club Mileages in Exchange for Star Alliance Tickets
As the largest airline alliance, Star Alliance owns many powerful company members, and covers a considerable number of destinations. However, OZ's cost performance on partner miles ticket exchange is not that good.
Be aware, different from FFP's ticket exchange solution, which takes the whole miles as zones to exchange tickets, OZ currently takesvoyage miles as zones to decide the miles that is needed in ticket exchange. If a journey is segmented by transfers, it then is seen as several one way journeys.
Take the LAX-NRT_PEK one way journey as an example, a first class ticket requires 120K, which contains 80K from LAX-NRT and 40K from NRT-PEK. To get more details of YQ, you should call the customer service, and it must be more than the figures given above, so it's not cost effective to exchange none direct flights.
In view of this unfriendly solution, it's worthless to study the details of other exchange rules, any random exchange of UA is much better than it.
6. Tips for Asiana Club Miles Exchange
Among the advantages and disadvantages of OZ miles, many are similar to that of Korean Air's.
Pros
Double compartment availability when redeem one's own ticket, in most cases, first class is available even one or two days before the flight. Cancellation without fee or only needs to pay very little. Easier to arrange trips, no need to worry about the date of the flight.
Easy access to Star Alliance Gold, which will offer many benefits and much convenience.
Relatively more routes than other Asian airlines, many destinations in North America and Asia, convenient to those who are in Northeast of China and those who live far from major airports.
Incheon International Airport (ICN) has great facilities, it's an ideal transfer port where girls can do shopping crazily and foodies can entertain their stomach very much.
You can also add a free stopover in ICN for one way mileage award tickets, and if you have a US visa, 30 days visa-free entry is allowed.You can enjoy shopping and food, or you may want to visit the sites appeared repeatedly in Korean TV series and shows.
The food and service on flight are good and it is comfortable.
The miles are valid within 10 years (12 years for Diamond and above membership), which is advantageous for those who fly less, no need to worry about the availability of previous miles.
Cons
Mileage award ticket is only available to oneself and his/her immediate family members, and complex procedures are required for the latter.
The source of miles is dull. In addition to its own flight and co-branded card which can be used to accumulated miles, you have to transfer the SPG points.
YQ (fuel oil surcharge and airport tax) is high, it's not economic to exchange economy class.
The website is designed in a weird way, so it's difficult to search information on it. And it may crash when you search mileage award ticket.
Though it is a member of Star Alliance and has many partners, the rules for exchange of partner mileage award ticket is not friendly, which makes partners useless.
The miles is available in 10 or 12 years, but it cannot be extended (actually you must fly at once in 10 years).
---
If you like this post, don't forget to give it a 5 star rating!