Yesterday I wrote a post about my business class flight from Chengdu to New York redeemed with AA miles. Many friends showed great interest in my post. So today let』s talk about how to use AA miles redemption. We would be more than glad if this post could be of any help. And we are going to talk more in upcoming posts.
To put it bluntly, AA is perhaps the best among the three major (cheapest) airlines in USA. Here are the two main reasons:
Award miles are still earned based on flight distance. By contrast, award miles of UA and DL are earned based on fares. As a result, you』ll get more miles to fly AA internationally.
It takes fewer miles to redeem for ticket. Take one-way Sino-US flight as an example. It costs 35/55/67.5k miles to redeem economy class/business class/first-class flight. This is the fewest miles among the three major airlines for award ticket. Moreover, there』s no YQ for Sino-US flight.
As an aside, AA is a member of OneWorld, its airline partners include many good airlines like Cathay Pacific (CX), Qatar Airways (QR) and Etihad Airways (EY), etc. Therefore, many people like using award miles of AA to redeem for award ticket.
1. How to earn AA miles
Firstly, we will take about how to earn miles. Generally speaking, the methods to get AA award miles are as follows:
1.1. Earning award miles by air travel
It is natural to get award miles by air. If you cannot get award miles by taking the flight of AA, AA may not be suitable for flight business.
According to AA rule, award miles accumulation for a flight is calculated as per following formula:
Total award miles = Basic flight miles + flight class award + elite member award + other bonus
Basic flight miles: It is the flown distance. Please notice that some low-price or discount economy class of partner airlines may have no reward miles. Please click here to see the details. Then you can choose the airlines you want to take and check the detailed miles accumulation rule.
Flight class award: The passenger who purchases high-class flight can get extra bonus. For AA flight, business class and first-class flight can get 50% bonus. For the flight of AA』s partner airlines, the accumulation rules vary.
Member bonus: AA elite member can enjoy another extra bonus. Gold Member can enjoy 25%, while Platinum and Executive can enjoy 100%.
Other bonus: In addition to the bonus mentioned above, AA will give business/first-class passenger extra bonus. (Long-distance refers to the flight >3000miles, JFK-SFO and JFK-LAX; short-haul refers to the flight <3000miles.)
| | | | | |
| --- | --- | --- | --- | --- |
| | Long-distance first-class/business class | Long-distance discount business class(I) | Short-distance first-class/business class | Short-distance discount business class(I) |
| Exe Plat | 12000 | 3500 | 1000 | 500 |
| Plat/Gold/Normal | 6000 | 1000 | 500 | 250 |
As you can see, if you are a elite member of AA and often fly by taking the above two classes, award miles will be rewarding. Actually, even if you have basic flight miles only, the award miles of AA will be much better than that of DL and UA, especially international economy class.
1.2. Co-branded credit card
So far, AA and Citibank have issued co-branded credit cards as follows:
Citi AAdvantage Platinum Select: You can get up to 50k signup bonus miles.
Citi AAdvantage Executive: You can get 75k signup bonus miles and may get up to 100K miles.
Citi AAdvantage Gold: You can get 25k signup bonus miles and may get up to 50K.
Citi Business AAdvantage Platinum: You can get 50k signup bonus miles.
You can also get many points with daily spending. If you sign up for all the cards mentioned above, you』ll get 225k miles, not including the targeted and highest offer by gold card. These miles is enough to buy two business-class Sino-US flights. Besides, if you have Citi AAdvantage Platinum, you can still enjoy additional 10% miles discount in using miles for ticket.
1.3. Starwood SPG points transfer
Starpoints transfer is also an efficient method to get AA miles. For every 20,000 starpoints, you can get 25,000 miles. Sometimes, you can get extra bonus, like the current another 20% promotion. After you get 25k miles, you can get another 20% bonus. Hence, for 20k SPG points, you can get 30k miles in total. Please refer to Introduction to SPG Points for detail.
1.4. Online shopping, restaurant spending, hotel accommodation and car rental
Thees are also good option for earning points. Online shopping generally refers to shopping via AAdvantage EShopping Mall and restaurant spending refers to spending via Rewards Network. Because you can earn points by the above four methods for many airlines, let』s talk about it later. We will introduce these four methods in detail in a separate article. And you can refer to the link for more details later.
1.5. Buy points directly or transfer points from other accounts
This is also a very direct way to get points. If you just need a few points urgently, you can choose this way. Sometimes, it may offer promotion, but we do not recommend this way. Click here for buying points or transfer points from other AA accounts.
2. How to use AA miles
This part of the article is mainly about using miles for free air ticket. This is also a major concern of most friends. We will mainly introduce some basic rules to meet the requirement of most friends. We will write another article to illustrate the detailed and complicated rule of using miles. And you can check it, if you have any question.
Regarding using miles for Sino-US air ticket, you shall comply with the following basic rules:
For one-way air ticket, you can get economy/business/first-class air ticket by using 35k/55k/67.5k miles. It is the most cost-efficient among three major airlines, especially for one way business/first-class air ticket using 55k/67.5k miles.
You can buy air ticket of AA and its partner airlines using miles. To be more specific, there are three main options: AA, CX/KA and JL. Moreover, there is no fuel surcharges.
The flight shall be transPacific. This is different from UA. For UA, it is allowed to use miles for the flight via Europe, but it is not allowed for AA.
Regarding miles ticket 14-330 days preceding departure date, you can hold it for 5 days to print the ticket. Regarding miles ticket 1-14 days ahead of departure date, you can hold it for 1 day. Regarding the miles ticket 24 hours ahead of departure date, you can hold it for 2 hours. The skills of holding policy can help you to get the ticket first even if your miles are not enough for the time being.
You can』t search award ticket of CX/KA and JL in AA website. Hence, if you want to use miles for their ticket, you can check remaining ticket in the website of other airlines like British Airways (BA). Call AA for redemption after you confirmed the trip. This process doesn』t affect the required miles, but you can』t print the ticket directly online.
Compared with Star Alliance and Sky Team Alliance, the shipping capacity of One World Alliance is much lower. Hence, the airline options of One World Alliance are fewer and its miles ticket are also relatively fewer. Someone may want to quit. However, just imagine the possibility of using miles for CX and JL. Let』s go on.
First, let』s look at the flights of these three airlines from Asia to USA:
| | | | | |
| --- | --- | --- | --- | --- |
| | Beijing | Shanghai | Hong Kong | Japan |
| American Airlines (AA) | Chicago, Dallas | Chicago, Dallas, L.A. | Dallas | Chicago, Dallas, L.A. |
| Cathay Pacific (CX) | You can transfer flight in Hong Kong. | You can transfer flight in Hong Kong. | San Francisco, L.A, Chicago, New York, Boston | Nobody wants to transfer flight in Hong Kong. |
| Japan Airlines (JL) | You can transfer flight in Japan. | You can transfer flight in Japan. | You can transfer flight in Japan. | New York, Boston, Chicago, San Francisco, L.A. , Hawaii |
Compared with the trans-pacific flight of UA and CA, AA』s flight is much fewer indeed. However, there are many flights of CX and you can use miles. Now, let』s talk about how to operate in detail.
Planning procedures of airline:
If you live in Beijing, Shanghai, Hong Kong or near the above cities, you can search ticket in the official website of AA. Otherwise, you can break down your trip: depart port-hub1, hub1-hub2F, hub2-destination. Hub refers to the big airport mentioned the above.
According to your departure date, make a schedule of possible Hub-Hub airline. You may face many options. For example, from Hong Kong to Las Vegas, we can search HKG-SFO or HKG-LAX and both options are OK.
If you search miles ticket of Hub-Hub, the generally main options will be AA, CX and JL. We have already listed the flights of the three airlines from Asia to North America. You can refer to the above table. The ticket of AA can be searched on its own website. But the ticket of CX and JL can』t be found on the website of AA. At this time, we shall use search engine of BA and JL. We put the search example at the end of this article.
Arrange the airline of Departure port-Hub1 and Hub2- Destination based on the possible route of Hub-Hub. For Departure port-Hub1, we may use BA and JL to search, because many possible flights require transfer in Hongkong or Tokyo. For the last flight, you can search on the website of AA directly, because domestic flight in USA.
Combine the flight route together and check whether it is OK. Mainly pay attention to the following:

Whether the time of flight transfer is enough? Spare enough time in transfer port to avoid affecting the next flight or it may take a long time to enter the transfer port. Of course, the time shall not be too long, otherwise, you shall wait for too long at the airport.
Try to avoid flight transfer as few as possible. The more flight transfer you take, the more you will be delayed.
The time of one flight transfer shall be no more than 24 hours.
The flight shall not be too complex or devious, otherwise, it may violate the rules of AA miles ticket. For example, from Hong Kong to L.A., it is not allowed to transfer flight in L.A.
Up to now, one feasible trip is available. Then you can call the customer service of AA to print the ticket. We recommend customer service in Chinese 800-492-8095 again. The waiting time is short, but the service quality is high.
After you finished redemption, you can choose seat. Even the flight is not non-stop flight of AA, you can still call customer service of AA to get ticket number. Then you can choose the seat in the corresponding airlines by your ticket number.
Up to now, we probably know how to use miles of AA to buy free ticket of Sino-US flight.
Some friends may ask why we don』t talk about using AA miles to buy the ticket of domestic flight in USA. The main reasons lie in the following:
It is much more cost-efficient to use BA miles to buy the ticket of domestic flight in USA, because BA redemption is related with flying distance. You can easily find the ticket that requires only 4500 BA miles, while the ticket of the same airline requires 12500 AA miles. Obviously, the former is more cost-efficient.
Finally, we wish everyone can use miles to get free air ticket!
---
Appendix
A. A search example of miles ticket:
Let』s choose a second-tier city, say… Wuhan. Let』s check whether the ticket from Wuhan to Pittsburgh on December 15 is available. First, according to the above analysis, we break down the trip into Wuhan-Hub1, Hub1-Hub2 in North America, and Hub2-Pittsburgh.
For the route Hub1-Hub2, Beijing-Chicago, Shanghai-Chicago, Hong Kong-Chicago, Hong Kong-New York, and Hong Kong-Boston are available options. Considering One World Alliance without cooperators from domestic airlines in China, I have to buy ticket from Wuhan to Shanghai or Beijing on my own. If I wanna miles redemption all the way, let』s check whether it is feasible in Hong Kong. Open BA website, log in, search air ticket by using miles, and input HKG-NYC. Wow, many air tickets are available.
Which flight shall I choose? Say at 18:20 or 19:45 departure from Hong Kong at the beginning. If it is too early, the flight from Wuhan of KA may be not available. Then let』s check the flight departure from Wuhan.
As we expected, the earliest flight arrives at Hongkong at 13:35. So it is right to choose later flight in Hongkong. Then let』s check whether there is any flight from New York to Pittsburgh. Because it is the flight of AA, we can search on AA website directly.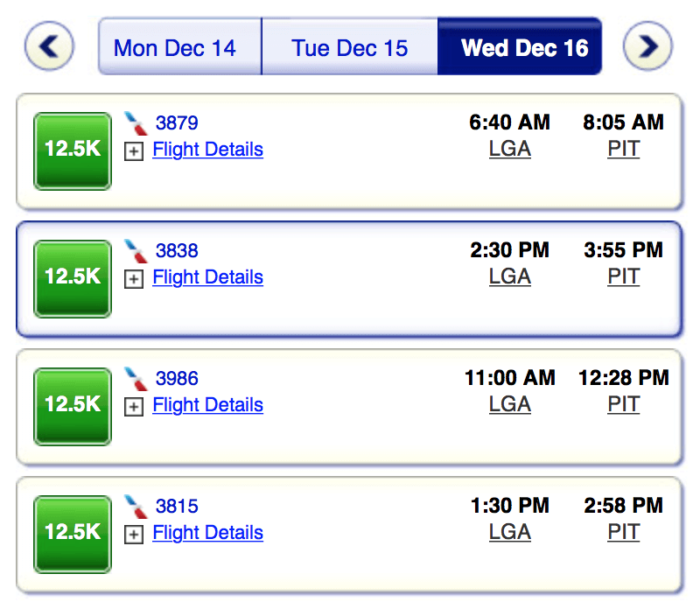 Because the flight arrives at New York too late, I have to stay overnight in NYC. So let』s check whether non-stop flight from NYC to PIT is available the next day. We find many flights departure from LGA. Although it requires one night in NYC, the stopover time is no more than 24 hours. So this is still a feasible flight.
Hence, my whole trip is generally confirmed: WUH-HKG-JFK (LGA)-PIT. Then I call AA for redemption. I directly ask for a trip from Wuhan to PIT on December 15. Customer service finds the trip quickly, even if I don』t tell the customer service in detail…Then I pretend to say my miles are not enough and my ticket needs to be held. The customer service asks my member account and tells me the ticket is held.
Then I log in AA account, I find the flight I choose has already in My Trips. And the status is Hold. Of course, I don』t agree to print the ticket, just for display.
After the above time-consuming trial, I try searching AA miles ticket from Shanghai to PIT directly. The economy class is enough. Haha. So AA redemption is not that bad, you can try step by step starting from the easiest search according to your own situation.
We hope this example can help you use AA miles to buy Sino-US free ticket.
Uptate: Actually, we can also search WUH-NYC on the website of BA, it may have searching result and the transfer port is automatically matched.
If you search WUH-PIT directly, BA is useless. But NYC-PIT is available on BA website.
Hence, as we can see, BA system may not handle the flight search including many transfer flight. That』s why we suggest that we shall break down the whole trip and search it section by section.
B. Airline Diagrams of AA, CX, JL:
---
If you like this post, don't forget to give it a 5 star rating!