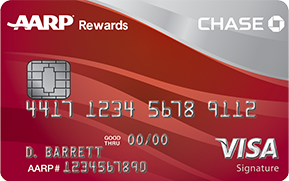 AARP Credit Card from Chase Review
Application Link
Benefits
$100 sign-up bonus after you spend $500 in the first 3 months from account opening. The highest sign-up bonus is $200.
3% cashback on purchases at restaurants and gas stations, and 1% cashback on all other purchases. 3% at restaurants is the highest cashback rate in the cards available nowadays.
No annual fee.
Disadvantages
It has foreign transaction fee, so it's not a good choice outside the US.
Points for Attention
AARP means American Association of Retired Persons, a young man swiping this card would look weird.
As far as we know now, this card is available to everybody, you don't need to be an AARP member. You can just leave "AARP Membership Number" blank on the application page.
Recommended Application Time
[5/24 Rule] If you have 5 or more new accounts opened in the past 24 months, Chase will not approve your application on this card, no matter how high your credit score is. The number of new accounts includes all credit card accounts, not only Chase accounts. See this post for details about how to possibly bypass this rule.
This product is available to you if you do not have this card and have not received a new cardmember bonus for this card in the past 24 months. Note that what matters here is the time you got the sign-up bonus, not the time you open the account or close the account.
Don』t apply for more than 2 Chase credit cards within 30 days, or it』s highly likely that you will get rejected.
We recommend you to apply for this card after you have a credit history for more than a year.
Summary
$200 sign-up bonus is decent for a no annual fee card. The most attractive feature is 3% cashback at restaurants. However, there are several cards that have the same feature, so in my opinion this card is not worth a Chase 5/24 slot.
After Applying
Call 800-436-7927 to check Chase application status. This is an automated telephone line, and the information has the following meanings: Receive decision in 2 weeks means your application is probably approved; Receive decision in 7-10 days means your application is probably rejected; Receive decision in 30 days simply means your application requires further review and there's nothing to tell you for now.
Chase reconsideration backdoor number: 888-270-2127 or 888-609-7805. Call it if you didn』t get approve immediately. Your personal information will be acquired and they will then review it. You seldom answer questions, instead, just enjoy the music and then you get approved or rejected, or further information is needed to be hand in to the branch or faxed.
Historical Offers Chart
This card is discontinued in 2021.3.
Application Link
---
If you like this post, don't forget to give it a 5 star rating!
[Total:

6

Average:

4.5

/5]