Upon finishing up our stay on Easter Island, we flew to Lima via Santiago de Chile. The next morning we flew to Cusco on LATAM (previously known as LAN Peru) for our upcoming trip to Machu Picchu and the Sacred Valley. Since LIM-CUZ is wholly in Peru, I used only 4,500 Avios(per person) for a one-way redemption. Since the one-way price can be usually $100+ in cash, redemption by Avios is a pretty awesome deal.
Before introducing the hotel, let me briefly explain the Sacred Valley, Machu Picchu, and Cusco.
Geographically speaking Sacred Valley refers to the Urubamba River Valley, but usually it has a broader implication in human geography. It was the breadbasket and cultural centers of the Inca Empire.
Cusco, on the other hand, is the administrative capital and the political nerve of Inca. To locals, Cusco isn't part of Sacred Valley, but is nonetheless a gateway to the Sacred Valley and Machu Picchu.
Along the Urubamba river there are many relics of Inca outposts and citadels. Among them, Machu Picchu is the most well-preserved and most famous one.
Machu Picchu is located on the mountain top, where there is only just one super-expensive hotel (Sanctuary Lodge). Instead, budget travelers could opt to stay in Aguas Calientes at the foot of the Machu Picchu mountain and hop on a bus to Machu Picchu in the morning.
Other than Aguas Calientes, Ollantaytambo and Urubamba are two other popular options for Machu Picchu travelers. Tambo del Inka is situated in Urubamba, or the geographic center of the Sacred Valley region and 1.5 hour away from Cusco by car. To be fair, hotels abound in the Sacred Valley and Cusco regions, but I chose stay in Urubamba for four reaons:
The distance between Cusco and Machu Picchu is prohibitive. It would be a 4-hour ride by train. By comparison Urumbaba is only a 2-hour train ride away from Machu Picchu and Tambo del Inka has its own train station, offering non-stop service to Aguas Calientes.
Cusco is heavily influenced by colonial Spanish culture, which is certainly appealing by itself. However, to appreciate Inca culture Cusco is not the best place.
The elevation in Cusco is above 11,000 ft, where altitude sickness can be significant. Urubamba is 1500 ft lower than Cusco.
Tambo del Inka is the only SPG hotel in the Sacred Valley, where I could maximally enjoy my SPG Platinum benefits.
FlyerTalk has a dedicated discussion thread on Tambo, and many report generous Platinum upgrade policy. I can attest to that. We got upgraded to a junior suite at the time of check-in, and then to a senior suite (!) because the room was not ready.
1. Hotel exterior and lobby
The hotel is located by the Urubamba River, south of the Urubamba town. In the picture below, the building complex immersed in the trees is Tambo del Inka.
The entrance is pretty low-key, but every local knows about this place. In fact, on our way from Cusco airport to Urubamba, the cab driver spoke very highly of this place.
Once we are inside the property, we feel like entering a small oasis. Again the outside of the property is anything but extravagant.
Once inside the lobby, however, we were impressed by the high ceiling. Note the staff in the picture and you will get an idea of how high the ceiling is.
The frog sculpture inside the lobby reminds of the Zuma game. In the evening the stove is turned on.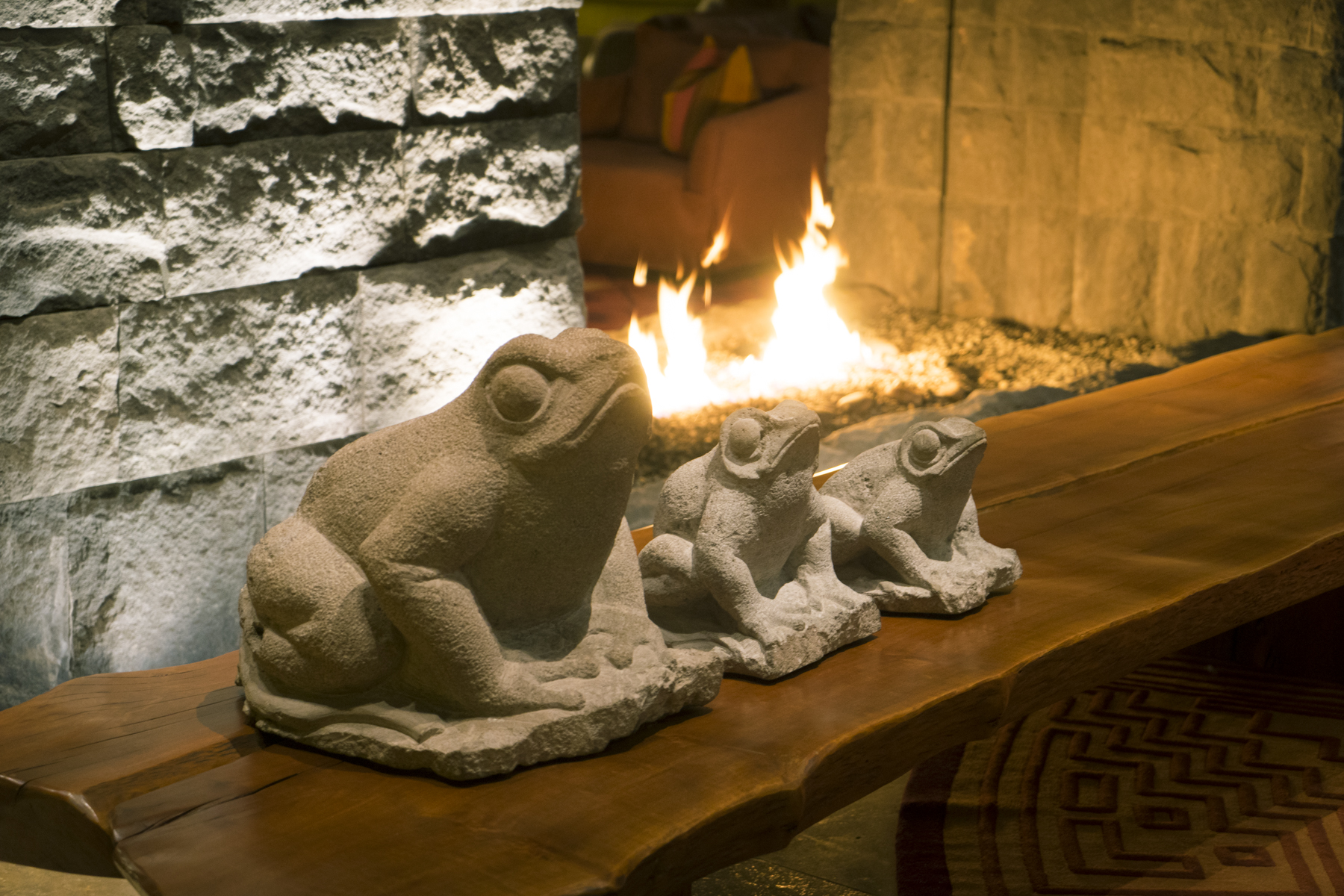 In the back of the lobby there is a rest area, decorated by local artwork.
Walking further south you will see a lawn that separates the hotel and the Urubamba River.
It was already late November and rainy season had started. On the plus side, Machu Picchu and Sacred Valley became lavishly green. On the downside, however, visiting Machu Picchu in rain is not that great.
The hotel has three levels of rooms facing south (River View). If you are on the ground level, you could enjoy some extra outdoor space at the cost of some privacy.
The other side of hotel rooms are designated as "Mountain View". That is, you will have a nice view of the High Andes.
A small lagoon brings a sense of tranquility to the hotel yard.
There are some trail paths inside the hotel. I guess this is great for some leisure walk after dinner or morning running. However hiking Machu Picchu and touring the Sacred Valley can be very tiresome, so I don't see many people exercise here.
2. Pool and spa
The hotel has a nice pool, which is next to the SPA area.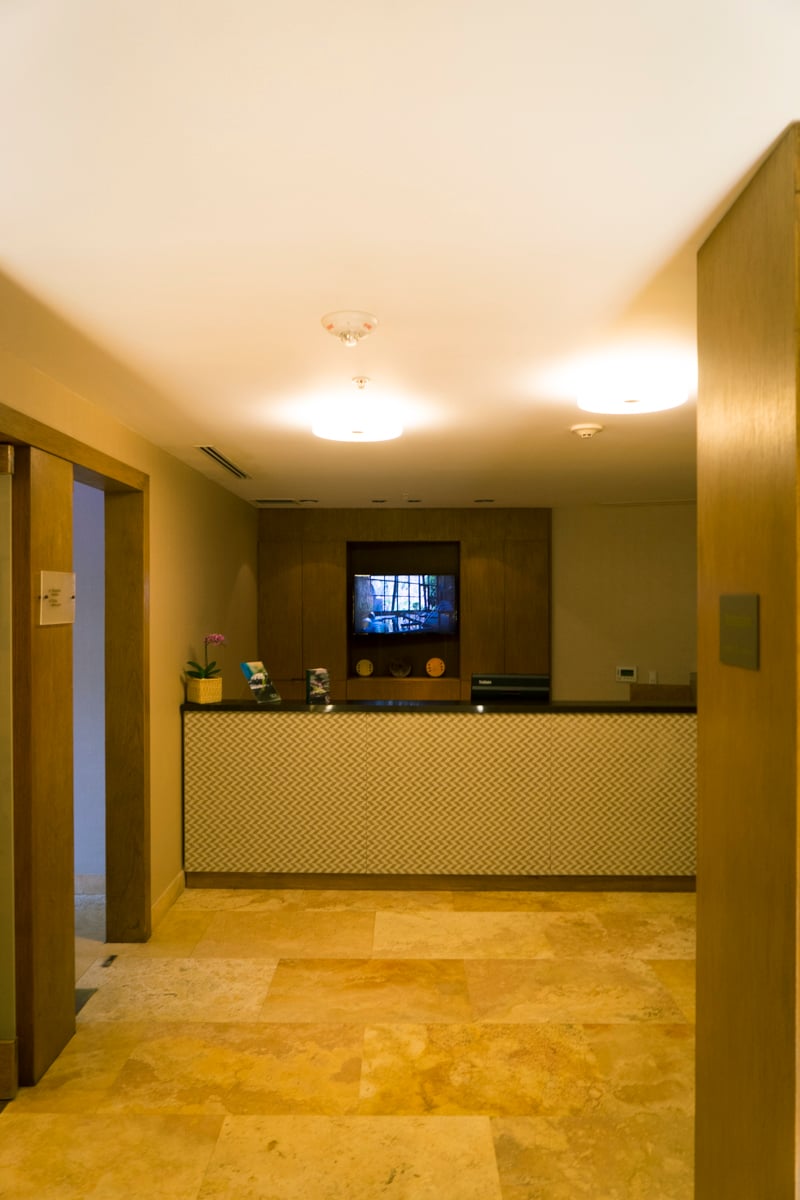 It is impressive how spacious the pool area is.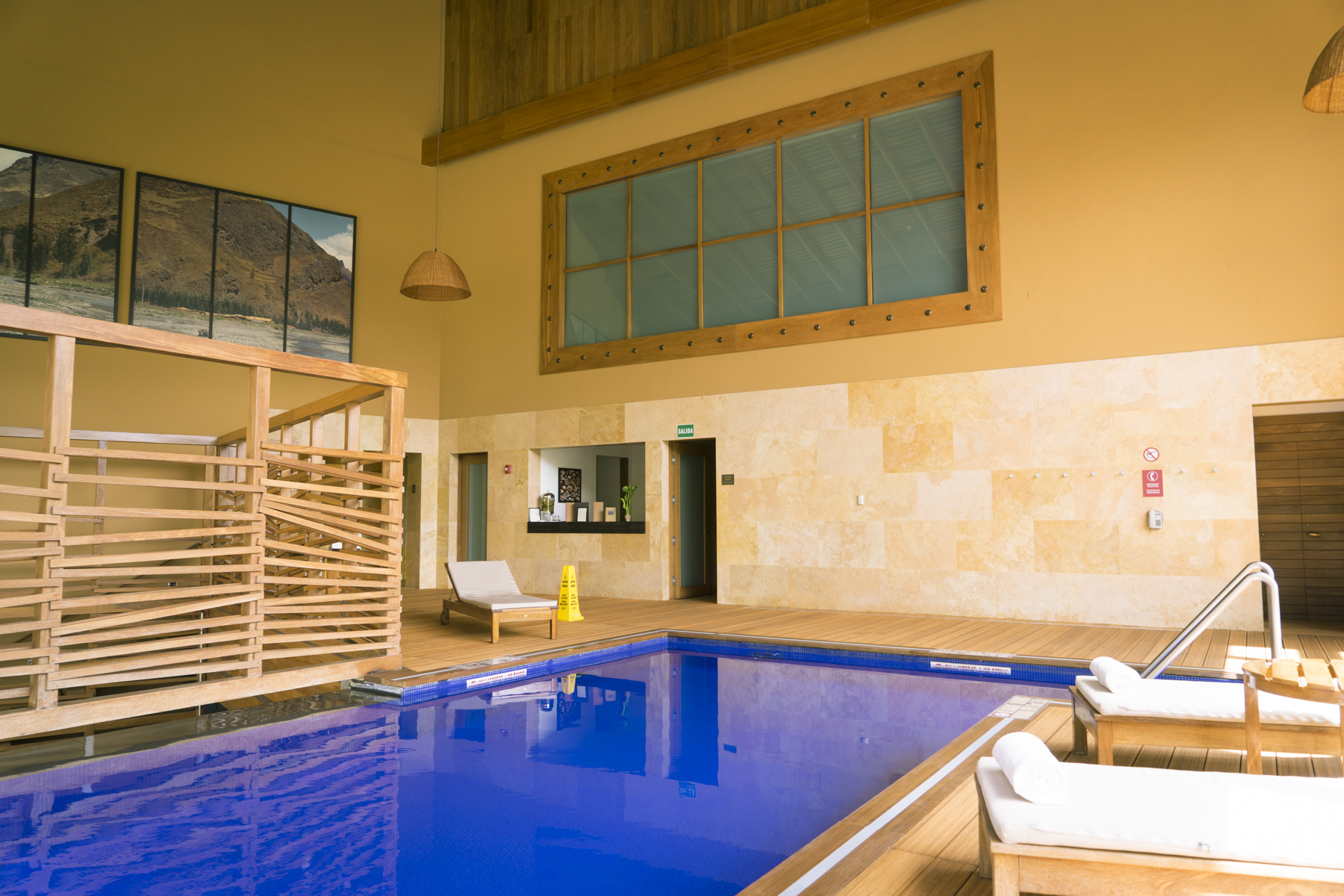 Even better, the pool extends to the outdoor. Imagine how romantic it must be to stargaze at night, inside the heated pool. Yet the common reality is that activities during daytime are so exhausting, that we didn't want to move at all once we were back at the hotel in the evening.
There are shower and sauna rooms in the pool area. Earlier reports suggested you had to purchase spa service to have access, but things seem to have changed. Now shower and sauna rooms are open to hotel guests free of charge.
After taking a shower we took some rest at the poolside. Then a hotel staff brought us a bad news and a good news. The bad news was that our pre-assigned room (a junior suite) would not be available since the guest opted for 4-pm checkout. The good news, to our delight, was that they had upgraded us to a senior suite! In his own words this would be the best room on the property. Wow!
3. Senior suite
Our room is located on the ground floor and has direct access to the lawn outside. This must be the largest hotel room I have ever been. The living room is incredibly spacious, perhaps larger than most of the hotel room.
From the emergency plan, we see that the suite is almost 3 times as large as a typical room.
There is a bathroom in the living room.
The bedroom is also spacious, and with a floor-to-ceiling window you get ample natural lighting.
The room has an espresso machine, along with other snacks available for purchase.
Outside the room there are two lounge chairs, which we ended up not using.
Across the window is the closet.
Further inside is the bathroom, where a large jacuzzi bath tub is located.
On the opposite side we found a bidet and a toilet.
Sacred Valley is a fairly dry place and it is generous that the hotel provided us four bottles of water per day.
The room is decorated with Incan textiles, adding a nice touch of local cultures to the hotel.
Turn-down service is available and we were given two chocolate bars per night.
4. Breakfast
The breakfast is offered at the restaurant, located in the back of the lobby. As a SPG Platinum member, I could choose either breakfast or points as my Platinum gift. I chose the former, but after I checked out it turned out that I received 500 welcome points nonetheless. I know some SPG properties in Asia have the same policy (points+breakfast), but was surprised to find the same in South America.
In a sunny day you could also grab a seat at the patio outside.
In addition to an expansive buffet, there was also an à la carte menu.
I ordered an egg omelet and it was nicely executed.
Again the buffet selection is very impressive. In my opinion this is way better than any Starwood property in North America. I will let the pictures speak for themselves.
5. The Sacred Valley
Because of the central location of Urubamba, navigating through the Sacred Valley from Tambo is very easy.
We encountered some lovely llamas on our way.
We didn't follow any conventional tour company or hire a local cab, as most people would probably do. Instead, we chose Inca Buggy Tour. With them you could drive in an ATV and follow the guide who will be riding in motorcycle. It was super fun and perhaps best of all, highly flexible. For instance we would love to get a nice view of the mountain ranges and our guide took us to an outlook spot.
Riding in a buggy also allowed us to go off-track and visit remarkable places like this lake. No paved road leads to here.
You could see the mountain ranges in the back. According to our guide, at the time he grew up snow covered the entire mountain peak and you could not see any black rocky outcrops. However with global warming the snow line has been retreating greatly.
But still, the extent of snow line could be seen from such U-shaped valleys, carved by the glacier.
Not only are there many Inca ruins in the Sacred Valley, but also other interesting tourist spots. Below is Moray, an Inca agricultural terrace thought to be an experimental field for differential planting. The idea is that due to the change in elevation and humidity inside the terrace, different plants could grow.
Each layer of terrace is connected by protruded stone ladders.
The other interesting spot is Salineras de Maras, a salt mine that predated the Inca empire. Somewhere deep in the mountain there is a vast deposit of halite and a small stream dissolves the minerals and carries them. Local people took advantage of the salt-rich stream and built a mine around the stream. Once stream waters fill a pond, people would let the water to evaporate and salt to subsequently precipitate.
A closer look at the salt pond shows how salt crystalizes. We ended up buying some bath salt and cooking salt.
6. Machu Picchu
As mentioned above, Tambo has its own train station to Urubamba. We took the 6:50 am train and gathered at the lobby at 6:20 after having breakfast (which opens at 5:30 am). A hotel staff showed us the way to the station.
The station itself is rather small and only has two tracks. It takes about 2 hours to get to Machu Picchu from here. A slightly faster alternative would be taking a taxi to Ollantaytambo (~20 min.) and hopping on a train from there. You could say about 30 minutes by doing that way. However we were not rushed to visit Machu Picchu in the morning (otherwise we would stay in Aguas Calientes to begin with), so we took the more leisure route.
Inside the train you could look outside through the windows at the top.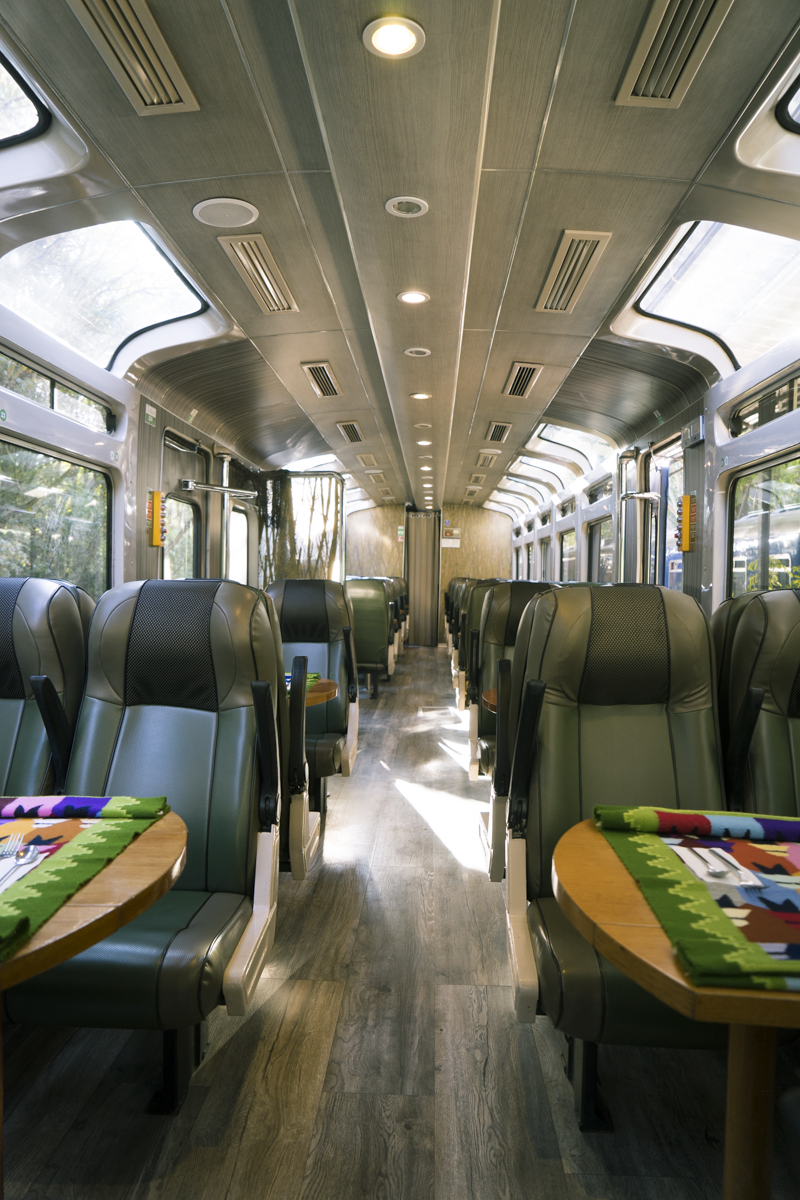 On our way we occasionally passed by the relics of abandoned Inca outposts. They used to be part of the Inca Trail, an artery of Inca Empire between Cusco and a series citadels and fortresses (Machu Picchu included) deep in the mountain. Today this Trail leads to Machu Picchu and takes about four days to accomplish. This could be one of the most classic trails in Peru and even in the entire South America.
Apparently we didn't have the time to walk the trail, and arrived at Machu Picchu by train and bus instead. Machu Picchu used to be an Inca citadel, and ostensibly the Camp David for Inca royalties. After the Conquistador occupied Cusco, some Incas fled into the mountains the stayed here until food supplies ran out. After they further retreated into the northwest, Machu Picchu became abandoned and forgotten. It was not until in 1911 that Machu Picchu was re-discovered by Yale archeologist Hiram Hingham. Thanks to the dense vegetation cover, Machu Picchu was extremely well-preserved and became a classic Inca icon today, reminiscent of its past glory.
The peak in the back is named Wayna Picchu, meaning "the young mountain" in Incan language. You could hike Wayna Picchu but be sure to book in advance, as only 400 visitors are allowed per day to visit Wayna Picchu.
We marveled at the masonry of ancient Incas.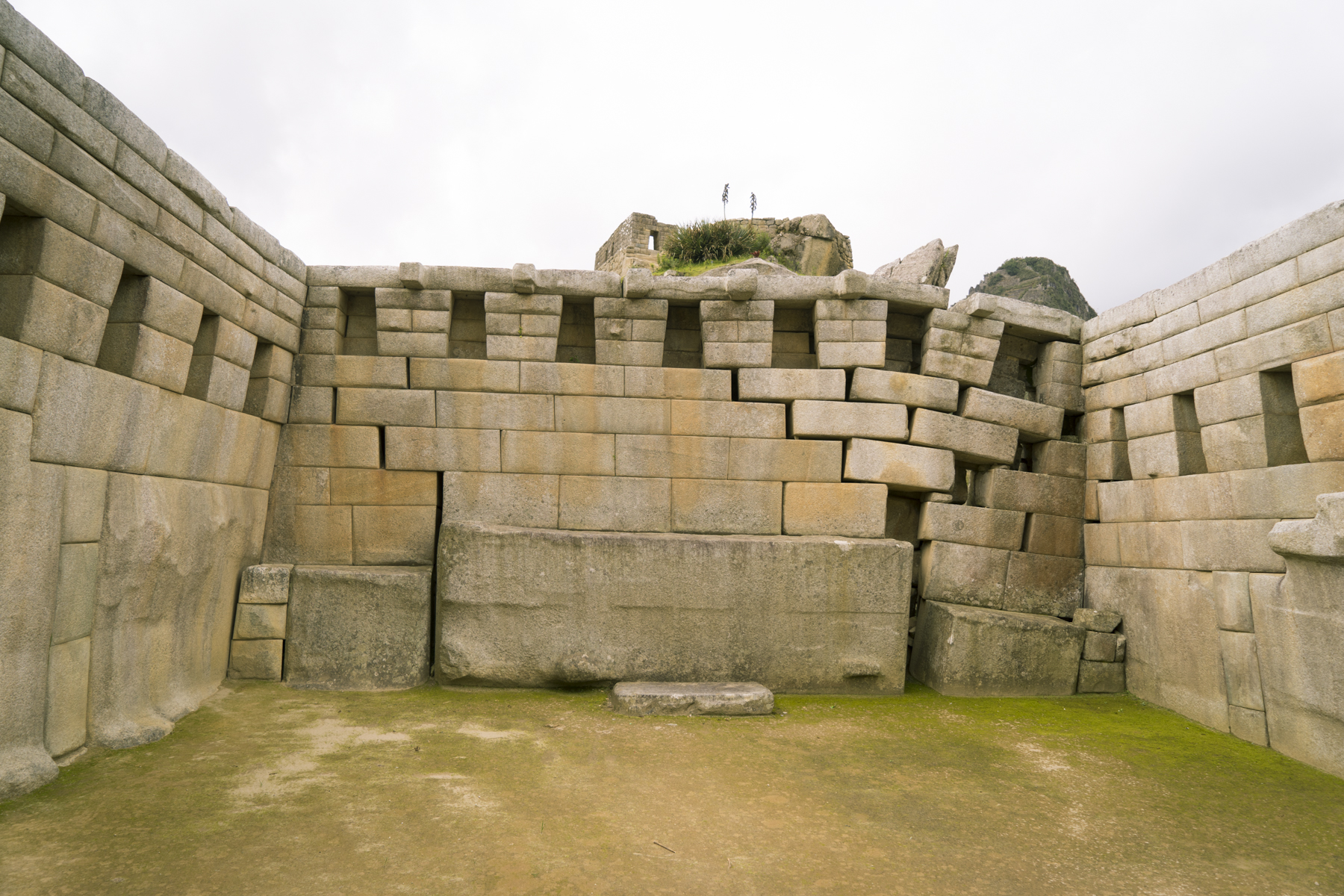 We did hike Wayna Picchu and it was definitely challenging. However it was very well worth every effort. Once we were at the top, the view of Machu Picchu was stunning.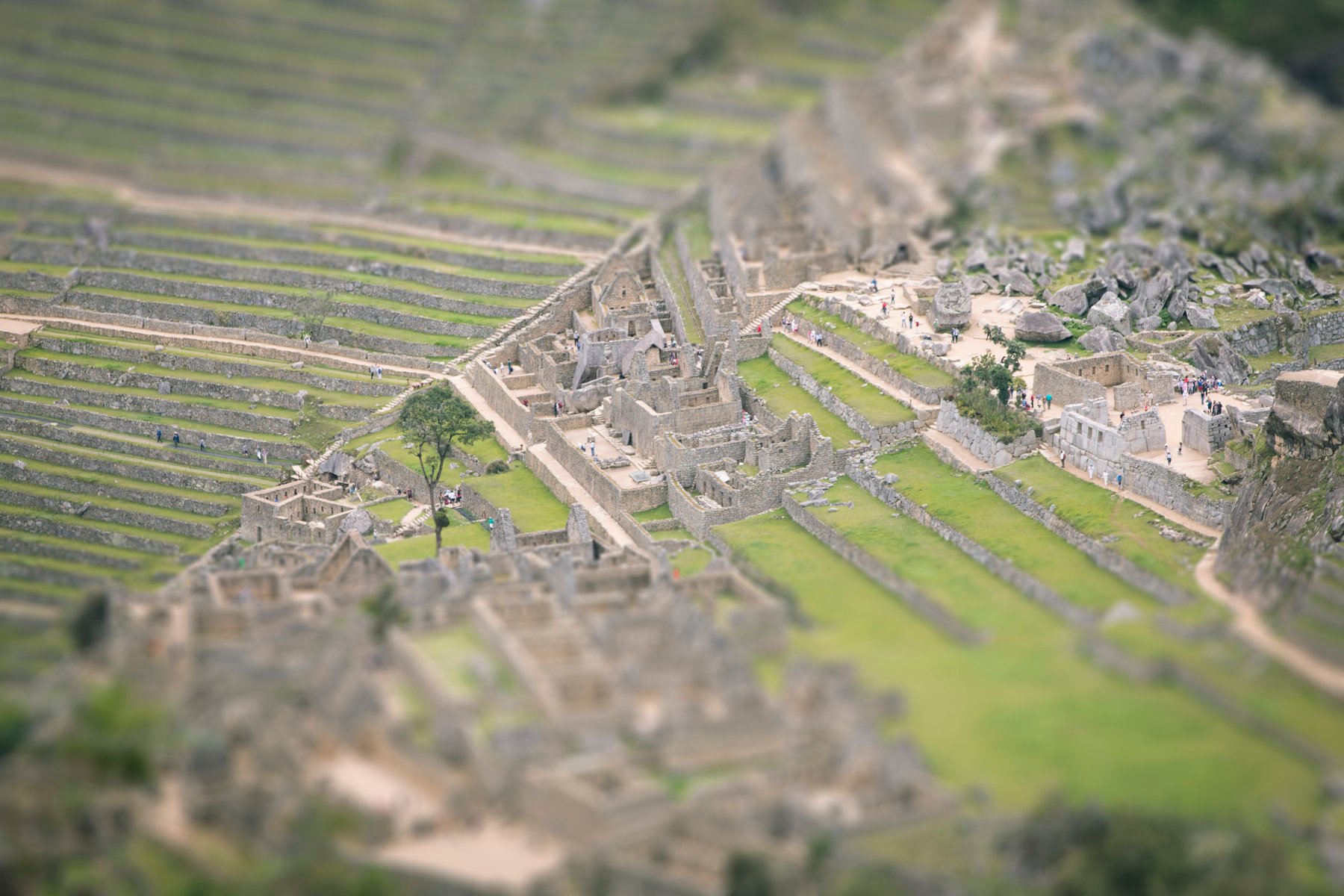 On our way back we took a different train. This time it was a higher-end train with dining service and a full bar.
The main course was beef cheek. I found Peruvian cuisine to be incredibly diverse and innovative. For example I spotted many South Asian elements in Peruvian dishes and they complement the traditional Peruvian gastronomy nicely.
It was almost 10 pm by the time we got back to the hotel. Exhausted we almost fell asleep immediately.
After staying at Tambo for three nights, I can attest to every bit of compliment it has on FlyerTalk and TripAdvisor. Some would argue that this is the best SPG hotel in South America, which in my opinion might be slightly exaggerated. However, if you are a SPG Platinum member and Machu Picchu is your destination, Tambo del Inka is definitely a go-to spot in the Sacred Valley.
If you would like to know more about visiting Machu Picchu (and Easter Island) please feel free to leave a comment and I will try to answer them at the best of my knowledge. As the "new" seven wonders of the world, Machu Picchu deserves a spot in your travel bucket list.
---
If you like this post, don't forget to give it a 5 star rating!